'Side-splitting' serves of comedic gold on the menu for Law Week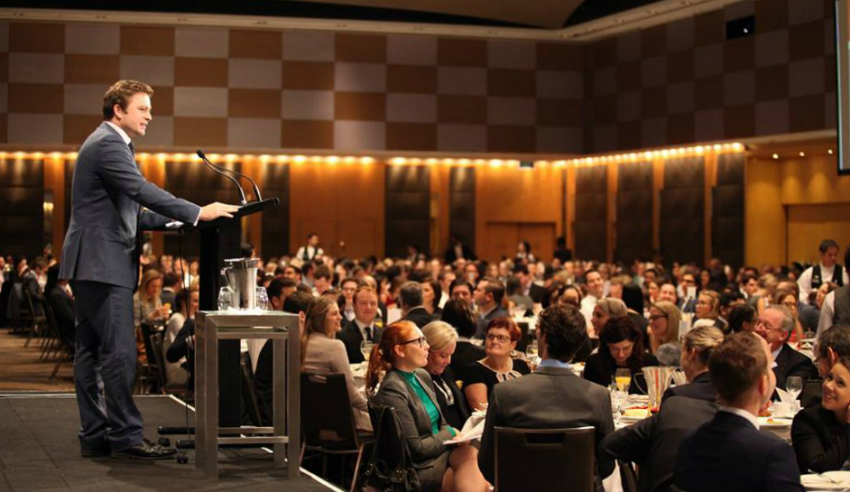 Ten young guns will put their legal nous and witty sensibilities to the test in an awesome display of humour and verbal gymnastics at the NSW Golden Gavel competition.
NSW Young Lawyers will host its annual comedic speaking competition on Friday, 18 May, at a breakfast comedy gala.
As part of the program, 10 finalists will serve up side-splitting commentary on topics currently dominating the legal industry's headlines.
Exactly 24 hours before speakers are due to speak before a room full of learned friends in Sydney at 7.30am on Friday, 18 May, they are emailed a topic. In the intervening hours before taking the stage, the Golden Gavel finalists must prepare an oration with a winning combination of humour, cleverness and originality and performance.
Doug Humphreys OAM, Law Society of NSW president, said that the Golden Gavel was the biggest legal networking shindig of the year.
"The Golden Gavel gives upcoming talent a chance to impress greyer-haired members of the profession," Mr Humphreys said.
"The aim is to be funny and a clever advocate, skills that all lawyers can use in their day-to-day practice," he said.
Prizes will be awarded for the runner-up and people's choice, with the ultimate winner progressing to the competition's national final.
Lucky door prizes and sponsor prizes will also be up for grabs, thanks to this year's NSW Golden Gavel sponsors Sparke Helmore Lawyers and Unisearch Expert Opinion Services.
My Humphreys added that the this year's Golden Gavel judging panel would be led by Justice Fabian Gleeson of the NSW Court of Appeal, who is the 2018 partron of NSW Young Lawyers.
Tickets can still be purchased for the headline Law Week event to be held at The Westin in Sydney.
The Golden Gavel event is one of a whole program of community and legal sector events taking place in NSW this week.
On Tuesday, 15 May, Lionel Bowen Library in Maroubra is running an internet safety session for seniors; and a similar cyber safety session will be held at Waverly Library that same day.
On Thursday, 17 May, two events will take place concurrently at the University of Newcastle and University of Wollongong. The Women Lawyers Association of NSW will host a "Pathways to partnership" speed networking event for law students.
On Friday, 18 May, Grenfell library will be hosting a public session on criminal law and police powers.
For more information about the full #LawWeek 2018 program see our Editor's special curated list or visit www.lawweek.com.au