Lawyer well-suited to dress other lawyers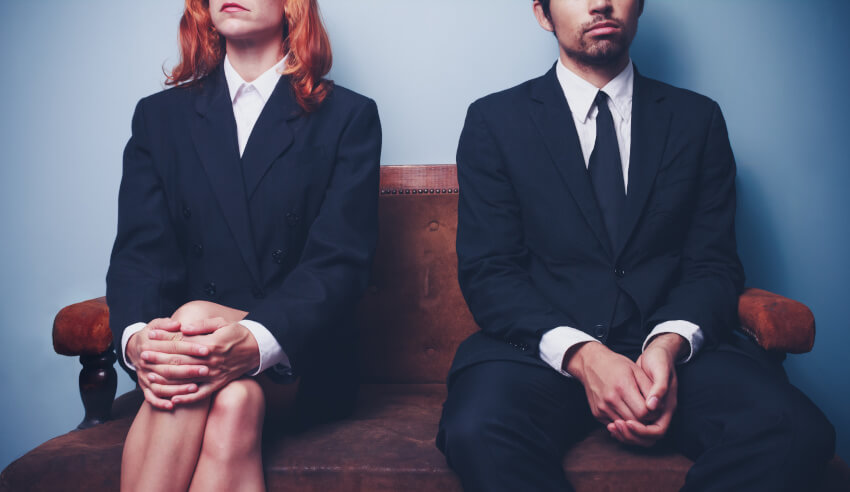 A Melbourne businessman has used his past experiences as a lawyer to turn his attention instead to dressing them, in a career change he says shares similarities with the corporate litigation world.
Working out of a store in Collins street Melbourne, Sam Diamond, of Samuel Diamond Tailors, has turned a passion for style into a full-time tailoring and business pursuit.
With a legal career spanning DLA Piper, Maurice Blackburn Norton Roe and Fitzroy Legal Service, Mr Diamond says "everything changed" after travelling to Italy for a holiday.
Mr Diamond said his fascination with the way men dressed, in Milan in particular, "wasn't just their outfits."
"It was the way they wore them. The confidence," he expressed, "especially coming from Australia where having an interest in style is generally considered a feminine pursuit."
On making the decision to kick-start his own tailoring business, Mr Diamond said in some ways it was hard "because I put in a lot of time and effort to become a lawyer."
But, "I never completely left the law," he continued.
"I still retain my practising certificate and do my CPD points every year," he said.
"Even if it's only when friends need a document certified, it gives me satisfaction to know that I worked hard to get admitted as lawyer."
"I'll never let that go."
"In the very early days of my tailoring business, I'd wake up each day knowing that I could probably make more money and have a more stable income as a lawyer," he admitted.
Mr Diamond said through following his passion and making new friends within the fashion industry, he found people willing to give advice and help him learn.
"It seemed like a greater risk to not pursue my passion."
While the day-to-day work is very different, Mr Diamond said he sees some similarities.
"The work involves meeting deadlines, working under pressure and a large focus on attention to detail," he listed.
With weddings "by far the most intense work" Mr Diamond does, "there's a lot of pressure to deliver by a strict deadline."
"I'm always pushing to exceed the client's expectations," he explained, "so it can be a similar feeling" to law work.
Conceding he feels "more pressure now than ever," he does admit that in law, he felt like "it was more 'stress' than 'pressure'."
"Pressure is something I can handle and probably even thrive under," he said.
"Stress is worrying about something you have no control over."
"I felt more stress as a corporate litigation lawyer."
With corporate clients being "the bread and butter of tailoring," Mr Diamond said his background gives him unique insight into advising lawyers "because I was in their position."
"I've been there," he noted, "so I can help them if they need it."
He acknowledges that his insight into the industry gives him an ideal background in the different types of dressing within the legal environment.
He offered up two pieces of advice to Lawyers Weekly readers.
Number one: Choose timing wisely.
"There is a time and place for sartorial statements and there's a time to be conservative," Mr Diamond said.
"If you're meeting with a factory worker from Dandenong for a WorkCover claim, your ensemble might be slightly different to meeting with Macquarie Bank, and vice versa."
"Pick your timing well and adjust accordingly."
The second piece of advice? Invest in quality.
"If you buy a $60 pair of shoes they will most likely look average and may only last a few months."
"If you invest a pair of goodyear welted leather shoes that cost $350, not only will they most likely look better, they might even last 10 years if you care for them properly," he suggested.
"By choosing quality you will look better, feel better and your money will go further."
Mr Diamond imparted that "investing in your own image is something to consider if you want to be taken seriously in law."
Mr Diamond said the industry is still feeling the restrictive echoes of a time when it was only acceptable to wear a navy suit, a white shirt, black shoes and be clean-shaven.
"Men's style in the legal profession in Australia is at a standstill. A significant number of male lawyers still wear ill-fitting suits; even in Melbourne and Sydney. Between the lack of ties and casual Friday ensembles, it has been on a downhill slide for 10 years," he said.
He recalls his time as a graduate at MinterEllison, where a senior partner made a comment about his facial hair in the lift.
"When he commented the second time in a week saying, 'Oh you still have the stubble on your face?'," Mr Diamond thought he should shave it off.
"The legal industry is among the most conservative environments for men to dress and statement pieces have never been encouraged."
"Of course, there are limits for the office, courtroom and client environments," Mr Diamond understands.
"But it doesn't mean that lawyers cannot show some personality and take pride in the way they dress," he said.
"You need to look like a lawyer before any client will ever trust you."
"The way you present yourself includes posture, tone of voice, body language and grooming too," he elaborated.
"The way you dress is very important in communicating that you're organised, competent and reliable in your job."
"Ultimately, no matter what sort of law you are in the message you are sending is the same: I'm competent in my role, trustworthy, organised and successful. It doesn't matter if you studied at Cambridge or work at Freehills, the first thing people will judge you on is your appearance."