The role of lawyers in ensuring financial inclusion in Australia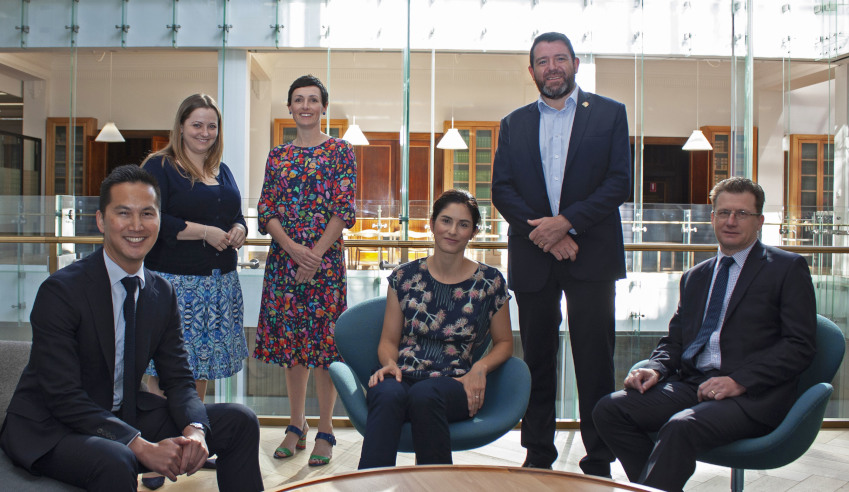 Every day Australians need access "to the building blocks of economic participation in our country", and lawyers have a role to play in ensuring such financial inclusion, argues a BigLaw firm.
Speaking to Lawyers Weekly following a recent in-house seminar on financial inclusion (speakers pictured), Ashurst said that, as "one of two law firms" signed up to the Financial Inclusion Action Plan (created by Good Shepherd Microfinance), it aims to harness its diverse commercial skill set and collective expertise "to equip financially vulnerable Australians and their local communities with the skills and frameworks to help them become financially independent and confident".
Corporate law firms like Ashurst have a large sphere of influence through which they can promote financial inclusion – including access to basic financial products and the capability and confidence to make decisions about their finances with autonomy and efficacy – said firm partner Kenneth Nguyen (pictured, left).
"We are influential with the community organisations and not-for-profit legal organisations with whom we regularly partner and have the expertise to support them in their financial inclusion initiatives," he said.
"Just as importantly, we are a trusted advisor to our corporate clients, who want to make a real social impact on the communities in which they are rooted [and] we are uniquely well-placed to assist these organisations on the legal aspects of their community contributions."
"Finally, our immediate sphere of influence includes our own staff who, like all others, can be subject to financial shocks or precariousness. This could result from medical issues or changes in personal circumstances, and we as a firm are committed to supporting our staff by ensuring we promote financial capability and resilience."
The challenge for lawyers here, Mr Nguyen continued, is to understand and use their sphere of influence, both as individuals and collectively as a firm and profession.
"We may, for example, see an individual pro bono client with a legal problem – we identify their issues, we research, draft and advocate. In short, we fix the legal problem, but may not always look to address the factors that could have created the problem in the first place," he explained.
"We therefore need to expand our notion of our role with clients, whilst not overstepping the boundaries of what we are qualified to do or achieve for them. We must learn to look at our clients holistically and explore the social and financial hardships that have intersected to give rise to their legal problems."
"We must identify and understand these hardships and then place these clients, respectfully and carefully, with the right wrap-around services. These other service providers, across multiple disciplines, will help the whole person or organisation, and not just fix the legal problem we were initially presented with."
The firm's global head of pro bono and corporate responsibility, Sarah Morton-Ramwell, added: "To this end, we have created a large and evolving database of services to help our pro bono clients with the many aspects of financial exclusion. We are developing training for our lawyers to help them identify when our clients are facing financial hardship and improving the referral pathways to ensure they receive the additional support they require. We are also excited to be partnering with Redfern Legal Centre to provide legal services to victims of financial abuse."
Law firms thus need to sign up for the Financial Inclusion Action Plan, Mr Nguyen argued, as it will provide greater scope to assist with all-important issues pertaining to the security and stability of the persons whom those firms serve.
"By partnering with fellow FIAP organisations to share information and resources, we work together to ensure that individuals and communities can gain access to the legal system and the economic pillars of our society regardless of their financial position, and we continue to advocate for their rights in consultation with them."
Ashurst launched its FIAP in March 2018.
Corrs Chambers Westgarth launched theirs at the same time, with firm chairman of pro bono and partner Jeremy King saying signing up for the plan would assist the firm in making it easier for vulnerable and disadvantaged people to access financial products and services that many of us may take for granted, such as bank accounts, debits cards, insurance and superannuation.
"We recognised legal impediments are preventing people fully participating in the Australian economy, and our clients – many of which are also FIAP trailblazers – require legal support in order to implement their own FIAPs," he said at the time. 
"We are also mindful that issues of financial distress, on its own or as a result of physical or mental illness, the death of a close relative, or marital breakdown, could affect any one of our own partners or staff."