30 Under 30 finalists revealed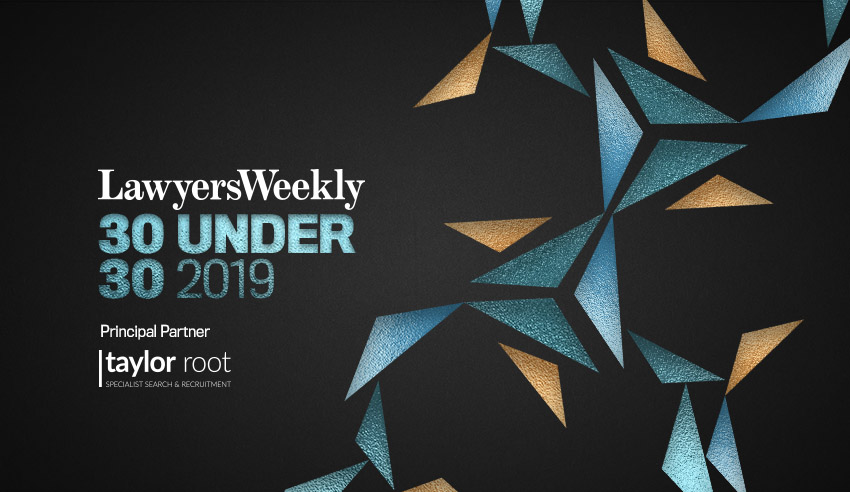 Lawyers Weekly, in partnership with Taylor Root, is proud to announce the finalists for this year's 30 Under 30.
30 Under 30 seeks to promote excellence in young lawyers across Australia, offering a springboard for career progression and giving industry-wide recognition to those going beyond the norm.
This year, 265 young lawyers across a broad range of firms, organisations and industries have made the finalist list, and will be recognised at a black-tie celebration being held at the Sofitel Sydney Wentworth on 10 May 2019.
The event will feature a sit-down three-course meal, with entertainment provided throughout the evening, as 30 winners from 30 categories make their way to the stage.
To purchase a ticket to the event click here.
For more information click here.
The finalists for the 2019 30 Under 30 are:
Banking and Finance
Elizabeth Athanassios, Baker McKenzie
Cassandra Brookes, Dentons 
Matthew Hannam, DWF Australia
Peter Ip, Herbert Smith Freehills
Erin MacMullin, Herbert Smith Freehills
Bryce McCarthy, MinterEllison
Sarah Rogers, Gadens
Josephine Suen, Corrs Chambers Westgarth
Tejas Thete, EY
Jason Wong, Ashurst
Barrister
Fabian Brimfield, Victorian Bar
Josie Dempster, Key Chambers 
Harry Lewis, Svenson Barristers
Matthew Littlejohn, William Forster Chambers
Monika Paszkiewicz, Victorian Bar
Joel Silver, Svenson Barristers
Commercial
Anna Colless, Blueprint Law
Candice Colman, Baker McKenzie
Michael Denny, Herbert Smith Freehills
Jack Ding, Salvos Legal
Amelia Edwards, KHQ Lawyers
Mahsa Javam, Clayton Utz
Hannah Kimber, PricewaterhouseCoopers
Linda Lau, Holding Redlich
Jessica Rogers, MinterEllison
Amy Zhang, Harmers Workplace Lawyers
Community Legal Centre Lawyer
Milka Bundalo, Macarthur Legal Centre
Tanya Diessel, Gold Coast Community Legal Centre
Sophie Kannemeyer, Pine Rivers Community Legal Service
Jeremy Leith, The Shopfront Youth Legal Centre
Khushbu Malhotra, Deakin University
Keertan Samra, Women's Legal Service Queensland
Brittany Smeed, Caxton Legal Centre
Ben Tuckett, LawRight
Caitlin Weatherby-Fell, Top End Women's Legal Service
Molly Willoughby, Hunter Community Legal Centre
Competition, Trade and Regulation
Alice Bradshaw, Clifford Chance
Amelia Edwards, KHQ Lawyers
Adelle Elhosni, Ashurst
Jack Heithersay, Ashurst
Jessica Mandla, K&L Gates
David Mierendorff, Allens
Stephanie Phan, Norton Rose Fulbright 
Construction and Infrastructure
Perri Burns, Corrs Chambers Westgarth
Sarah Cahill, MinterEllison
Craig Holmes, Helix Legal
Alex McLeod, DWF Australia
Marlowe Mitchell, Ashurst
Holly Smith, Baker McKenzie
Jordan Tsirimokos, Ashurst
Nicole Wieringa, King & Wood Mallesons
Darren Williams, McCullough Robertson
Lachlan Williams, MinterEllison
Corporate Counsel (Large Business)
Alexander Cook, Cleanaway Waste Management Limited
Nicole Diepenhorst, AIA Australia
Katie Dillon, Telstra
Loren Goodwin, L'Oréal Australia and New Zealand
Theo Kapodistrias, University of Tasmania
Karen Kehoe, Schindler Lifts Australia 
Chelsea Parker, TEG
Nick Phillips, Coca-Cola Amatil
Stefani Russo, Salesforce formerly oF IRESS Limited
Luke Wilson, American Express
Corporate Counsel (SME)
Ashlee Berry, Master Builders Association of the ACT
Katrina Bullock, Greenpeace Australia Pacific
Simon Kalinowski, Springfield City Group
Lauren Pelser, Chugg Entertainment
Haylen Pong, Nearmap
Criminal
Brittany Armstrong, Shaw & Henderson
Nicholas Bennett, Legal Aid Queensland
Georgia Briggs, Herring & Associates - Lawyers
Angela Cooney, Armstrong Legal
John Davis, Kennedy Spanner Lawyers
Lucy Ferguson, Clarity Law
Tom Gardiner, Fisher Dore Lawyers
Matthew Ward, Morrisons Law Group
Dispute Resolution
Amelia Blefari, King & Wood Mallesons
Anne Crittall, MinterEllison
Danica Goodbody, Allens
Feng Guo, Gilbert + Tobin Lawyers
Michael Harty, Macpherson Kelley
Marina Kofman, White & Case 
Jack Oakley, Clifford Chance
David Turner, Assured Legal Solutions
Ella van der Schans, Herbert Smith Freehills
Amy Zhang, Harmers Workplace Lawyers
Family Law
Elyse Cuzzilla, Chinka (HEP) Steel 
Georgia Dalton, BTLawyers
Carla Franchina, Best Wilson Buckley Family Law
Tessa Kelman, Lander & Rogers
Haydn Marsh, Robinson + McGuinness Family Law
Chanel Martin, Resolve Divorce Lawyers
Courtney Mullen, Farrar Gesini Dunn
Siobhan Mullins, Separate Together
Rishika Pai, Watts McCray Lawyers
Bradley Peterson, RMB Lawyers
Financial Services
Ashleigh Blewitt, Evans Dixon Law
Adrian Donato, King & Wood Mallesons
Magan Goh, Corrs Chambers Westgarth
Sheridan Handley, Mills Oakley
Andia Javidirad, EY
Suzana Livaja, Clayton Utz
Lisa Monaco, Pryor Tzannes & Wallis
Kathryn Morgan, McCullough Robertson
Bianca Xerri, Suncorp Group
Government
Rory Alexander, Ashurst (formerly Sparke Helmore Lawyers)
Julian Bodenmann, Preston Law
Tegan Harrington, Corrs Chambers Westgarth
Nathan Lambrinos, Maddocks
Alex McLeod, DWF Australia
Katrina Monagle, Norton Rose Fulbright
Caitlyn Read, Ashurst
Charlotte Saunders, DLA Piper
Rebecca Wheeler, Therapeutic Goods Administration
Lachlan Williams, MinterEllison
Health
Elly Blizzard, Lander & Rogers
Rachael Brown, Luxottica Retail Australia
Jenica Lim-Young, Maurice Blackburn Lawyers
Bridie Walsh, Slater and Gordon
Angell Zhang, Dentons
Health and Safety
Meg Aitken, K&L Gates
Emily Aitken, Seyfarth Shaw
Andrew Brooks, Law Squared
Ali Gallaher, Maddocks
Harold Kuang, Clyde & Co
Ashleigh Mills, Holding Redlich
Nathan Roberts, McCullough Robertson
Katherine Southwell, Maddocks
Cassandra Taylor, Maurice Blackburn Lawyers
Matt Wichlinski, Norton Rose Fulbright 
Insolvency
Jacqueline Chan, Ashurst
Saskia van Loon, Johnson Winter & Slattery
Anthony Sommer, MinterEllison
Kevin Shum, Baker McKenzie
Thomas Trotman, K&L Gates
Christopher Moses, Hogan Lovells
Catherine Crawford, K&L Gates
Carone Huang, King & Wood Mallesons
David Turner, Assured Legal Solutions
Gabe Perrottet, Norton Rose Fulbright
Insurance
Richard Berkahn, Clyde & Co
David Kim, MinterEllison
Katrina Mawer, Barry.Nilsson. Lawyers
Safa Rahimi, Wendy Blacker Lawyers
Alex Schonell, Maurice Blackburn Lawyers
Nicholas Simone, Hall & Wilcox 
Rejinay Singh, QBE Insurance 
Hugo Thomas, Colin Biggers & Paisley
Amelia Thomas, Wotton + Kearney
Intellectual Property
James Beavis, Corrs Chambers Westgarth
Anna Colless, Blueprint Law
Kaelah Ford, Allens
Anna Harley, Baker McKenzie
Sidney Kung, Gilbert + Tobin Lawyers
Tom Platt, Gilbert + Tobin Lawyers
Danielle Sharplin, King & Wood Mallesons
Laura Simonds, Norton Rose Fulbright
Isobel Taylor, Norton Rose Fulbright
Jaimie Wolbers, MinterEllison (formerly K&L Gates)
Litigation
Dean Alexander, Enyo Lawyers
Mohamad Ardati, Sparke Helmore Lawyers
Jack Ding, Salvos Legal
Lewis Hamilton, Maurice Blackburn Lawyers
Tina Ibraheem, Shine Lawyers
Claira Jamieson, Clifford Chance
Catherine O'Keefe, Corrs Chambers Westgarth
Gabe Perrottet, Norton Rose Fulbright
Melinda Ranson, Merthyr Law
Isabella Royce, Kalus Kenny Intelex
Mergers and Acquisitions
Julian Barclay, Ramsden Lawyers
Christian Bourke, Herbert Smith Freehills
Joshua Butler, Lander & Rogers
Hannah Kimber, PricewaterhouseCoopers
Linda Lau, Holding Redlich
Stephen Moore, Ashurst
Veroshan Sripragasan, Nicholson Ryan Lawyers
Tatiana Stein, Corrs Chambers Westgarth
Oliver Yee, Gilbert + Tobin Lawyers
Lee-Anne Yeo, Ashurst
Migration
Joanna Abraham, Victoria Legal Aid
Corina Chen, Mullins Lawyers
Jacinta Harris, Playfair Visa & Migration Services
Marial Lewis, Teleo Lawyers
Amina Youssef, Parish Patience Legal & Migration Services
Phoebe Yule, Playfair Visa & Migration Services
Traci Yan Yan Chen, Nevile & Co
Planning and Environment
Georgia Appleby, Holding Redlich
Simon D'Angelo, Maddocks
Guy Dwyer, Ashurst
Kristyn Glanville, Clyde & Co
Joanna Ling, Thomson Geer
Kate Marginson, Mills Oakley
Sarah McCabe, McInnes Wilson Lawyers
Natasha Ozolins, Aitken Partners
Alex Skilling, McCullough Robertson
Victoria Vilagosh, Norton Rose Fulbright
Pro Bono
Ella Alexander, Makinson d'Apice
Caitlin Edwards, Arnold Bloch Leibler
Laura Elliott, DLA Piper 
David Frew, Wotton + Kearney
Kristyn Glanville, Clyde & Co
Jyoti Jadeja, Westside Legal
Perveen Maan, White & Mason Lawyers and Anika Legal
Catherine O'Keefe, Corrs Chambers Westgarth
Rishika Pai, Watts McCray Lawyers
Xanthe Shaw, K&L Gates
Projects, Energy and Resources
Andrew Bukowski, McCullough Robertson
Henry Cornwell, Gilbert + Tobin Lawyers
Georgia Davis, Clayton Utz
Michael Denny, Herbert Smith Freehills
Flora Ma, Allens
Alex McLeod, DWF Australia
Caitlin McPhee, Corrs Chambers Westgarth
Tegun Middleton, McCullough Robertson 
Tristan Shepherd, Ashurst
Jordan Tsirimokos, Ashurst
Real Estate
Rachael Bass, Massons
Jacob Corbett, Bradley & Bray Solicitors
Cianan Hehir, MinterEllison
Melanie Howard, Blackstone Waterhouse Lawyers
Tristan Howes, King & Wood Mallesons
Rebecca Pickering, Hall & Wilcox
Warren Scott, Corrs Chambers Westgarth
Annie Wang, MinterEllison
Alexander Wheeler, DWF Australia
Kayleigh Whittaker, NB Lawyers
Sports and Entertainment
Anna Colless, Blueprint Law
Simon Merritt, Lander & Rogers 
Chelsea Parker, TEG
Lauren Pelser, Chugg Entertainment
Taxation
Alice Deng, Greenwoods & Herbert Smith Freehills
Caroline Ee, McCullough Robertson
Steven Guo, Greenwoods & Herbert Smith Freehills
Alistair Haskett, Greenwoods & Herbert Smith Freehills
Caitlin Murdock, Holding Redlich
Angus Murray, Irish Bentley Lawyers
Jay Prasad, Allens
Naison Seery, Greenwoods & Herbert Smith Freehills
Leah Serafim, Arnold Bloch Leibler
Michael Wyles, PricewaterhouseCoopers
Technology, Media and Telecommunications
Marco Angele, marshalls+dent+wilmoth
Nicola Bevitt, Clayton Utz
Eva Lu, Thomson Geer
Mandy Milner, Herbert Smith Freehills
Chelsea Parker, TEG
Joel Parsons, Bird & Bird
Haylen Pong, Nearmap
Doron Shmilovits, UX Law
Alex Solo, sprintlaw
Louisa Xu, Piper Alderman
Wellness Advocate
Julian Barclay, Ramsden Lawyers
Phoebe Blank, MinterEllison
Peta Gray, Enterprise Legal
Angus Murray, Irish Bentley Lawyers
Megan Piccardi, Piccardi Legal
Claire Walczak, Lander & Rogers
Bianca Xerri, Suncorp Group
Workplace Relations
Mohamad Ardati, Sparke Helmore Lawyers
Ellen Davis, Gilchrist Connell
Giacomo Giorgi, Herbert Smith Freehills
Nicole Maughan, K&L Gates
Rosie Meyerowitz, Hall & Wilcox
John Monroe, K&L Gates
Jonathan Stamatelos, FCB Workplace Law
Dean Tolkin, Keypoint Law
Emma Vautin, Clayton Utz
Amy Zhang, Harmers Workplace Lawyers