DLA Piper teams up with refugee advocates for access to justice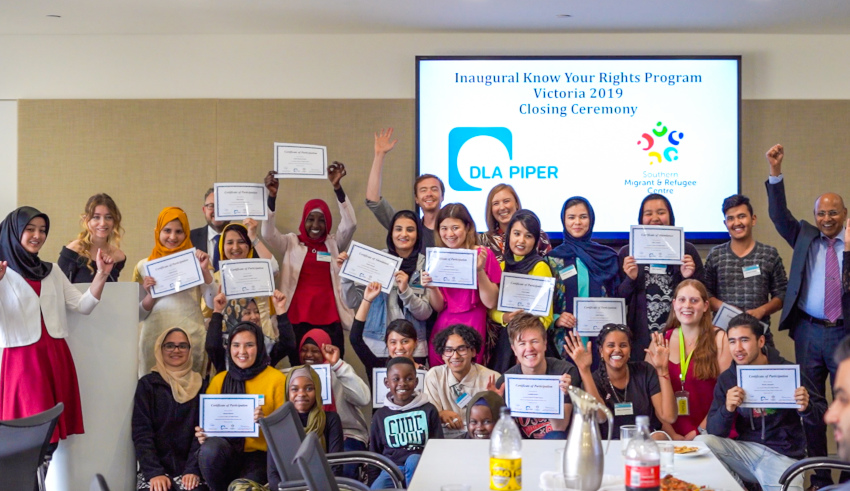 Global firm DLA Piper has partnered with the Southern Migrant and Refugee Centre to deliver its first Australia-based Know Your Rights Legal Empowerment Program.
DLA Piper's Know Your Rights program has been successfully delivered across a number of cities to date including Bangkok, Amsterdam, Paris, Vienna, Hamburg, Cologne, Brussels, Milan, Luxembourg and Rome, and has now come Down Under.
It is a "signature part" of the firm's global pro bono practice that focuses on access to justice for refugees and migrants, it said in a statement.
"Through practical and interactive legal sessions delivered over nine weeks, the Know Your Rights program empowers young refugees and migrants to understand and stand up for their rights in everyday life and provides guidance on where to go for legal help," the firm said.
"Twenty young refugees and migrants in Melbourne have now completed DLA Piper's first Australian Know Your Rights program."
30 lawyers from the firm's Melbourne office participated in the sessions, collaborating with the Southern Migrant and Refugee Centre and a law student from a refugee background, to ensure the content was culturally appropriate.
Participants were presented with completion certificates at a closing ceremony held earlier this week.
One participant, Tamanna Hussaini, said: "When we arrived in Australia it was a new world for me where I knew no one and couldn't even speak to people because I didn't know how to speak English. But I still had hopes in my heart for becoming that independent girl who can stand on her own feet and help others around her."
"I am studying law because I want to be someone who helps the community to achieve justice. I enjoyed all of the Know Your Rights Program, especially the session about workplace rights. Because as a teenager I really need to know my rights in the workplace in order to have a safe job and make sure my rights aren't violated," she continued.
"Thank you to DLA Piper for providing me with the opportunity to understand my rights in Australia."
Firm partner and Know Your Rights Champion Tim Lyons said the first program was "incredibly powerful".
"We have been proud to support these young participants develop their knowledge of important legal issues and help them understand their rights in Australia. It has also been a valuable experience for our lawyers, and we look forward to continuing the program across Australia."
Southern Migrant and Refugee Centre CEO Ramesh Kumar added: "For refugees and migrants to effectively integrate into their host country, understanding how to exercise their rights is absolutely crucial – particularly if they arrive from war torn parts of the world. The learning outcomes from DLA Piper's Know Your Rights program go a long way to providing them with the knowledge and skills to assist them in their integration process."