G+T makes 10 senior appointments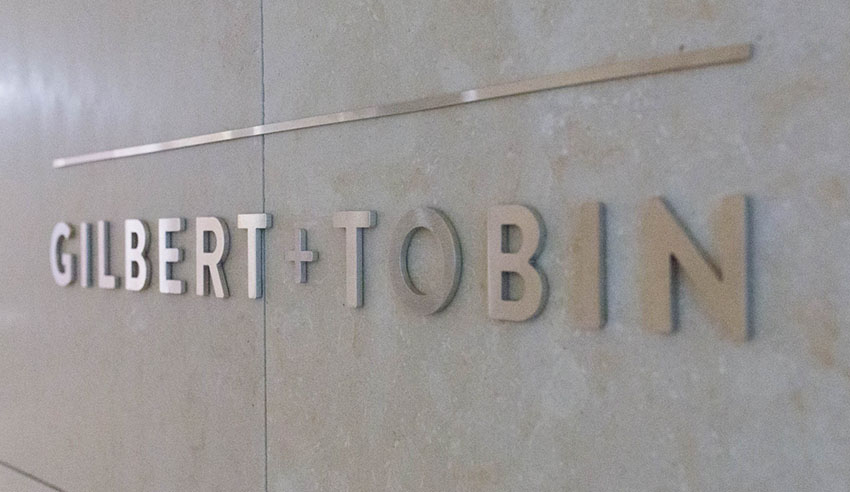 Gilbert + Tobin has kicked off its financial-year promotions, having announced six new partners and four new special counsel appointments across a number of practice groups.
According to the firm, the new partners and special counsel "build on G+T's reputation for advising clients on their most significant corporate transactions and disputes across core practice areas".
The new partners, whose appointments are effective on 1 July 2019, have been named as Rebecca Dunn, Melissa Fai, Philippa Hofbrucker, Tim Kennedy, Kevin Ko and Matt Mackenzie.
Ms Dunn specialises in IP litigation and technology disputes, the firm noted, with her also holding a strong social media, privacy, data protection and defamation practice.
Ms Fai's focus areas see her working on complex commercial and technology transactions, which includes IT transformation projects, outsourcings, strategic supply and services arrangements.
Ms Hofbrucker has been considered by the firm as being a "disputes and investigations specialist" with her extensive experience in advising clients in Australia and the UK, especially in the area of financial services.
Mr Kennedy, involved in the energy and resources sector, focuses on power, renewables, oil and gas, with the firm reporting he has worked for both major companies and government clients.
Mr Ko, an adviser on strategic mergers and acquisitions and corporate transactions, has held "leading roles" on some of the largest, most complex and novel transactions in the Australian market, G+T said.
Mr Mackenzie, the sixth partner named by G+T, was acknowledged by the firm as being "extensively involved" in a wide range of large-scale, high-profile proceedings, and working with clients on complex, commercially significant disputes, litigation and regulatory enforcement actions.
The special counsel promotions announced simultaneously have gone to disputes and investigations lawyers Edward Martin and Patrick Tydde, real estate and projects lawyer Joanne Bayes, and competition and regulation lawyer Liana Witt.
Commenting on the round of appointments and congratulating those involved, managing partner Danny Gilbert called the promotions "very important achievements that are a testament to their skills as lawyers, to their commitment to G+T and their plans for contributing to our future success".
"It's extremely reassuring to see the quality of the talent that continues to emerge at our firm, setting us up so powerfully for the future," he continued, with the promotions "a recognition of the big contribution they continue to make to the firm and their individual ability to deliver outstanding results for our clients".
"It's also important to note that in both partner and special counsel promotions, we have an even split of male and female. This is a positive move towards achieving our gender diversity target of female representation in our partnership of 40 per cent by 2023," Mr Gilbert said, noting he is "thrilled to see our focus on supporting women at senior levels of our organisation reflected strongly in this group of promotions".
Mr Gilbert said he has no doubt all persons named "will all play an integral role in the future success of the firm as we consolidate our market-leading position in key sectors and boost our capability in growing specialist practice areas".
The announcement comes after the firm recently appointed a special counsel from the in-house space, and internally appointed another.
This email address is being protected from spambots. You need JavaScript enabled to view it.