Clayton Utz Art Partnership opens Sydney exhibition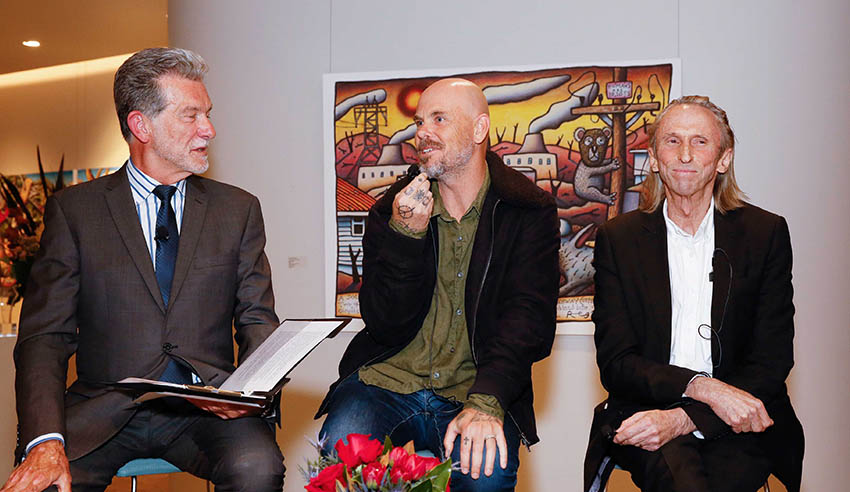 The fifth Sydney-based exhibition of the Clayton Utz Art Partnership was launched last week, featuring two award-winning artists.
Over 200 people attended an exclusive cocktail reception to celebrate the launch and to view the new exhibition at the national firm's Sydney CBD offices.
The Clayton Utz Art Partnership – which is managed and curated by 3:33 Art Projects – features Reg Mombassa (Chris O'Doherty) and David Griggs in its fifth outing.
It is "an innovative and industry-first collaboration between Clayton Utz and established and emerging artists", featuring new artists and their works every six months, with the most recent Sydney exhibition featured the work of large-scale, abstract landscape artist Neil Frazer and contemporary painter Tell Tu'u.
Mr Mombassa was a founding member of the iconic Australian rock band Mental as Anything, and has worked with Mambo Graphics designing t-shirts and posters since 1986, while Mr Griggs has exhibited extensively throughout Australia and South-East Asia, and is famous for his bold, anarchistic approach, according to the firm.
Australian broadcaster and accomplished landscape photographer, Richard Morecroft was on hand at the event to lead the artists in a conversation about their work, and engage the audience in a Q&A session, the firm noted.
Clayton Utz deputy chief executive partner Bruce Cooper said the continued success of The Clayton Utz Art Partnership was "reflected in the calibre of the artists it attracted as well as the rich conversations and connections it had created between Clayton Utz and its clients".
"The Clayton Utz Art Partnership continues to deliver, by showcasing the work of Australian artists in a unique way and by giving our people and our clients an uncommon experience: the opportunity to enjoy world-class visual art on a daily basis in a setting different to the usual. We and our clients continue to enjoy the innovation of going beyond the ordinary," he said.