'Legal professional privilege was not front of mind': VicPol officer admits to not considering Gobbo's rule of law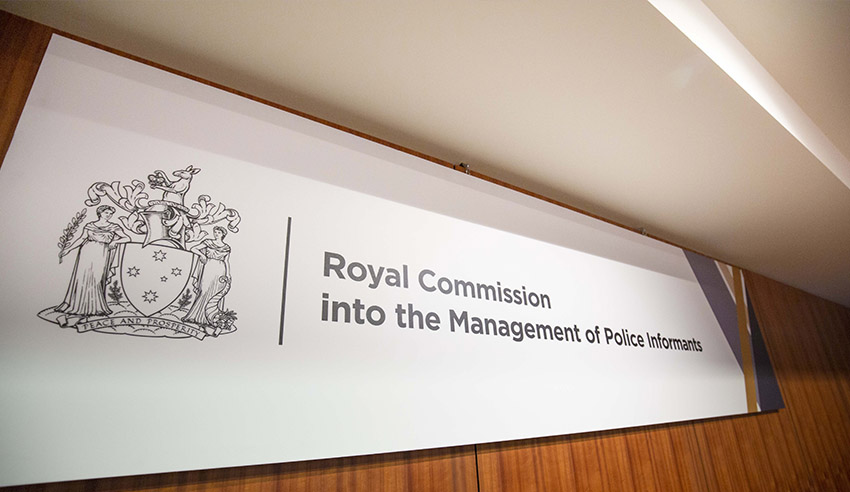 The statement and ensuring questioning of Victoria Police's former detective inspector James O'Brien revealed just how little the Purana Task Force and the police force had considered the risks of using barrister Nicola Gobbo as a human source.
As part of the Royal Commission into the Management of Police Informants (RCMPI), Mr O'Brien has been questioned over his role with human sources, including his time operating based on information provided to him by Lawyer X, or Ms Gobbo.
Mr O'Brien said he and his team had no concerns about the use of information coming from Ms Gobbo due to her management by Command and Source Development Unit (SDU): "Issues of legal professional privilege were not front of mind to me. I treated all information received from Ms Gobbo just as I would have from any other source."
Between 2001 and 2007, Mr O'Brien worked with information provided by Ms Gobbo. In the latter years, Mr O'Brien was head of the Purana Task Force, established for the purpose of investigating the gangland murders and drug-related activities.
He said he was not aware of any concerns being raised by members of Victoria Police or any other organisation "as to the use of a legal practitioner as a human source".
"While the use of Ms Gobbo as a registered human source was extremely high risk for her personal safety, I did not have any concerns as the information she was providing related to serious criminal offences of drugs production and distribution concealment of assets to the extent of which had led to a number of executive style homicides," he said.
When Mr O'Brien took over the drug squad, and later Major Drug Investigation Division (MDID), Victoria Police were suffering a lack of trust. Several high acting members had committed offences as part of their relationship with informers.
In one instance, handler detective senior constable David Miechel was charged with burglary at a transaction point where the drug squad was looking to catch a trafficker with ecstasy pills and $700,000. Mr Miechel and his informer Terrence Hodson were arrested for stealing $1.3 million from the Oakleigh house.
Mr Hodson turned on Mr Miechel and close associate, fellow drug squad detective Paul Dale, whom Mr Hodson accused of orchestrating the burglary. Mr O'Brien said what they did was a "complete betrayal of all the rest of us working in the MDID".
In May 2004, Mr Hodson and his wife Christine were murdered. Mr O'Brien said he was a "prolific supplier of information and had been critical in the arrests of a number of people", and added he felt "not enough was done to protect him".
This concern rolled over to Ms Gobbo. At times, Mr O'Brien said he raised his concern over her safety in the period between August and September 2005 during which time she approached detective sergeants Paul Rowe and Steve Mansell to offer assistance in the Tony Mokbel and family drug cartel investigation.
"I also raised concerns about Ms Gobbo's safety when deputy commissioner [Simon] Overland asked me what I thought about Ms Gobbo being called as a witness at Office of Police Integrity (OPI), which would disclose her role as a human source."
On top of this concern, Mr O'Brien said the only relevant information he received from Ms Gobbo was the location of a lab which led to a successful breakthrough in the case.
He also insisted that Ms Gobbo had no part in the arrest of Mr Mokbel and 11 other associates, saying information the investigation used was in no part Ms Gobbo's.
"I am aware that Ms Gobbo has claimed that information she provided led to Victoria Police locating and arresting Mokbel. This is not true," Mr O'Brien said. "No information provided by Ms Gobbo was relied on by Operation Magnum to apprehend Mokbel."
This email address is being protected from spambots. You need JavaScript enabled to view it.