Lawyer X potentially lying about 'mental anguish', could appear before commission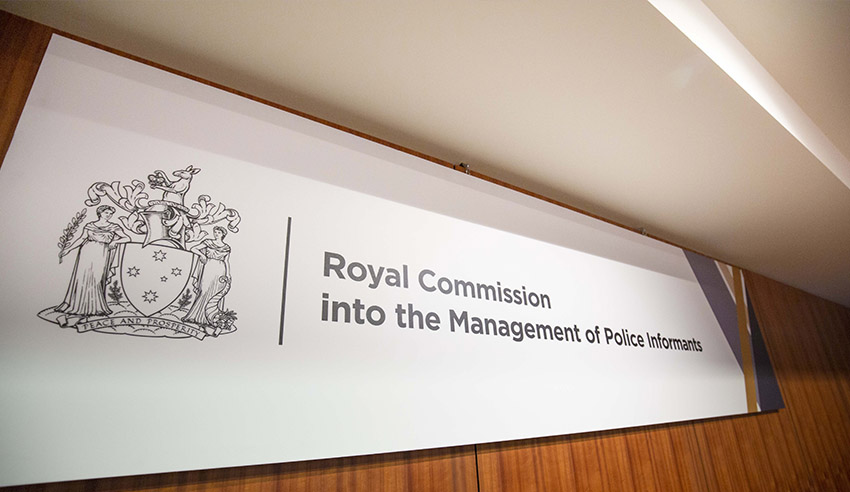 It's possible barrister Nicola Gobbo may not appear before the Royal Commission into the Management of Police Informants due to concerns over her "mental anguish", but the commissioner notes there is reason to believe she could be faking.
The RCMPI's commissioner Margaret McMurdo has called for a re-examination of the barrister-turned-informer's mental health to determine whether she has grounds for an excuse or if she is "feigning medical symptoms to obtain an adjournment".
"The thing that concerns me is that the reports should address the matter that emerged in evidence before the commission and that is that in the past, there was a recording of her speaking to police officers in which she appears to state her willingness to feign medical symptoms in order to obtain an adjournment in court," Ms McMurdo said.
Ms Gobbo's counsel Rishi Nathwani said Ms Gobbo's "security issues" and concerns over her mental health have to "change significantly" before she can appear in person.
"Having spoken to an expert I understand she is unable to give evidence in her current circumstances. They would have to significantly change in a way that is unlikely given the security measures. They are such that they are causing mental anguish to others associated with her," Mr Nathwani said.
Ms McMurdo ruled further evidence on the recordings should be given to practitioners working with Ms Gobbo and there should be another review into when and if she can appear before the commission. This will be decided in early October.
Here are some of the other key takeaways from this last week.
'Handling of source could have been better': Victoria Police officer admits to the conflict of interest concerns
In his questioning, superintendent Mark Porter admitted using Ms Gobbo as a human source was an issue and, although he cannot recall, he is insistent that he would have discussed his concerns with a superior officer of Victoria Police.
"I would accept now the handling of that particular source could have been better," Mr Porter said. "How we ended up there when we had the highest trained members that were involved was in extraordinary circumstances, which we found ourselves in at that particular time. I defy any source management unit in the world to resolve it."
When asked by RCMPI counsel Megan Tittensor if he found it strange for a barrister to be working for the police force, Mr Porter said he did.
"You would accept that there would be a problem in a lawyer being a source who then goes on to represent the very people she informed on?" Ms Tittensor asked.
Mr Porter answered with: "Yes."
"It would be a problem if police were a knowing party to such injustices?"
"Yes."
"You would expect any police member who knew this injustice was occurring would immediately do something about it?"
"Yes."
Up until this stage, Victoria Police officers were hesitant to admit to a conflict of interest.
Ms Gobbo was a 'systematic fault' of Victoria Police
Prior to the commission's latest round coming to an end, inspector Dale Flynn had his time in the witness box. He said, looking back, there was a "systematic fault or error made by [Victoria Police] during the course of 2005 and 2006".
When asked if it was a "very wrong thing" to deprive someone of an independent legal professional, Mr Flynn said it was and agreed that this kind of conduct by the Victoria Police force would be denying an individual their right to speak to an impartial lawyer.
However, he did add there was a grey area when using Ms Gobbo due to there being no clear guidance of not registering a solicitor at the time.
"Legal professional privilege talks about some conversations, not all conversations, so I suppose I had in the back of my mind that there is some scope for it to occur."
There have been many other statements during this commission that relates to errors and faults of Victoria Police, including using officers unrelated to certain task forces to carry out tasks to avoid having to disclose this down the line.
This email address is being protected from spambots. You need JavaScript enabled to view it.