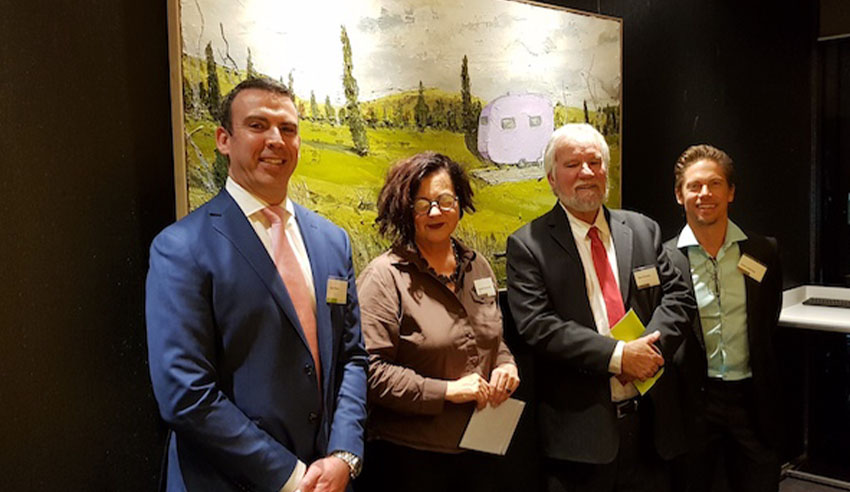 Amanda Penrose Hart was recently named the winner of the $20,000 Clayton Utz Art Award for 2019, for her oil on canvas titled Purple Van.
National firm Clayton Utz has hosted its 2019 Art Award celebration, which is "open to Queensland-based artists, or artists with a strong connection to Queensland".
Professor Ross Woodrow of Griffith University's Queensland College of Art was the judge of this year's event and described Ms Hart's winning entry as creating a "convincing and compelling" space for itself "in very special ways".
"[T]he physicality of its painted surface, creates dynamic interpretations of space and perspective as a viewer moves laterally and longitudinally in relation to the plane of the surface… Without the purple van, this landscape… would be a convincing and absorbing painting and the risky whimsical addition defies the odds as a wonderfully evocative narrative trigger," he said.
Clayton Utz Brisbane partner-in-charge Scott Sharry presented Amanda with her $20,000 prize in front of a crowd of around 150 Clayton Utz people and clients as well as artists and other special guests. The works will be on display for the next 12 months, the firm said.
Mr Sharry said the award was a proud fixture on the firm's events calendar: "Our people really connect with this award and enjoy the conversations that are inevitably sparked by having such a diversity of artistic expression on display in our various meeting rooms and spaces."
"Once again, the award has attracted an exceptional array of talent and we're delighted to play a part in promoting that talent."
Professor Woodrow also singled out three works for special mention: Michelle Caitens "disturbingly brilliant" Sea Glass; Scott McDougall's Inferno – Cane Burn, Murwillumbah NSW – "an absolute ripper of [a] painting, full of heat and real and metaphoric incendiary" – and Lisa Christensen's "stunning" Crimson Rosella with Native Australian Flora.
The People's Choice Prize – as voted by Clayton Utz Brisbane partners and employees – was awarded to Alexandra Matthews for her work, Forbidden City.