How lawyers can stay ahead of the game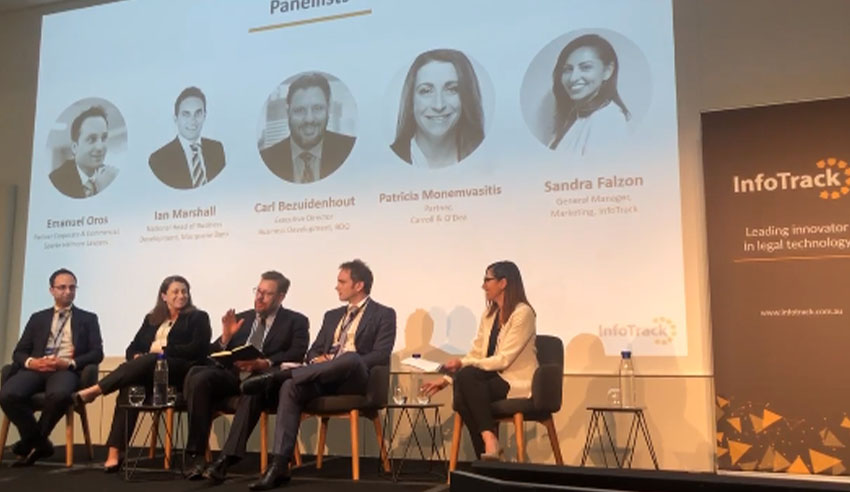 A panel of industry experts have shared their top tips on how lawyers can grow their practice and keep up with the rate of change impacting the profession.
InfoTrack recently hosted its Cultivate 2019 seminar at the ICC Sydney. The event is designed to help lawyers and conveyancers think differently by focusing on ways they can increase efficiencies and make their firm more productive and open to growth opportunities.
In a panel discussion, several industry experts shared their opinions on how lawyers can leverage technology and keeping up with the rate of change.
For Sparke Helmore Lawyers' Emanuel Oros, it isn't about viewing tech as a threat.
"Your role is as the trusted human adviser. We need to analyse the data machines give us and make recommendations to our clients, which is why we are important," he said.
"Technology is here to support us; it can't take over."
A similar sentiment was echoed by BDO's Carl Bezuidenhout.
"Relationships are more important than technology. Our strategy needs to change. We use data to actively report, but it's the real feedback from clients that help us grow," he said.
Meanwhile, Macquarie Bank's Ian Marshall said it's vital lawyers understand that technology helps automate manual processing tasks, thus reduces the time administrative tasks take, as well as the cost.
"It also reduces the risk of data entry errors. However, with Generation Z starting in the workforce, loyalty and the power of referrals is only achieved through positive client experiences," Mr Marshall said.
As for some advice moving forward, InfoTrack CEO John Ahern offered: "Don't just focus on technology that can save you time. Focus on technology that can help you grow your service offering. Free up your talented people from administrative tasks so that they can focus on innovating and evolving your service."
The experts' commentary comes after the release of the 2019 Legal Innovation Report, which found that 48 per cent of Australian firms surveyed believe their biggest challenge in driving innovation internally is "getting enough time and resources away from business as usual" to make such a change.
"When you're trying something new, don't give up," keynote speaker Dr Catherine Ball said.
"If you feel like you're on to something that will work for your firm to create more efficiencies and enhance productivity, don't stop. Think about why you're doing what you're doing."