Missing page reveals Lawyer X inquiry was considered from the beginning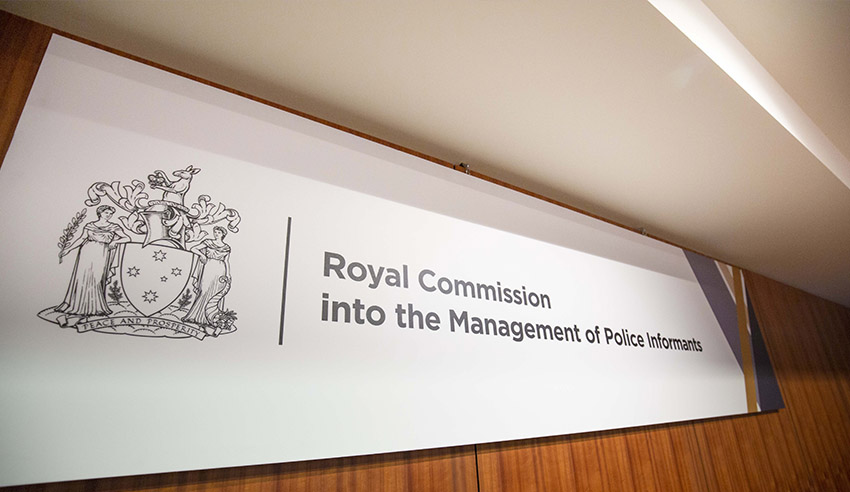 New and explosive details emerging from the commission into police informants found Victoria Police handlers were aware, and were preparing for, the possibility of a royal commission over the management of barrister Nicola Gobbo since the beginning.
In the recent public hearings of the Royal Commission into the Management of Police Informants (RCMPI), former handler "Officer Black" said Victoria Police "[weren't] corrupt" as it's revealed senior members were preparing for a commission from the beginning.
"I think it was a realistic proposition from the moment we started back in 2004. The very nature of what we did would ultimately be reviewed one day," Mr Black said.
In July 2006, Mr Black was called to appear before the Independent Broad-based Anti-corruption Commission (IBAC) to investigate the handling of Ms Gobbo. He was asked to supply his diary notes that refer to Ms Gobbo but one page was missing. On it, notes allude to the Source Development Unit (SDU) preparing for the royal commission.
Mr Black has rejected counsel Chris Winneke's suggestion the page was deliberately left out. Mr Black had noted "3838 future?" and "royal commission?".
"I reject that out of hand. I missed a page. I went from page 109 to 197, [among] 2,000 pages. I missed a page. Nothing more, nothing less," Mr Black insisted. "I'm not trying to hide anything and I reject that allegation out of hand."
Mr Black added he disagrees with the proposition it "doesn't look good" if the SDU had a discussion early on about the potential of an inquiry. He said it wasn't about looking good or being bad and that it was "just the reality of it all".
"I could have written anything there. Back in those days I was still dealing with the OPI and the royal commission is a reality that we dealt with every single day. That one of our decisions, whether we did or didn't do something, would be subject to review," he said.
Mr Winneke asked about the potential for whistleblowing within Victoria Police back in 2006. Mr Black said it's still tough, but he would have done so if he thought there was an element of corruption in the police force regarding Ms Gobbo.
"I tell the truth, and if it needs to be called out, it's called out. At the end of the day, we are going to relate this back to a particular meeting, the SDU, the Purana investigators and Victoria Police reached the decision. They rectified how they did that," he said.
"I don't consider this an occasion to think that anybody should think this is any sort of corruption or make any such complaint, because rest assured, if I thought that was the case, I would have done so. Was it the greatest decision we made at the time? There are alternative views on that."
This email address is being protected from spambots. You need JavaScript enabled to view it.