Michael Kirby's 'lasting contribution' to law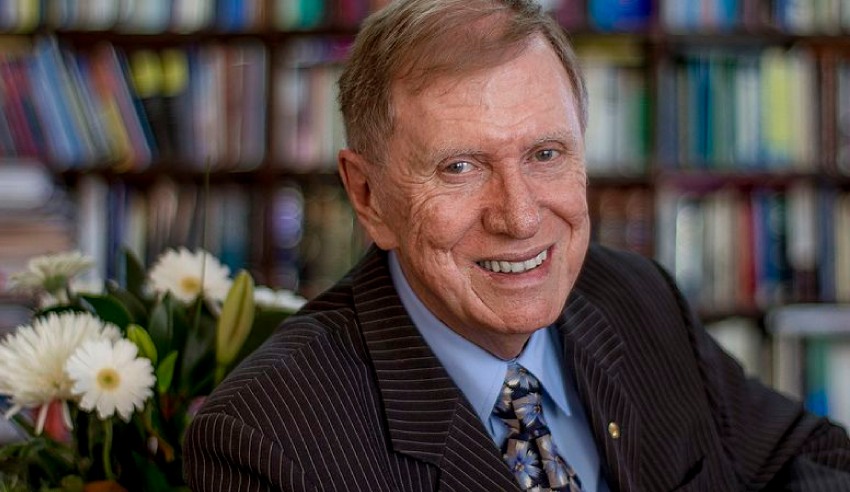 Carpe Diem! and other musings behind one of Australia's most renowned judges, Michael Kirby AC CMG, whose illustrious career had to hurdle doubts and judgements to celebrate many professional achievements and personal blessings.
In 1948, former justice for the High Court of Australia, Mr Kirby, was handed a questionnaire at his primary school: what do you want to be when you grow up? At nine years old, his imagination was filled with courtroom dramas he saw at the pictures every weekend – titles like Johnny Belinda and The Winslow Boy.
Fired up by impressive – and "sometimes terrifying" – actors who played English judges in their costumed robes and wigs, he answered: "a judge or a bishop".
Almost 25 years later, at the age of 35, Mr Kirby argued a case before Justice John Moore and the Commonwealth Conciliation and Arbitration Commission. As he was about to depart Little Bourke Street in Melbourne for his hometown back in Sydney, he was summoned to a meeting in Justice Moore's chambers.
"He told me he had been authorised by the federal minister for industrial relations to enquire whether I would accept appointment to the commission," Mr Kirby said.
He told Justice Moore that he needed to discuss the appointment with his family and he viewed the invitation to the commission as a "great honour".
The clerk to his chambers said: "This is a big job boss. You cannot turn it down," but a friend at the bar cautioned: "It will be a legal siding. You will be parked there, frustrated, and never heard from again."
But Mr Kirby said he didn't think that would happen and thought he would make a "good judge". Guided by Carpe Diem! ("seize the day") he accepted the offer and began his long and illustrious career as a judge.
Making each day count
Mr Kirby has had an impressive career. He is an international jurist, educator and former judge. He has served as deputy president of Australia Conciliation and Arbitration Commission, chairman of Australian Law Reform Commission, judge of the Federal Court of Australia and justice of the High Court of Australia.
And he hasn't quite stopped. There's no such thing as a typical day for Mr Kirby. It all depends largely on where he is in the world. Australia: chambers at 6am and home by 8pm, a day packed full of meetings, engagements and speeches.
If overseas it's conferences, which he usually tries to pack together so he can tackle them all together, and sometimes international commercial arbitration. In-between all of these commitments, Mr Kirby could spend his day doing anything from writing book forewords, mediations and lunching with old friends.
"I have not returned to the bar as many ex-judges have done," he said. "In this, as in other things, I display an endearing conservatism in my nature. Going back to the bar after being a judge would have been unthinkable until quite recently."
Mr Kirby's notable dissent rate earned him the nickname "Great Dissenter". In 2004, he delivered a dissenting opinion on nearly 40 per cent of the matters he was part of, almost twice as many as his High Court colleagues. In his constitutional cases, his dissent rate was more than 50 per cent.
He said contrary to the nickname, he did not find it difficult to work in a collegial environment. During his career at the Australian Law Reform Commission, the Court of Appeal of NSW, the Court of Appeal of Solomon Islands, the UN mandate on Cambodia and North Korea: "I was a good leader and team player."
However, he noted disagreeing with colleagues is "unpleasant and frustrating" and it adds to the workload. He said, "It has to be left to others to judge the merits of the disagreements to which I gave expression" and added that if he had been appointed chief justice in 1995 (as might have happened) it would be different.
Career highlights
Mr Kirby said he often gets asked what his favourite case is, but in truth he cannot pick just the one: "Basically, I enjoyed the challenge of every case."
"I felt lucky to be a judge in the courts to which I was appointed. The cases were virtually always interesting to me," he said. "Judges who complained that the work was boring needed to get a new attitude to the tasks," he said.
He did now concede that Al-Kateb v Godwin [2004] has become a favourite as it "illustrates neatly the choices judges face (certainly at the level of the Court of Appeal and the High Court) between adopting formalistic reasoning and recognising the room for re-expression of the law that lies before them."
Al-Kateb v Godwin was a decision of the High Court of Australia that ruled on the indefinite detention of a stateless person as lawful. The case concerned Ahmed Al-Kateb, a
Palestinian man born in Kuwait who moved to Australia in 2000 and applied for a temporary visa. The decision is still regarded as controversial.
For any judge to make decisions like this (or any in the courtroom), Mr Kirby said there are many skills needed. They include honesty, integrity, having a sense of independence "but also a desire to work constructively with others", having good manners and an abhorrence to bullying and discrimination.
"In the ALRC, the Court of Appeal and my many UN tasks I have made it a point to work with others as a team," he told me. "Contrasting the approach of my predecessors, my colleagues described the NSW Court of Appeal when I was president as a 'collective' or 'soviet'. We met weekly. We worked through the backlog and also administrative challenges together."
He added that in the High Court, "things operated in a different way". But he would always try to preserve a professional attitude as "bad manners on behalf of the judge invariably embarrassed me intensely".
Too humble to answer what he believes is his biggest career achievement to date – "It is really for others to assess any achievements and also my failings" – Mr Kirby did relent his professional personal achievement instead.
"In terms of professional personal achievement, I would say my engagement (including some of my judicial years) in international human rights law. And my attempt to demonstrate the way in which that growing body of law can be reconciled with the Australian domestic legal system," he said.
"Achieving that recognition is necessary and feasible despite contrary views expressed in Al-Kateb, Roach and other cases."
Personal wins
When it comes to his biggest personal achievement, Mr Kirby said it is his 50-year relationship with partner Johan van Vloten. They met on 11 February 1969 at a gay club in Sydney and were wed almost 50 years to the day, a little after Australia's controversial postal vote and the legalisation of same sex marriage.
Mr Kirby said it constitutes as a blessing, "but given the legal, social, religious and other obstacles, it may also be seen as an achievement." He has had the support of his family from almost the very beginning, but says "not everyone is so lucky".
Before he was open about his sexual orientation, he played by the rules of society: "don't ask, don't tell". He said if he didn't, he would not have had the opportunities he had "on virtually every occasion" and may not have ever become a judge.
He said he hopes it is less of an obstacle for others now and has noticed same-sex partners are acknowledged matter-of-factly at judicial welcomes "in a way that was never open to me on any of my judicial or other appointments."
"In fact, I think my openness has now helped neutralise this issue also in United Nations and international fora. That may be a lasting contribution," he said.
There are a number of causes that Mr Kirby is passionate about, including LGBT+ equality. He wants to see radical improvement for Australia's Indigenous people, better welfare for animals and a change to the access of legal representation.
He said judges play a role in responding to human rights and climate change and complying faithfully with the Refugees Convention. There is also the issue of tackling unspoken healthcare, including hepatitis C among prisoners, drug use and confronting prostate cancer – of which his father died from in 2011 and of which "men do not discuss". And these are just for starters.
"I do not initiate the engagements," he said when asked how he has worked with the Australian community. "They flood in all the time."
He said he agrees with banking royal commissioner Kenneth Hayne who called out trust in government as "damaged or destroyed" in comments that came after handing down the royal commission's findings.
"This explains the incessant demand for people like me to contribute to events," Mr Kirby said. "They know it will be intelligent, informed and non-partisan. Australians are thirsting for an escape from false fact and political wedging."
Going forward
Currently, Mr Kirby is co-chair of Human Rights Institute of the International Bar Association (IBA). It is the largest global organisation representing judges and lawyers, based in London. It tackles attacks on the judiciary and the profession across many countries as well as advocates for those lawyers that have been imprisoned or punished for simply doing their jobs.
The IBA recently sponsored a mission to the Vatican to persuade the Pope to clarify the Catholic Church's opposition to the criminalisation of adult, consensual, private sexuality of LGBT+ people. The IBA said it is standing ready.
On top of this responsibility, Mr Kirby works with UNAIDS on the implementation of the Sustainable Development Goals. It interrelates with his work as the patron for the Kirby Institute for Infection and Immunity in Society of UNSW.
"And my partner, now spouse, Johan, insists that marriage brings with it the right and obligation of more holidays," Mr Kirby told me.
"This is proving the most difficult obligation of them all."
There are three things the world may not know about Mr Kirby. First, it's that having fallen out of love with Gustav Mahler, he is passionate about the religious music of JS Bach. The second is his favourite reading matters are The London Review of Books and The New York Review.
And the third? The long journey's he and Johan made overseas (in 1969, 1970 and 1974) was a formula for their lasting relationship.
If he could go back and start again, Mr Kirby said he would have been a historian. At the Leaving Certificate in 1955, he was placed first in NSW in modern history: "I loved that subject. When I am reading for leisure and enjoyment, it is always history." He does concede that, in some ways, he is a historian now.
"Of course, to some extent, a judge in common law country is a historian. I deplore the decline in the teaching of legal history in our law schools," he said.
He suggested that judges should take an active part in legal education, either after or before their appointment. He said joining the judiciary is a worthy aspiration of any lawyer "with the ability and the essential characteristics" but warns that it is not for the faint-hearted as it is intense work, normally seven days a week.
Mr Kirby said the position requires a mind that can stay focused and is able to explain decisions that need to be made all the time. He still regards it as a noble vocation and holds fast that judges are hard-working and uncorrupted.
"We must keep it that way," he insisted.
Mr Kirby doubted that his career is coming to an end anytime soon, given the sheer volume of responsibilities and commitments he has. His goals are bigger than ever and his career has led to a number of new opportunities.
"Every new decade in my life has brought new challenges. School. University. The bar. ALRC. Court of Appeal. High Court of Australia. United Nations. IBA. I do not doubt that the remaining decades will be active and busy," he said, and then joked: "And then there will be the challenge of planning my state funeral."
This email address is being protected from spambots. You need JavaScript enabled to view it.