Nicola Gobbo appearance addressed at Lawyer X royal commission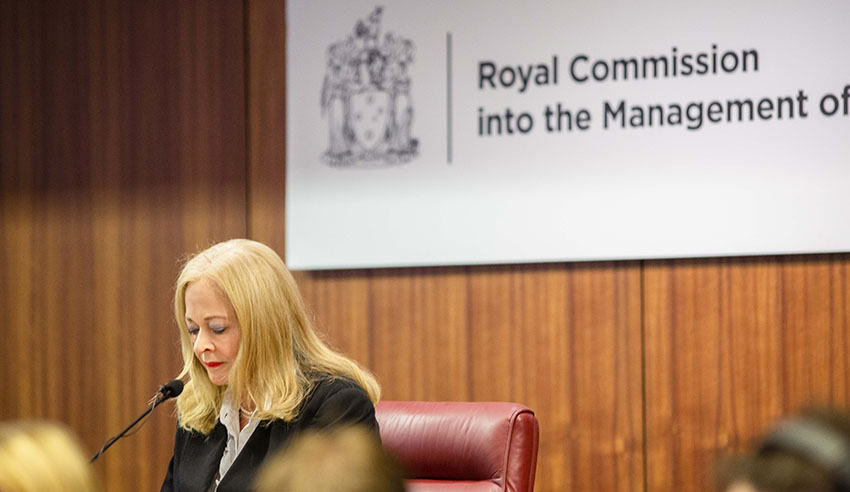 Commissioner Margaret McMurdo has passed down her verdict on the appearance of barrister Nicola Gobbo before the royal commission into the possible mismanagement of the human informers recruited under Victoria Police.
Barrister-turned-informer Ms Gobbo has been ordered to appear and give evidence in the Royal Commission into the Management of Police Informants (RCMPI), giving the source at the front of this entire inquiry a chance to tell her side of the story.
This is a huge win for the commission, which has been questioning some of the major key players in the period of time Ms Gobbo worked as a barrister for clients that would ultimately be arrested as a result of her "chucking ethics out the window".
Commissioner Margaret McMurdo ordered she must give evidence by phone starting January 29 in 2020 as she does not have reasonable excuse not to attend.
"Some suggest that her medical problems may be able to be managed and several speak of her resilience. After conversing with her together with her lawyers and the commission lawyers over many hours over several days earlier this year, despite the medical reports tendered on her behalf and the submissions of her counsel and given the commissions preparedness to accommodate her health and personal circumstances by sitting short hours, taking her evidence by telephone and at times reasonable convenient to her, I am not presently persuaded on the balance of probabilities that she has established a reasonable excuse for failing to comply with the notice to attend."
"What I intend to do is to vary the notice to attend to provide that Ms Gobbo will give evidence by telephone, commencing on January Wednesday 29, 2020 and that will be varied and served by the commission lawyers shortly."
This decision comes after several postponements on this decision. It was moved back in September after Ms Gobbo's counsel argued she would not be able to appear before the commission due to suffering from "mental anguish".
"Having spoken to an expert, I understand she is unable to give evidence in her current circumstances. They would have to significantly change in a way that is unlikely given the security measures. They are such that they are causing mental anguish to others associated with her," counsel Rishi Nathwani told the commission.
Ms McMurdo was not satisfied with this, pointing to evidence on recordings that heard Ms Gobbo intended to feign a medical condition to avoid any court hearings.
"The thing that concerns me is that the reports should address the matter that emerged in evidence before the commission and that is that in the past, there was a recording of her speaking to police officers in which she appears to state her willingness to feign medical symptoms in order to obtain an adjournment in court," Ms McMurdo said.
The decision was postponed to October, where insufficient medical advice was given, and then again to November 26, with the ultimate decision again being to postpone.
More to come soon.
This email address is being protected from spambots. You need JavaScript enabled to view it.