Aussie Lawyers retains Cricket World Cup title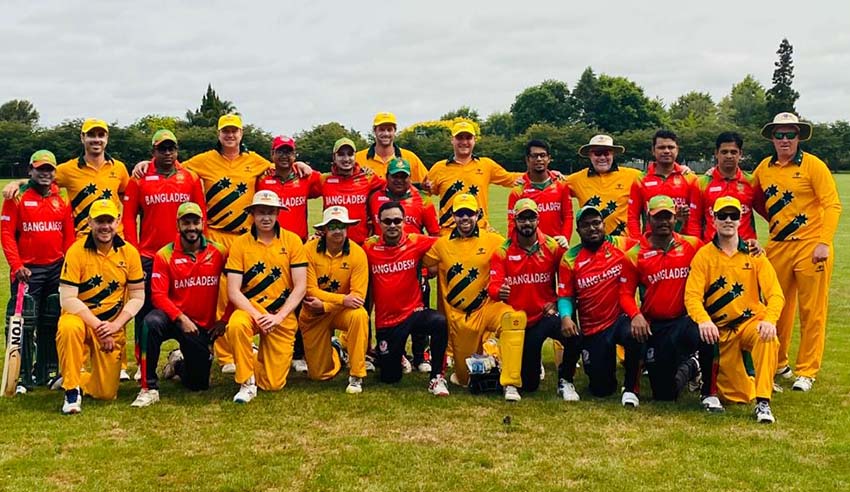 A team of Aussie lawyers has taken out the Lawyers' Cricket World Cup in Hamilton, New Zealand, beating Sri Lanka in the finals.
Australia retained the cup in a draw of 13 teams throughout the Commonwealth held from 29 December 2019 to 9 January 2020. Countries included Australia, Sri Lanka, India, Pakistan, Bangladesh, English barristers, New Zealand and the West Indies.
Ashley Tiplady, partner at Mills Oakley has represented Australia since 2011. 
"I often describe myself as a cricketer trapped in a lawyer's debt cycle!" said Mr Tiplady. "I've played first-grade cricket in Brisbane, so to combine that passion with the ability to travel the world with mates and play on test grounds is a 'no brainer.'"
The Lawyer's Cricket World Cup was instituted by legal practitioners to promote the rule of law throughout the Commonwealth by using cricket as an opportunity to meet regularly at different locations and to interact with legal practitioner friends from elsewhere at the biennial competition.
A Senior Associate at Clayton Utz, this year's captain Daniel Maroske, had actually begun when the tournament first begun.
"I first became involved in the LCWC in 2009 when the tournament was hosted in Cambridge, UK. At the time I was playing as an overseas pro in the Middlesex Premier League and was working as a lawyer in London," said Mr Maroske.
"I was alerted by a number of former Queensland team mates that they were touring the UK with the Australian Lawyers team and they were keen to have me involved. Having hit the winning runs at The Oval in 2009 when we won the tournament, I have played in all subsequent editions (as listed by Ashley) and captained the side that won in Colombo in 2017."
Starting in Hyderabad in 2009, the LCWC was then hosted across the globe in London, Barbados, Delhi, Brisbane and Colombo.
Mr Tiplady was man of the match in the final of the 2009 LCWC and went on to captain the side in the 2011 Cup in Barbados and continued to play in Delhi in 2013, Brisbane in 2015 and the 2017 Colombo World Cup.
However, according to Mr Tiplady, the LCWC isn't just a place to travel the globe and play cricket. He said there is also a much deeper purpose.
"The main purpose of the world cup is to promote the rule of law, acknowledging and supporting the crucial role played by our legal institutions in ensuring a mature, stable democracy," said Mr Tiplady. "Hence the slogan 'cricket for friendship.'"
"The importance of international events such as these to the legal community are that they allow participants to develop relationships (and more often than not, friendships) with legal practitioners across the Commonwealth and beyond," Mr Maroske said.
"The relationships and friendships I have developed have taught me the value of understanding how uniquely different cultures approach legal issues, the importance of 'saving face' to certain people, and that there is always more than one way to resolve a problem - these are, of course, valuable lessons for any litigator." 
The cup also serves as a forum for international collaboration and discussion about issues such as sport and human rights.
At each world cup, law conferences are held with high-profile international speakers. This year in New Zealand, lawyers gathered at Waikato University to listen to Sir John Hansen QC, who was on the NZ High Court for years and was the appeal judge in the famous Andrew Symonds v Harbhajan Singh "Monkeygate" hearing. 
Mr Tiplady, whose appearance at the LCWC in New Zealand was his swan song, encourages lawyers to participate in this unique experience. 
"Many friendships have been formed over the years and we often catch up with mates and opponents if we are ever in their country," said Mr Tiplady. "It also assists with the referral of work and appreciating cultural differences, including methods of legal practice."
Although it won't be Mr Maroske's last appearance, he looks forward to seeing new faces at the selection trials for the next LCWC. 
The next World Cup will be held in Trinidad in the West Indies in August 2021 – selection trials for three Australian teams (A team, B team and a Veterans [over 50]) are likely to be held in Sydney in January 2021.