Sydney Lawyers Orchestra performs fifth Christmas concert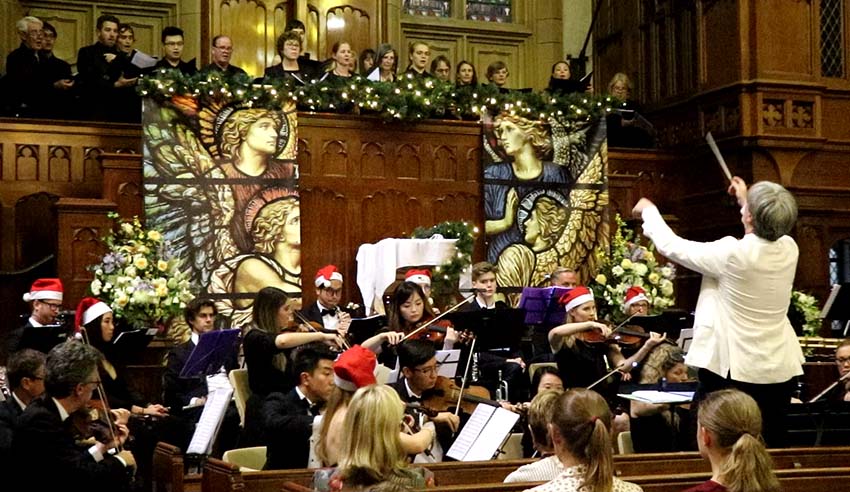 The Sydney Lawyers Orchestra recently performed its fifth Christmas concert with a special guest in attendance.
Her excellency the Honourable Margaret Beazley AO QC, Governor of NSW, who is also a patron to the Sydney Lawyers Orchestra (SLO) attended the spectacular annual concert performed at St Stephen's Uniting Church in Sydney on 17 December.
Joined by the NSW Bar Choir and baritone soloist, David Hidden, the orchestra performed works by Berlioz, Bach and Mozart (father and son) and a selection of Christmas classics that had shoulders swaying and toes tapping.
SLO, founded and conducted by Bird & Bird partner, Thomas Jones, comprises a talented group of musicians from across the legal profession. The NSW Bar Choir draws its singers from the ranks of barristers, judges and other legal professionals.
"It's really a group of people who wanted to enjoy making music together," Mr Jones said.
"There are a number of ex full-time professional musicians, several people who have got undergraduate performance degrees, and there are several people also who just have a real passion for music but found it difficult to make the decision of whether you pursue it as a full-time career or you pursue another profession that's probably got a greater degree of personal and financial security."
This year, the concert also focused on raising initiative for the recent Australian bushfires, with donations for the Vinnies Bushfire Appeal collected on the night, totalling just over $2,000. The funds will contribute to supporting those people and communities dealing with the devastation of the bushfires across Australia.
The SLO will continue to support those affected by bushfires and drought through further fundraising performances and charity initiatives in 2020.
"We were glad to be able to bring the joy of music to the legal and broader community at Christmas time and raise funds for the bushfire appeal at the same time," Mr Jones said.
"I am proud of the firm's support of this initiative".