Jones Day announces 2 new partners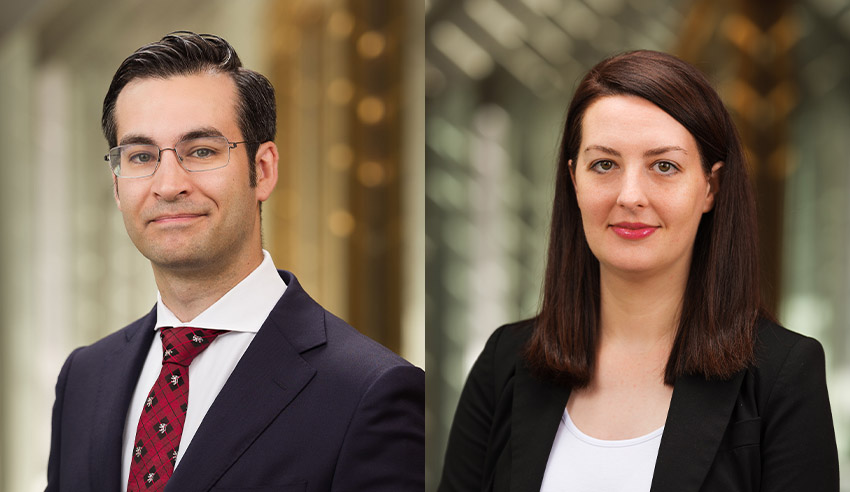 Jones Day has announced that two new lawyers were admitted to partnership in the firm's Sydney office effective January 2020. Both lawyers are part of Jones Day's global disputes practice.
New partner James Ebert joined Jones Day back in 2014 and is a commercial litigator who represents global and domestic clients across Australia regularly acting in NSW, Queensland and Victoria. 
His practice, the firm said, is focused on high-stakes disputes, with particular attention on the construction and infrastructure sectors, joint venture disputes, and other strategic matters for major multinationals in a range of industries. 
Highlights include acting for Lendlease in NSW Supreme Court proceedings brought against the Barangaroo Delivery Authority regarding the development of Barangaroo along with acting for Fluor Corp and Fluor Australia in defence of Queensland Supreme Court proceedings brought by Santos in relation to the Gladstone LNG Project along with the recovery of approximately $500 million through adjudications for Fluor Australia on the GLNG Project.
Also appointed to partner, Holly Sara brings a wealth of experience in commercial litigation, representing clients in complex and strategic matters across all Australian jurisdictions. The firm said that Ms Sara focuses on class action defense work and major corporate level disputes and litigation, in addition to government and regulatory investigations and proceedings.  
Ms Sara's experience at Jones Day encompasses numerous high-profile and significant matters, acting for a major financial institution in the landmark Royal Commission into Misconduct in the Banking, Superannuation and Financial Services Industry and also representing corporate and high-profile executive clients in regulatory actions including major prosecutions by the Australian Securities and Investments Commission and claims by the federal government.
John Emmerig, partner-in-charge of Jones Day's Sydney Office, commented: "Jones Day is widely recognised internationally as a leading firm in high-value and strategically important litigation."
"The promotion of James Ebert and Holly Sara reflects the continued growth and success of the firm in Sydney in the high-end litigation market, serving the needs of leading global and Australian organisations in major domestic and international litigation. James and Holly are exceptional lawyers and great additions to the partnership."