Law student's superbug prevention idea wins innovation program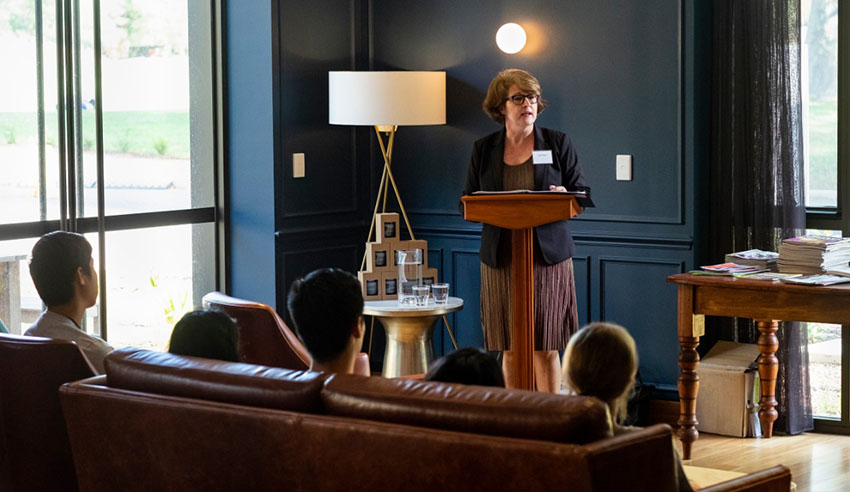 A team of law and science students has emerged the inaugural winners of a summer innovation program with a method to prevent the emergence of superbugs.
The five-person team – which consisted of undergraduate and postgraduate students studying law, science, engineering, arts and commerce – developed a practice to label food to indicate the use of antibiotics to prevent superbugs, which handed them a win at the University of Sydney's Summer Innovation Program (SIP).
They were awarded a place in the University's Sydney Knowledge Hub and will receive guidance to further develop the pitch into a viable future work program.
"The SIP program was an amazing experience which allowed me to pursue a passion for science and law, whilst collaborating with talented students from different degrees," said Kirsten Laurendet, a science and law student in the winning group.
"I was extremely lucky to have such a cohesive team throughout the program and the inspiring mentors who encouraged us to remain ambitious and bring our ideas to life."
Twenty students from across the university attended the SIP to tackle critical legal and regulatory challenges facing Australia and the world. The program was developed by the new dean of the University of Sydney Law School Professor Simon Bronitt, along with senior lecturer in Biomedical Engineering Dr David Martinez Martin.
"We designed the program to give students a 'hands-on' experience of interdisciplinary learning outside the formal constraints of grade coursework and to help them establish new and ongoing professional networks," said Professor Bronitt.
The students engaged in five days of work in a Shark Tank­-style pitch presentation to present the results of their week of collaborative efforts. The panel of judges included Federal Court of Australia Judge the Honourable Sarah Derrington.
Other teams of students participating in the program developed ideas related to justice on campus, data analytics and crime, and autonomous transport.
"It was a challenge to choose one issue to tackle the broad topic of 'global health and environment', however, once we landed on antibiotic resistance, we were able to then develop a preliminary solution relatively quickly," said law student Lily McCubbin.
"Our diverse academic backgrounds allowed us to effectively develop our idea into the well-rounded solution with foundations in science, media, economics and law."
This email address is being protected from spambots. You need JavaScript enabled to view it.