How lawyers are juggling work-life balance during COVID-19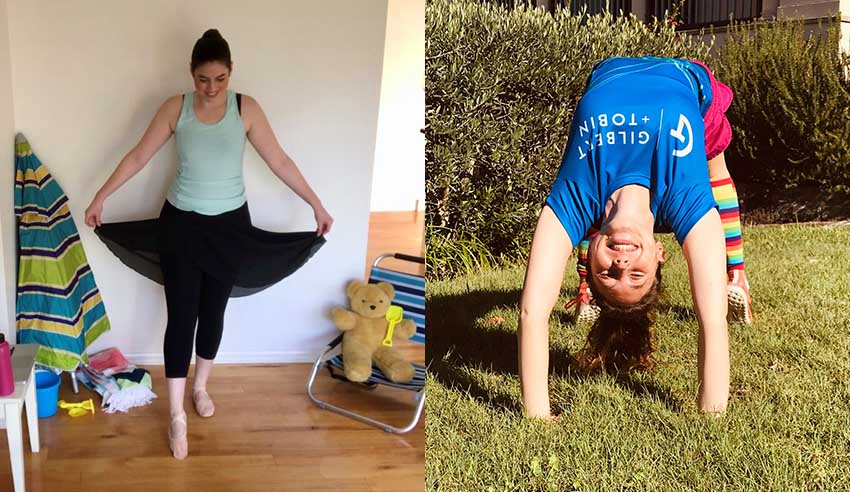 The ongoing COVID-19 pandemic has seen lawyers have to work through a tumultuous period, creating uncertainty across the profession.
The pandemic has added to an increased challenge to manage work-life balance, which was already difficult to juggle pre-COVID-19.
Lawyers Weekly spoke to two Gilbert + Tobin lawyers on how they have had to juggle their life and what they have been doing in isolation to keep themselves busy during the pandemic.
Anna Belgiorno-Nettis, who is a lawyer in Gilbert + Tobin's competition + regulation group, told Lawyers Weekly that during her stay at home, recreating some of her usual routine has been helpful. 
"I avoid logging on after dinner or on weekends, and do my standard big café brunches on weekends, except takeaway style," Ms Belgiorno-Nettis said.
"What better way to support our locals! That said, no point sticking to the usual if it's changed for the better. Setting myself up so I can sit cross-legged and wearing comfy clothes has been pretty great."
Bridget Sutton, who is a lawyer in the corporate advisory group, said that as many fellow corporate lawyers would know, work-life balance can be a hard notion to achieve. 
"As a lawyer at G+T, I have been working from home for almost 10 weeks now due to the COVID-19 pandemic," she said.
"'Switching off' from work, particularly when working from home can be a difficult task, however, rain, hail or shine (who knows with the Melbourne weather!) I always try to go for a walk at [lunchtime] with my dog (shout out to Snoopy) to stretch my legs, clear my head, and get some fresh air."
Keeping busy during the pandemic
Although the work from home routine has caused many changes for lawyers' routines and workloads Ms Belgiorno-Nettis said she has actually been trying to not keep busy. 
"That might sound strange, but I think it does us legal [busybodies] good. In this quasi-hibernation period, I'm giving myself more time to sleep, have proper meal breaks, go for walks before lunch, do the crossword… we wouldn't label these things 'productive' but they've helped me create the space to feel calmer and focused when I am working," she said.
"I'm conscious that being able to do this is often a luxury. I'm in awe of the many lawyers with more caring responsibilities than usual right now."
In terms of activities, Ms Belgiorno-Nettis has taken up a Virtual Running Festival.
"To replace the fun runs Gilbert +Tobin usually does, we've created a 'Virtual Running Festival' where everyone will be iso-jogging in their G+T tees and sending in selfies," Ms Belgiorno-Nettis said.
"And I've been blown away by how many e-courses have popped up. My Russian beginner, one's been очень хорошо!"
Ms Sutton said that aside from work, usually on Saturday mornings, she takes her time to teach at a local dance school with her teaching salary being put towards a scholarship to further a student's dance education. 
"Due to the COVID-19 pandemic, dance teaching has become a very different scene! Due to the age of the classes I teach (three to seven-year-olds), I have been [prerecording] classes for this term's lessons which keeps me very busy! In addition, I still take 'virtual' dance classes each Wednesday night in tap!" Ms Sutton said.
A new normal
As the post-pandemic future slowly comes out of the tunnel there are hopes that COVID-19 could pave the way for better work-life balance or a change in work patterns.
As part of Gilbert + Tobin's workplace flexibility group, Ms Belgiorno-Nettis said that this could definitely happen.
"While dismaying that a pandemic caused it, it's incredible to have watched businesses transform themselves into such successful remote workplaces," Ms Belgiorno-Nettis said.
"I think employers and employees trust the idea of workplace flexibility much more because now we've actually done it ourselves. We've seen how well it can work, with all the tech tools at our fingertips. 
"The way towards flexible workplaces was already being paved pre-COVID. Now that paving is taking on a whole new pace. Which is so exciting." 
Ms Sutton also agreed in a similar view and said that she certainly believes that COVID-19 will change the way all businesses – law firms included – will operate in the future. 
"We have proven that we are able to work effectively and successfully from home during this unprecedented time and I think that will feature more prominently in the future of the operation of law firms," she said.