Maddocks makes 44 senior promotions heading into new financial year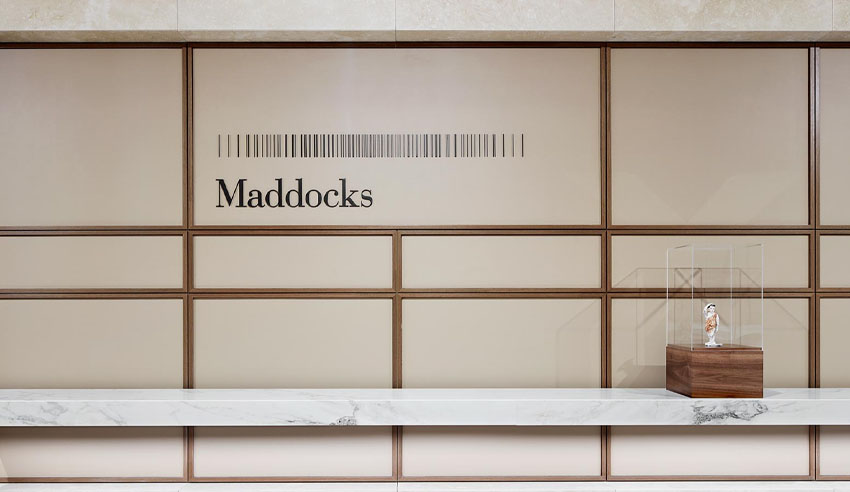 Maddocks has named three lawyers to the partnership as part of its 44 senior promotions round heading into the next financial year.
Briana Eastaugh, Sam Kingston and Sonia Sharma will commence as partners from 1 July.
These promotions form part of a group of 44 senior Maddocks lawyers taking the next step in their careers at the start of next month.
Maddocks chairman Mark Henry congratulated the new partners on reaching this significant career milestone.
"Being appointed as a partner is a special moment in a lawyer's life because it is recognition for years of hard work building a practice by gaining the highest levels of trust from your clients and your colleagues," Mr Henry said.
"Along the way, Briana, Sam and Sonia have displayed the qualities we value most in our lawyers, in particular a commitment to excellence and integrity that is central to who they are as lawyers and as people."
Ms Eastuagh is a special counsel in Maddock's public law team in Melbourne, specialising in planning and environment law.
She has extensive experience advising clients on strategic and statutory planning and environmental law matters and appears as an advocate at the Victorian Civil and Administrative Tribunal and Planning Panels Victoria hearings.
Ms Sharma is a special counsel in the firm's commercial team in Sydney, with experience advising on technology, cyber and general commercial matters.
According to the firm, Ms Sharma has a strong privacy and data practice, including advising clients on large-scale data breach preparation and response and all aspects of privacy and data compliance, management and governance. She also advises clients from all sectors and industries on compliance with the new modern slavery laws and is focused on new and emerging regulatory issues and risks.
Mr Kingston is a special counsel and is part of the firm's commercial team in Melbourne, specialising in insolvency and restructuring.
Mr Kingston works with clients in all aspects of external administrations, security enforcement and insolvency dispute resolution.
He has acted for clients in a wide range of industries in large-scale court proceedings involving complicated insolvency issues, Personal Property Securities Act 2009 (Cth) claims and regulatory issues.
Mr Henry also congratulated the firm's five new special counsel, 15 new senior associates and 21 new associates.
"We have such a fantastic group of talented, dedicated lawyers at Maddocks and it is a joy to watch their careers grow and blossom. I am confident about the future of the firm because it largely rests in the hands of these passionate and highly committed people," he said.
Lawyers Weekly has listed the full list of Maddocks' promotions: 
Partners
Briana Eastaugh (public law, Melbourne)
Sam Kingston (commercial, Melbourne)
Sonia Sharma (Commercial, Sydney)
Special counsel
Brian Henson (construction & projects, Sydney)
Viviane Karoumbalis (commercial, Melbourne)
Ooma Khurana (commercial, Sydney)
Michael Nicolazzo (employment, safety & people, Melbourne)
Greg Palumbo (commercial, Sydney)
Senior associates
Simon Coates (employment, safety & people, Sydney)
Ali Gallaher (employment, safety & people, Melbourne)
Daniel Hui (commercial, Melbourne)
Caitlin James (public law, Melbourne)
Jenny Lo (property & development, Sydney)
Stefanie Mackenzie (commercial, Melbourne)
Thy Nguyen (public law, Melbourne)
Katie Parkinson (construction & projects, Melbourne)
Indira Prickett (public law, Canberra)
Melissa Ramov (commercial, Melbourne)
Harriet Royle (commercial, Sydney)
Matthew Thornton-Dibb (public law, Sydney)
Gerard Twomey (employment, safety & people, Melbourne)
John Varos (property & development, Melbourne)
Sunita Warrior (property & development, Melbourne)
Matthew Thornton-Dibb (public law, Sydney)
Associates
Geordie Cassimatis (commercial, Sydney)
James Cordner (dispute resolution & litigation, Melbourne)
Eloise Crompton (construction & projects, Melbourne)
Anthony Daras (construction & projects, Sydney)
Ann-Maree Drakos (public law, Melbourne)
Thandi Ellis (property & development, Melbourne)
Natasha Faigenbaum (commercial, Sydney)
Mathew Gashi (commercial, Melbourne)
Claire Grundy (commercial, Melbourne)
Rema Hamdan (employment, safety & people, Sydney)
Richard Hanson (commercial, Melbourne)
Peter Hoolihan (public law, Canberra)
Vicki Howe (commercial, Sydney)
Johnny Kong (property & development, Sydney)
Katie McClelland (commercial, Sydney)
Jonina Neale (property & development, Sydney)
Melinda Norquay (public law, Sydney)
Bridie O'Shannessy (commercial, Melbourne)
Lisa Rennie (property & development, Melbourne)
Branevan Shankumar (construction & projects, Melbourne)
Bridget Sullivan (public law, Canberra)