Piper Alderman makes 21 new promotions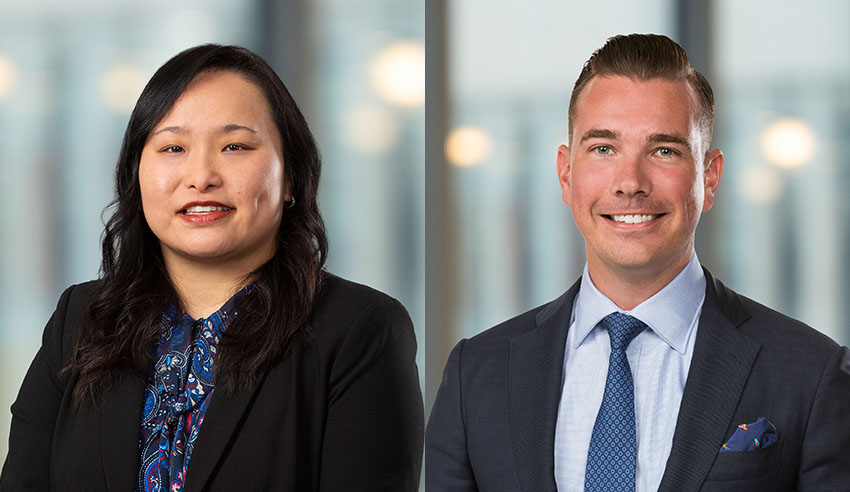 Piper Alderman has made 21 new promotions across the firm, including two new special counsel, effective 1 July 2020.
Elaine Cheung in financial services and FinTech and Beau Weigand in dispute resolution and litigation are the two newly appointed special counsel who will be located in the firm's Sydney office.
Ms Cheung joined Piper Alderman in 2016 and has extensive experience advising and acting for banking and financial services clients in a variety of areas.
Mr Weigand joined the firm in December 2017 and has over 10 years' experience in insolvency, litigation and commercial dispute resolution.
"Piper Alderman has continued to deliver legal services of the highest quality, despite the challenges of the times," managing partner Tony Britten-Jones said.
"We are hopeful that the COVID-19 situation will continue to improve and with that improvement, business and social confidence will also improve. We have shown we have the ability to change with little notice, adapt to different work, continue to service clients and attract new ones.
"With those facts and sentiments in mind, we are delighted to announce the promotion of 21 lawyers."
According to the Piper Alderman, the large number of associate appointments reflects the success of the firm's clerk and graduate programs in recent years.
Seven of those being promoted to associate joined the firm as graduates and three joined the firm through its clerk programs.
Mr Britten-Jones said that Piper Alderman's clerk and graduate programs are part of the firm's commitment to attracting, retaining and developing the best talent.
"We hope that these programs will result in an increase in clerk to partner appointments within the firm such as those which have occurred already like Erin McCarthy, [employment relations partner] and Bianca Jennings, [corporate and commercial partner], both in our Adelaide office," he said.
"The firm remains committed, even through COVID-19, to our clerk and graduate programs and we look forward to new faces joining us in the coming months and in early 2021."
The firm has also extended its commitment to senior associates and special counsel this year with the launch of their own development program which commenced in April.
This program is open to all senior associates and special counsel and has been designed to prepare senior associates and special counsel who wish to nominate for partnership with skills in practice management, business development and leadership.
Mr Britten-Jones said they have deferred their internal partner appointments until 1 October 2020 to allow for more time to complete the program, as well as the partner nomination process.
"We are working with those who have indicated they are nominating and we look forward to further announcements later this year," he said.
Lawyers Weekly has listed the complete list of promotions with effect from Wednesday, 1 July 2020:
Special counsel
Ms Cheung, financial services & fintech (Sydney)
Mr Weigand, dispute resolution & litigation (Sydney)
Senior associate
Tania Maystrenko, commercial (Adelaide)
Liberty Privopoulos, commercial (Adelaide)
James Hill, corporate (Melbourne)
Janet Wong, real estate (Melbourne)
Amrita Howell, employment relations (Sydney)
Associate 
Tom Woolford, dispute resolution & litigation (Adelaide)
Daniel Owen, corporate (Brisbane)
Jamin Li, commercial (Melbourne)
Oscar Ruane, corporate (Melbourne)
Sam Blight, corporate (Sydney)
Millie Byrnes Howe, dispute resolution & litigation (Sydney)
Leo Kohn, projects & construction (Sydney)
Gabor Papdi, financial services & fintech (Sydney)
Chelsea Payne, financial services & fintech (Sydney)
Thomas Riddell, dispute resolution & litigation (Sydney)
Egor Serov, corporate (Sydney)
Nathan Sexton, dispute resolution & litigation (Sydney)
Emer Sheridan, projects & construction (Sydney)
Tom Skevington, financial services & fintech (Sydney)