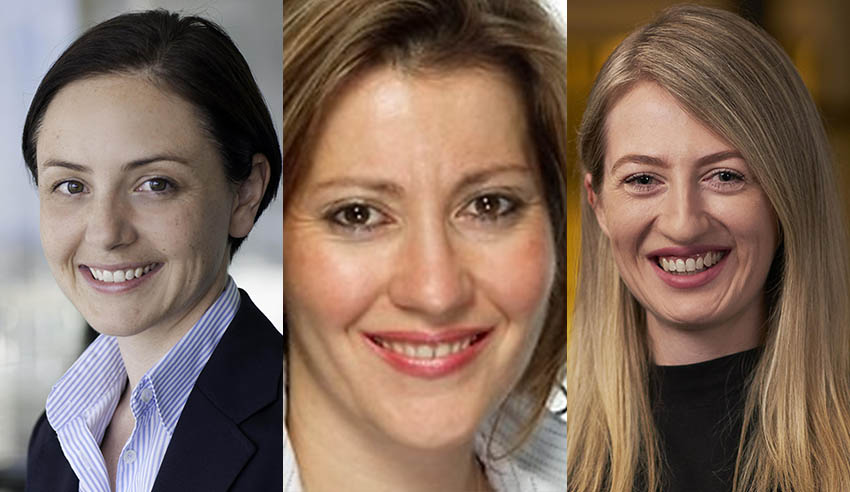 This week, the ninth annual Women in Law Awards will be held. According to some of last year's winners, lingering issues profession-wide mean that efforts to support and promote gender equality must continue.
"I don't think the profession, or the business community more broadly, has made enough progress."
That view, espoused by Gilbert + Tobin partner Rachael Bassil, is not a unique one. In conversation with Lawyers Weekly, Ms Bassil – who won the Dealmaker of the Year category at the 2019 Women in Law Awards – said that there is still a way to go until women have equal opportunity and representation in corporate Australia.
"As corporate lawyers, we are primarily participants in the financial markets and, in general, the flow of capital is still very much directed by men," she recounted.
"This year I had the privilege of working with a female led team on the IPO and ASX listing of Adore Beauty and whilst it should not be noteworthy that an IPO was led by women, it literally made headlines.
"COVID-19 really amplified the challenges that many women lawyers face, particularly for those lawyer mums who shoulder a significant amount of the parenting at home and who added WFH with young children or home schooling to their daily juggle!"
King & Wood Mallesons senior associate Paula Nassif supported this, saying there must be ongoing movement away from "outdated dark ages cultural thinking".
"One positive thing to come out of the pandemic, is that it has helped shift some of these outdated perceptions including that: a) lawyers cannot work from home productively; b) that flexible work arrangements do not work; or c) that those with flexible working arrangements are somehow less committed. It has particularly helped women who need more flexibility with their working arrangements while looking after children or their families," outlined Ms Nassif, who last year won the Senior Associate of the Year – BigLaw category at the Women in Law Awards.
For Johnson Winter & Slattery office services coordinator Tilly Stitt, who took out the Legal Support Professional of the Year category at the same awards, there certainly exists a commitment to do and be better, but that substantive change is still going to take time.
"In terms of the impact of 2020 on progress in these areas, I think there's still so much we don't know. Firms are grappling with what the future looks like and trying to make the best decisions at a time when we still aren't sure what's around the corner," she mused.
"My hope is that ultimately the profession will take advantage of what has been learned this year and figure out a way to change things up for the benefit of everyone."
How to proceed in the 'new normal'
What is needed moving forward, Ms Bassil posited, is continuing challenges to the "thinking, activities and networks that have the effect of excluding or diminishing the contribution of women is critical to achieving real equality and will need to remain a focus".
Moreover, she added, successful women must "champion other women and speak openly and honestly about the challenges they face provides opportunities for other women to thrive. It also helps build a culture where women can be courageous and supported in pursuing opportunities," she argued.
Movement away from "outdated attitudes" that persist, Ms Nassif submitted, is needed if the legal profession is to be able to create a more level playing field for men and women alike. There are, however, opportunities for the profession to take advantage of in the wake of the pandemic, she added.
"We will see firms embracing more flexible work arrangements which will present favourable opportunities for women to continue with their careers while having families. We will see new ways of working, particularly with the use of technology. Of great importance is a greater focus on mental health and wellbeing," she listed.
Ms Stitt was more circumspect on how best to proceed on such matters as we head towards a post-pandemic world, given that all legal professionals – both women and men – have been "largely focused on handling more extreme change than most of us have ever experienced".
"Until we have more of an idea where the profession is going to land in the 'new normal', it's impossible to specify women-specific opportunities, issues and challenges," she opined.
"What I would hope is that as the level of change settles down and we start to have more consistency in our day-to-day lives that everyone gets the chance to contribute to the conversation on the future of work."
What it means to be recognised
In light of such lingering issues and looming challenges, it remains critical to acknowledge and celebrate the accomplishments of women in law, the trio surmise – particularly given how much it can mean, Ms Stitt mused, noting that she is "still so chuffed" to have won her category last year.
"This year has been challenging for everyone, but has presented some very unique challenges for legal support professionals. On top of our 'day jobs', many of us have been tasked with leading the move to remote working, managing the day-to-day logistics to keep client work rolling and of course facilitating the new processes to keep our office clean and COVID-safe," she said.
"Having this award on my desk has been a nice reminder of the recognition and appreciation of all of the hard work we do in our roles."
Ms Nassif agreed, recalling how many clients and peers have commented and congratulated her in the year since her win: "It is recognition for a lot of hard work in the industry."
"On a personal level it's been an honour and really humbling to receive this recognition. One of my friends did comment, however, that the trophy (which has a very sharp pointy end) did look like a dangerous weapon or perhaps a handy negotiating tool," she joked.
As Ms Bassil put it, "putting ourselves in the spotlight does not sit comfortably with many of us, but take this opportunity to put yourself forward and be recognised for your achievements and your contribution".
This also comes, Ms Nassif suggested, with a duty: "To the finalists who do win, think about how you can use your win to implement positive change in both your workplace and the industry. Share your knowledge; be generous with your time and help others."
The 2020 Women in Law Awards will be held on Thursday, 10 December as a hybrid event, with limited guests in attendance at The Star in Sydney and others able to join the event via live stream. To register for the live stream – starting at 7:30pm AEDT – which you can view from the comfort of your office, boardroom or lounge room, click here.