Unlocking opportunities in China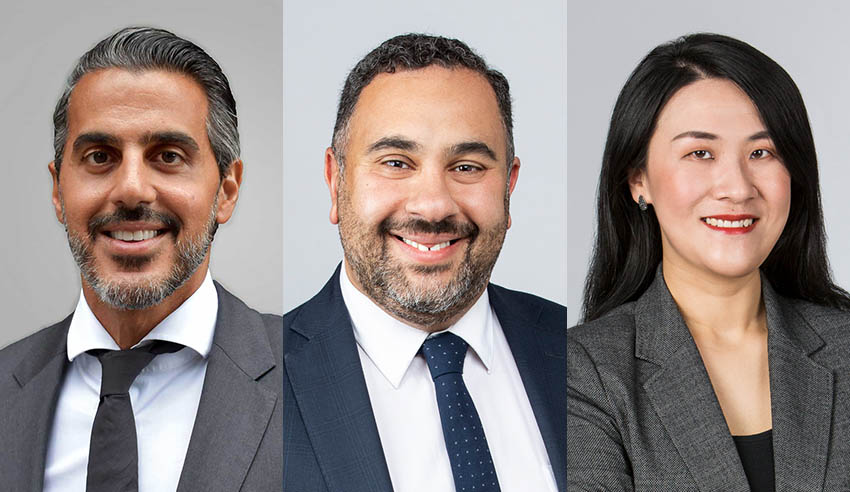 On the back of a new strategic alliance, one national law firm is intensely focused on empowering Australian entities to enter the Chinese market, particularly as the two nations navigate a period of uncertainty.
Madison Marcus – which has offices in five states across the country – was recently inducted into the Grand Compass Law Alliance as the "exclusive Australian branch alliance member" for a legal services network that was originally founded by 14 of China's biggest law firms.
Looking ahead from its induction, the firm is looking forward to supporting Australian companies in unlocking opportunities in China by way of what it calls "mature and resourceful partnerships".
In conversation with Lawyers Weekly, Madison Marcus managing director Bechara Shamieh, director Jimmy Morcos and head of Asia advisory Sarah Wang discussed the importance of better collaboration between the Australian and Chinese markets, particularly as a post-pandemic landscape approaches.
The uncertainty currently being experienced is also political, the trio mused, but given the "rapid" economic growth that China is still experiencing, the Asian nation remains a key trade and investment partner for Australia.
"We believe in the near future, there will be renewed interests in potential investors and clients wanting to establish presence in the Australian market and vice versa, particularly due to the stability of the Australian economy in comparison to most other Western countries," they said.
It is therefore necessary, the trio surmised, for firms like Madison Marcus and its partners to "preemptively prepare, collaborate and work together".
The current political climate may be challenging, Mr Shamieh, Mr Morcos and Ms Wang mused, but the firm believes that such hurdles "will be short-lived, as both countries are very important to each other and we already have interwoven commercial/cultural and trade relationships between the two countries that cannot be simply changed or reduced".
One such challenge is the ongoing age of coronavirus and consequent immigration policy implemented by Australia, the trio noted, which they referred to as a "restrictive situation".
"Ultimately, it is affecting overseas investors seeking presence in Australia. We know in time this will change, as for now, we see that our collaboration with our Chinese legal alliance will position our firm as a leader here in Australia in this area. When the situation does eventually change, we will be rightly positioned at the forefront of this market," they surmised.
Conversely, the pandemic has accelerated the uptake of adaptive technology and paved the way for better communication internationally, the trio identified, with Madison Marcus intent on "becoming a leader as a fully-digitised law firm in Australia", which they feel can provide a platform through which to strengthen communication with Chinese alliance partners and thus better support clients.
Any such communication strategy, the trio added, must have respect and understanding for different cultures and values at the forefront: "Our experience with China is that those whom we engage with first value their relationships, once trust is established then opportunities arise. We have been comfortable with this mantra and it is aligned with the Madison Marcus culture of building strong relationships with our clients, our key stakeholders and our clients."
Further to this, the firm is excited to help foster a culture of education and development for young lawyers, both here and in China, so that emerging practitioners can better understand and transact with each other in the future.
Looking ahead, the firm is determined to fulfil its mission to provide quality professional services remotely through its digitised platforms, and "begin to see the fruits of our labour".
"We have worked extremely hard dedicating the past nine years in developing the relationships with the reputable law firms in China of the Alliance. We have always had the foresight from way back in 2012 that this was the only way to create a new and unique landscape for our law firm," Mr Shamieh, Mr Morcos and Ms Wang proclaimed.