Therapy dogs return to duty in NSW courts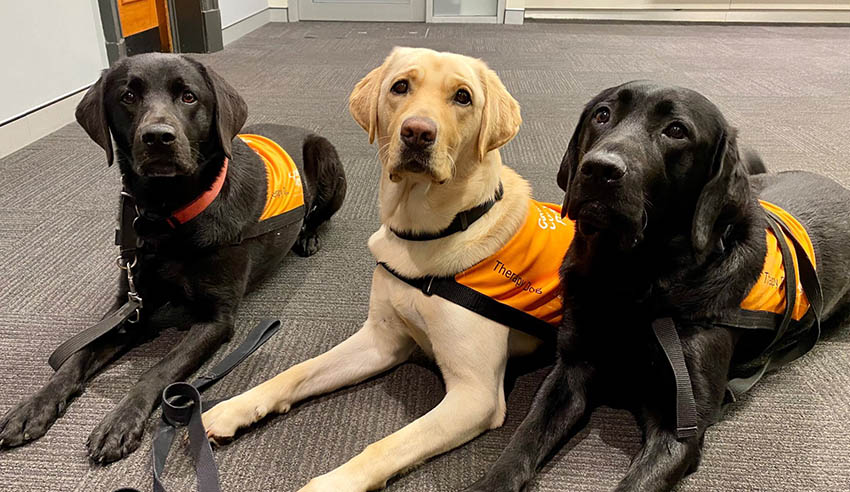 After having to take a step back during the coronavirus pandemic, Labradors with the Canine Court Companion Program will return to their important roles in soothing children and other vulnerable witnesses – complete with puns.  
State Attorney-General Mark Speakman said it took some "dogged determination" but some "lovable Labradors" have returned to the courthouses in Manly, Burwood, Campbelltown, Sutherland, Gosford, Goulburn, Nowra, Lismore, Orange and Wagga Wagga to comfort witnesses, including victims of domestic violence. 
"The therapy dogs and their volunteer handlers play an important role by easing the stress of attending court for children, vulnerable witnesses and victims," he said. 
The Canine Court Companion Program (CCCP) is a partnership initiative led by Victims Services and Court Services, with each "placid pooch" having received up to two years of intensive training with Guide Dogs NSW/ACT. 
Manly MP James Griffin said a trial of therapy dogs at the courthouse had "set tongues wagging" in 2017 and kickstarted a roll-out across the state. 
"This lab-tested therapy is a win for victims, witnesses and other court users so I'm thrilled to see the program return to Manly Courthouses this week," Mr Griffin said. "There is also growing evidence to support the use of therapy dogs to alleviate symptoms associated with trauma, including stress and anxiety."
Studies have also shown that animal-assisted intervention provides additional psychological benefits, such as lowered heart rates, increased speech and memory functions and heightened mental clarity. 
Guide Dogs NSW/ACT chief executive Dave Cleaver said the CCCP dogs and volunteer handlers have been patiently waiting to return to work. 
"We're excited that our beautiful dogs will have their day in court, providing comfort to people in need," Mr Cleaver said. 
It follows the announcement of a new therapy dog Kiki in Victoria's court systems who will join partner Suzie-Lucy in supporting children and young adults.