'Be bold': Chief Justice delivers powerful speech on future of female lawyers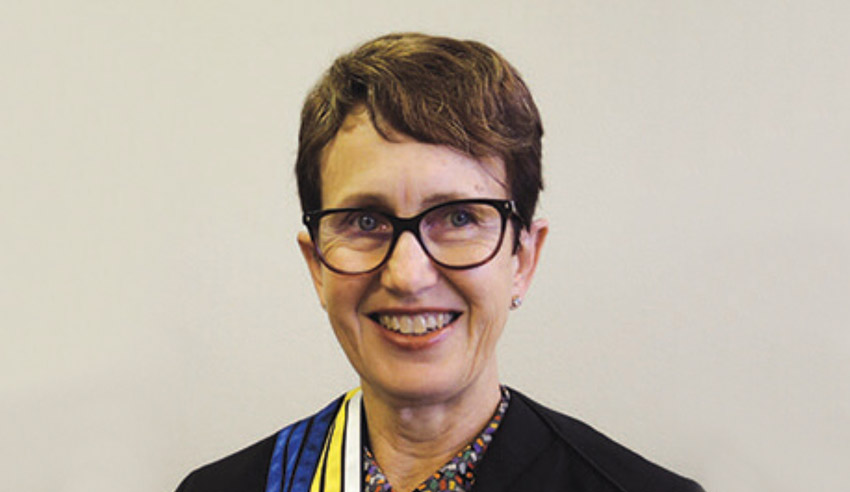 In an inspirational speech delivered to some of Australia's future, female lawyers, the ACT Chief Justice has asked that they remember the women who fought for rights before them and carve out a path for the women who follow.
Between Australia's first female lawyer Flos Greig, the High Court's first female justice Mary Gaudron and even the first female Vice-President of the US Kamala Harris, there are plenty of role models for new, female lawyers to look to as they set out on a path of their own into a profession that works against them. 
In a speech delivered to the Australian National University's (ANU) Law Students' Society Women in Law Breakfast, ACT Supreme Court's the Honourable Chief Justice Helen Gay Murrell SC urged the young women in the room to remember they are the "beneficiaries of the many women who have gone before you" and that they have a responsibility "to those who will come after you". 
"Your university classes are dominated by women. You study in the ACT, where the High Court is presided over by a woman, and the heads of jurisdiction of both the Supreme Court and the Magistrates Court are women. The ACT Supreme Court was the first superior court in Australia to achieve gender equality among the judiciary. At one-point last year, 12 of 13 associates working at the Supreme Court were women," she said.
"But there is still a long way to go," Chief Justice Murrell said, going so far as to point at the current events that have happened in and outside Parliament House recently. 
Throughout the speech, Chief Justice Murrell touched on those women who have forged a path forward for new, young lawyers, such as Myra Bradwell who undertook legal training in the US in 1855. While she narrowly missed out on qualifications, Ms Bradwell was instrumental in drafting laws for women's rights. 
Similarly to Ms Bradwell, Ms Grieg was the first Australian woman to graduate in law but was denied admission to the NSW Bar because, at the time, it did not "comprehend the existence of women lawyers". In 1903, a year later, Ms Greig campaigned to change the rules and became the first Australian female lawyer. 
Despite a refusal to exhibit "lady-like behaviour" and while also breaking down the stereotypes of female barristers and working mothers, a century later Justice Gaudron would become the first Australian woman to serve on the High Court. During her tenure, she was instrumental in a decision by courts across Australia to replace the title "Ms Justice" to "Justice" for all judges, regardless of their gender.  
Chief Justice Murrell said it was expected that when Justice Gaudron retired in 2002, she would be replaced by another woman. Chief Justice Susan Kiefel was the frontrunner, but the position was instead given to Justice Dyson Heydon. 
"With the benefit of hindsight, this decision was perhaps unfortunate," Chief Justice Murrell said. "So much for women's voices in law." 
Chief Justice Murrell also recommended the young lawyers in the room draw inspiration from Ms Harris, who thanked the women who had campaigned for the right to vote when she accepted the nomination for vice-president. 
"Like Ms Bradwell, Justice Gaudron and Ms Harris, women should express themselves boldly. They should not question themselves but the attitudes and structures that impede them," Chief Justice Murrell said. "Like Ms Bradwell, Justice Gaudron and Ms Harris, women should support and nurture other women.
"When Myra Bradwell lost her application for a licence to practice law, she supported other women to study law and gain their licence. As NSW solicitor-general, Justice Gaudron advocated for governments to brief women. In my early years at the Bar, I was a beneficiary of her advocacy. She also influenced the Victorian solicitor-general to brief women barristers – Susan Crennan was a beneficiary." 
The Chief Justice said the profession is yet to address sexual harassment in the workplace, flexibility for people with carer responsibilities and the "disappointingly low numbers" of senior women barristers. She pointed to a quote from Justice Gaudron that women had to be better than their male counterparts to succeed and that "it is not very hard to be better than the average male". 
Chief Justice Murrell added that she is confident the current generation of women takes the responsibility of forging a path for others "very seriously". Much like the Australian of the Year, Grace Tame, current female lawyers are instrumental in calling for needed change, including restructuring harassment and assault laws. 
"But the task for the future is about more than gender equality," she cautioned. "In striving for gender equality, please remember the plight of Indigenous women, migrant women, working-class women, women with disabilities, and LGBTQIA+ women, all of whom face much higher hurdles than many of you.
"Hold the door open for all your sisters, not just those who look and sound like you."