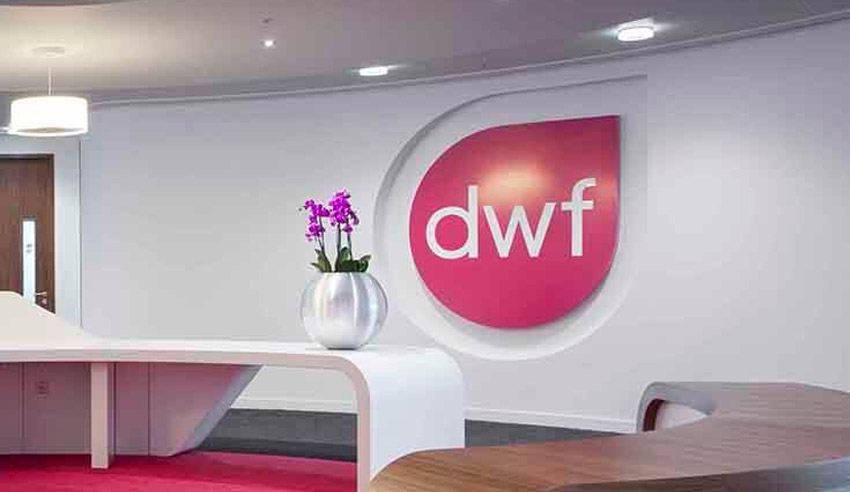 Despite closing up shop to three local offices just last month, the global heavyweight has reiterated its focus on the Australian market with the launch of a new division.
DWF has this week rolled out its risk and insurance software division, DWF 360 to local shores. This marks the first time the firm has done so in the Australian market and comes just over a month since it announced it'd be conducting an "orderly closure" of its Melbourne, Sydney and Newcastle offices. The closures resulted in 85 employees and 14 principal lawyers leaving the business.
The DWF 360 division is understood to host experts in risk management software, with a goal to develop a suite of "fully configurable risk software that enables customers to manage their insurance software needs end-to-end, mitigate incidents occurring, monitor/maintain compliance and deliver key awareness alerting through to trend management information reporting".
"The full suite approach is grounded in managing the entire process of flexible, adaptable and secure software implementation that can operate anywhere remotely," a statement from the group explained.
In marking its Australian roll-out, DWF 360 is working with privately owned waste management company, J.J. Richards & Sons, replacing the latter's need to keep its current health and safety compliance, claims and audit systems. 
"J.J. Richards & Sons chose DWF 360 risk software technology, EvoSafe, EvoNotify and EvoClaim, to handle incidents end-to-end, including mobile capture, governance, compliance and claims – designed to protect employees and their interactions with the public. The software will be distributed across multiple operational sites in several Australian states, home to over 2,000+ employees," said a statement from a J.J. Richards & Sons' spokesperson.
"The key requirements identified by J.J. Richards & Sons were multi-site access, group-wide interaction and collaboration and awareness capabilities. Without improvements in these areas, the business risked the effective distribution of safety, compliance, checklist and policy documents to mitigate risks for waste vehicle drivers and their site operations."
Commenting on the matter further, Ashley Moss, chief executive of DWF 360 said the group is excited to have launched its new technology in Australia with J.J. Richards & Sons as its inaugural client.
"We worked very closely with them to understand their needs and configure a suitable software solution that enables them to create financial efficiencies, but also protect employees and the public," he said.
The launch of the division in Australia comes after comments made by the firm indicated it'd be operating a "leaner Australian business to focus on institutional clients and core sectors" following the three office closures.
"While we expect an FY21 loss for the Australian operations of between £3m and £4m and some one-off non-underlying associated closure costs in FY21, these changes are anticipated to be earnings enhancing for the Group," it said.
"Irrespective of the action being taken in Australia, the Group continues to see an improving financial performance for FY21 with Q3 trading building upon the positive revenue and profit trajectory reflected in the FY21 interim results. The Group expects FY21 performance to be at least in line with expectations."
Elsewhere in DWF-related news, former managing director Jamie McPherson has officially started a new role at HBA Legal within the last month.
Mr McPherson's appointment sees the firm launching a dedicated occupational health and safety practice, with him at the helm. Under Mr McPherson's leadership, HBA Legal noted the firm will drive a range of offerings spanning all aspects of workplace safety and compliance, and will provide expert legal representation in courts and tribunals, and strategic legal advice relating to claims and rehabilitation management.