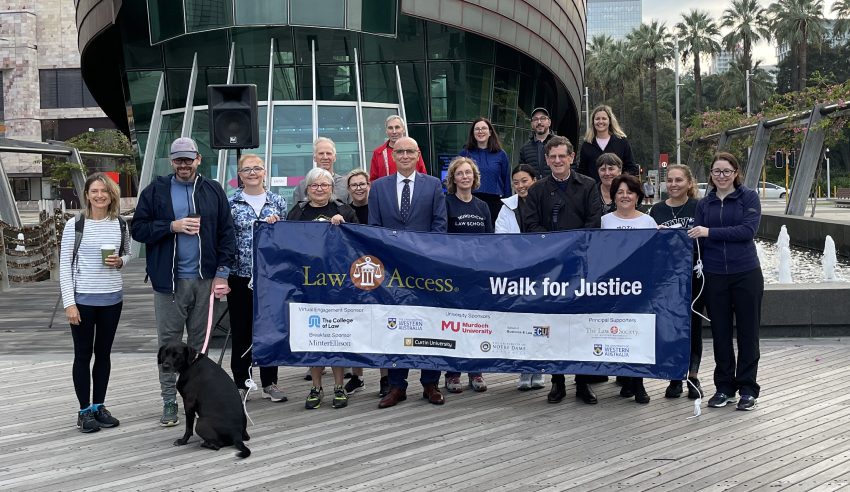 Hundreds of lawyers, law students and legal support staff gathered to promote equal access to justice in Western Australia this week. 
The Honourable Peter Quinlan, Chief Justice of Western Australia, launched and led the 2021 Law Access Walk for Justice on National Pro Bono Day. 
As part of Law Week, National Pro Bono Day gives lawyers and legal staff the opportunity to celebrate the invaluable pro bono work done each year. Every year, Walks for Justice are held across Australia to support and raise funds for community legal centres and other pro bono organisations. 
Event participants in Western Australia raised $117,015 to help sustain Law Access, Western Australia's pro bono legal referral service. 
Law Access chief executive, Dominique Hansen, said she was thrilled with the record number of funds raised. 
"The pro bono legal community has thrown its financial and practical support behind the profession's pro bono legal referral service," Ms Hansen said.  
"Thanks to the generosity of a donor matching commitment of up to $50,000 by the McCusker Charitable Foundation, the total funds raised today are higher than ever before, enabling Law Access to provide pro bono lawyers to vulnerable persons in need of legal assistance."
The walkers were virtually accompanied by supporters from around the country with the beginning of the walk live-streamed on Facebook and the 4.4-kilometre stretch being completed in different spots in Australia including Albany, Karijini National Park, Sydney, Melbourne and Bundaberg. 
Fundraising events were also held in Queensland and NSW this year, with each state raising funds for a different organisation. The Queensland Legal Walk saw crowds gather outside the Brisbane Supreme Court for a walking loop and raised funds for LawRight, whilst the NSW Walk for Justice was a strictly virtual affair, raising funds for the National Justice Project.