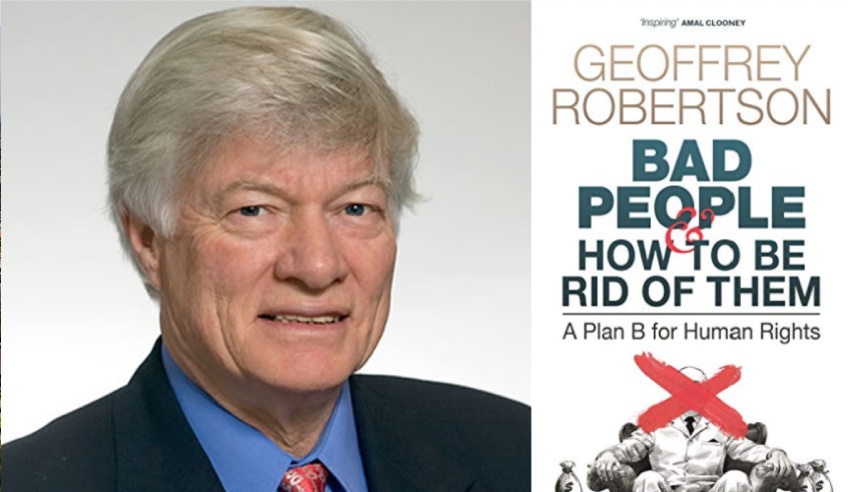 The Australian government's responses to human rights atrocities across the world have continued to border on hypocrisy, says leading international barrister Geoffrey Robertson who also talks Lawyers Weekly through the vital importance of introducing a Magnitsky Act and a national human rights charter to prevent abuses.
Two decades on from his groundbreaking book "Crimes Against Humanity" and as the movement stalls, leading international human rights barrister Geoffrey Robertson has outlined his "Plan B" for "naming, blaming and shaming" those that breach human rights with extraordinary measures, including stripping them of their rights to enter democratic societies and restricting their access to schools and hospitals. 
Released amid his Australian live-show tour, Mr Robertson's "Bad People and How to Be Rid of Them: Plan B for Human Rights" advocates Magnitsky laws, named after lawyer Sergei Magnitsky, who died in a Russian jail after exposing a $230 million tax fraud perpetrated by government officials. Bringing them into Australian law may ensure the government begins to align with international standards. 
"The Plan A of bringing human rights perpetrators to justice through an international criminal court has faltered," Mr Robertson told Lawyers Weekly in this exclusive interview. "I wouldn't use the word failed because I think it may make up good in the future, but at the moment, the combativeness of three of the five veto powers – America, Russia and China – makes international law not fit for purpose." 
In his book, Mr Robertson charted the history of how the veto powers used consistently by these powers have limited the operations of an international court. For example, in the past four years, Russia has vetoed 14 times, China five and the US twice. The threat of a veto alone has seen initiatives withdrawn, he wrote. 
The solution, he writes, is using national courts to impose national sanctions. The laws would work by freezing individual bank accounts, seizing property and cancelling visas of those found guilty of human rights abuses. It would also effectively mean that banks around the world will not conduct business with these parties – which is also a major deterrent for companies committing abuses. 
The Magnitsky Act has long been advocated in Australia and, if passed, would make it the 32nd democracy to do so after Britain, America and Canada. After months of deliberation, a bipartisan parliamentary inquiry has recommended the laws move forward and go even further, which could mean stronger measures such as banning travel and freezing assets of foreign individuals and corporations for guilty parties but also any immediate family members who benefit from the crimes.
There is some concern about how exactly the laws could be passed, with Law Council of Australia (LCA) former president Pauline Wright submitting early last year that the legislation would need to be reasonable, necessary and proportionate. 
"The use of such power, which may be applied to individuals in the absence of a criminal conviction, must be designed and administered cautiously in a way that upholds human rights and the rule of law. There is great concern that the existing regime lacks the significant safeguards," Ms Wright said in a statement. 
If the laws are passed – which the Morrison government said it would commit to looking at some time this year – the inquiries would need the support of financial investigators and bodies like AUSTRAC. However, Mr Robertson also praised non-government organisations that could step in: "There are very good NGOs in Australia, like Human Rights Watch and Amnesty, that have their own teams." 
Social media would also play a major role in deterring companies, like it did with major fashion labels recently: "You've seen what happened with the sanctions in Xingang that sells the slave labour cotton and Adidas and Nike and various labels have stopped buying it. The only one left is Hugo Boss who made uniforms for the concentration camps, which is in following on from the family tradition."
While the Magnitsky Act could propel Australia forward in its response to human rights, there is some concern that its tensions with China could make it difficult for the government to "lecture them" on human rights abuses – particularly given its own track record with the now-closed refugee and asylum camps on Nauru Island and the ongoing abuses of Indigenous people, and particularly children, in custody. 
"China would be the first to point out the hypocrisy, so there is a big incentive for the government to comply with international human rights standards," Mr Robertson said. 
"It is Australia's problem in relation to any kind of human rights enterprises – we have a government which is deficient in empathy [and] deficient in human rights awareness. How can we lecture China, for example, about Hong Kong when we ignore the human rights committee's request to let our own citizens come home? This is something that no doubt China will pick up on."
On the topic of the recent Indian travel ban and how a national human rights charter could improve the quality of hearing these cases, Mr Robertson said that he often hears from Australians with requests to look at the various breaches on their human rights, but they cannot get a remedy "because we don't have a human rights act". 
"A right to return could be explicitly returned by the High Court, but it will take years to get a case to the stage where you can get a court decision and there is no human rights act on which to anchor the complaint. The only resort, the last resort, is to go to the Human Rights Committee in Geneva," Mr Robertson explained. 
If the Australian government can address its hypocrisy – and implement the Magnitsky Act sooner rather than later – it can start to join other democratic nations on the path forward for global justice in the 21st century, Mr Robertson said. 
Although only a small portion of the book directly deal with Australia's responses to human rights violations and address how the Magnitsky laws could alter the way forward, it is a stirring call to action for legal bodies and individuals to demand that the government act immediately to introduce the legislation. While the rest of the book tends to read like a textbook, it is also a vital look into the history of the failed court so far and how these laws could work to amend them moving forward. 
For more from Mr Robertson, check out the first part of the interview here.