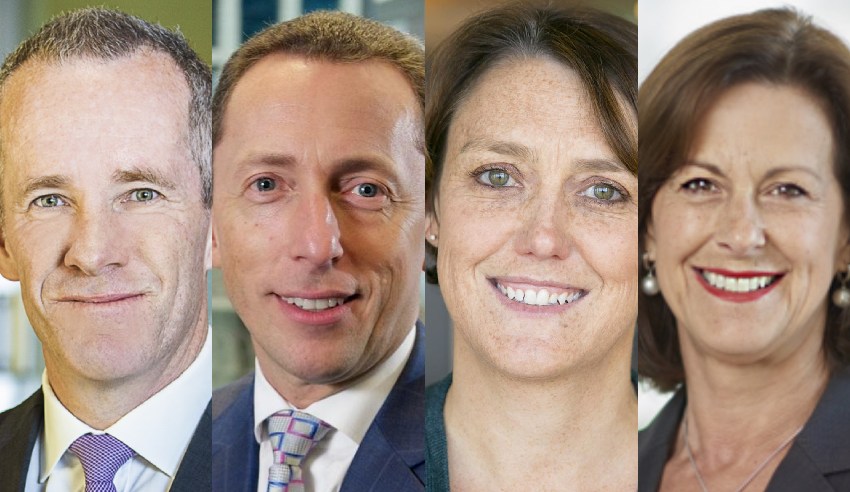 The benefits of graduates and clerks working in the office are far greater than those working remotely, four BigLaw firms argue.
With more Australians in the legal profession working from home than ever before, many firms are adopting a hybrid working model. But for clerks and graduates at the same firms, it's a slightly different story.
Mills Oakley chief executive John Nerurker, Herbert Smith Freehills executive partner Andrew Pike, King & Wood Mallesons head of talent and capability Jo McAlpine and MinterEllison chief talent officer Mary Lyras spoke to Lawyers Weekly about hybrid working in big law firms, why it's more valuable for graduates and clerks to be in the office and what they've learnt from the pandemic.
King & Wood Mallesons rolled out remote-collaboration technology to its staff before the first government lockdowns last year – and took the pandemic as an opportunity to check in with their staff about what they valued. Ms McAlpine said above all, the firm "learned a lot".
"Taking the opportunity to ask our people about their experiences and listen to that feedback has been invaluable – it has helped us understand how they value things like flexibility and autonomy, but also team cohesion, feeling connected to their colleagues and the ability to collaborate effectively," she said.
"Seeing our people embrace [remote working] and the pandemic's enforced breakdown of cultural barriers to flexible work has given us the confidence to embed a culture that truly values and encourages flexibility and autonomy."
MinterEllison and Herbert Smith Freehills have also embedded flexible working arrangements, although Ms Lyras said that MinterEllison's younger staff would find more value by coming into the office rather than working remotely.
The firm took on over 120 clerks and almost 100 graduates last year, most of whom enjoyed coming into the office.
"Feedback from both our clerks and graduates over the past 12 months is that they enjoy coming into the office," Ms Lyras said.
"This is due to a variety of reasons including informal learning from others, on the job training, mentoring, networking opportunities and the social interactions with colleagues."
Herbert Smith Freehills employed 80 graduates and 150 seasonal clerks last year – who Mr Pike said were able to take advantage of the same flexible working arrangements that the rest of the staff is offered. 
"We are committed to delivering an excellent experience for our grads – and all our people – irrespective of where they are working," he added.
"There are benefits to both remote and office-based working, which is why we give our people the ability to work in the way that best suits them, their colleagues and our clients."
In contrast, Mills Oakley took on 27 graduates and six clerks last year and said that with the exception of government lockdowns, they are unable to work remotely, for a variety of reasons.
"Our graduates and clerks work from the office so that they can immerse themselves in our firm culture and get the best possible experience during the steep learning curve occurring at the start of their legal careers," Mr Nerurker said.
"We think it would be very difficult to work remotely during the first year of legal practice and we were very concerned about our junior staff during the extended lockdowns last year and this was the reason why we provided targeted training on wellbeing and maintaining social connections."
Similarly, Ms Lyras said while MinterEllison graduates are able to work flexibly, clerks aren't given the option.
"Our graduates have the opportunity to work remotely as part of our Whole Firm Agile approach, although we do encourage them to be in the office frequently to maximise their experience in their rotation and access to the informal learning and network building opportunities," she said.
"Clerks are with us for such a short period of time, we feel that their best experience and insights about the firm are gained when they are in the office and others are in the office for them. Having said that, if needed due to COVID restrictions, we are able to pivot easily to support clerks working remotely."
While Mills Oakley allows its staff to work from home two days a week, Mr Nerurker agreed that graduates and clerks learn best whilst in the office.
Partners at the firm are afforded a less flexible work schedule and need to be in the office every day but one. Mr Nerurker cited that helping graduates and clerks find their feet is one of the main reasons for partners being less able to work remotely.
"Our policy is designed particularly with the needs of our more junior staff in mind. While we have a structured training and mentoring program, a great deal of learning occurs from incidental interactions and conversations," he said.
"It is also easier for junior staff to engage with partners and other senior team members in an informal context, such as randomly meeting someone in the breakout or in the corridors. This is one of the reasons why we ask our partners to spend more time in the office than our other staff members."
Ms McAlpine said that although KWM's recruitment levels were back to their pre-COVID-19 levels, the firm is constantly reviewing their clerkship and graduate programs to ensure they offer the best possible experience. Whilst this includes hybrid working arrangements, understanding what a firm is like is best done in person.
"Our clerkship program is designed to give participants the best opportunity to get to know KWM and assess if we're a respective 'fit', both professionally and with firm values and culture. Some of that 'get-to-know-you' process is certainly easier, and more enjoyable, in-person," Ms McAlpine said.
"We know from feedback that quality of experience and opportunity to understand what our firm is like are really important to clerks, and providing that is about ensuring they have exposure to interesting work, one-on-one opportunities with our lawyers and partners and the chance to feel part of their teams."
Herbert Smith Freehills has increased its flexibility around working hours since the pandemic, allowing staff, including all graduates and clerks, to work remotely 40 per cent of the time. Mr Pike said that despite this, more and more people are choosing to work in the office post-pandemic, valuing in-person, one-on-one interactions, particularly as a graduate or clerk.   
"The pandemic gave us an unprecedented opportunity to rethink the way we work and like most organisations, we intend to continue to evolve as the needs of our people and clients change," he said.
"We believe that empowering our people with more flexibility helps them to deliver great results for our clients and our business. As such we are finding that some of our people, including graduates, are preferring to work in the office more given the opportunities it presents."
MinterEllison has adopted a similar system with their Whole Firm Agile approach, but Ms Lyras said that the firm has also placed a priority on maintaining a good culture in the office.
"Over the past 12 months we have observed that our people know how and where they work to be at their best. This is achieved in a number of ways (a hybrid of virtual and in person) – team and one-on-one meetings, learning and development, mentoring, community hub activities, social activities," she said.
"To support this, the firm continues to place a priority on ensuring people have the right enabling technologies as well as access to learning and development opportunities, including supervision and mentoring, that support their career progression, both when working in the office and remotely. In addition, there is also a priority placed on maintaining a vibrant and inclusive office culture."
Over the last year, MinterEllison discovered that relationships with clients can be maintained and strengthened through "purposeful, regular and relevant communications" rather than just face-to-face meetings. Looking to the future, Ms Lyras said that this perspective can be applied to staff as well as clients.  
"We have found that managing by proximity is not the hallmark of being a trusted adviser to our clients or a good supervisor or leader for our people. So, we focus instead on engaging people in ways that are relevant for them," she said.
"For our staff this includes being clear about expectations, priorities, deadlines and being flexible with how and when people work, yet with no compromise to quality output and regularly checking in with staff on their capacity and their mental health."
Likewise, Ms McAlpine added that KWM staff will continue to figure out what works best for them and their clients through open conversations and continuing flexible working arrangements.
"We recognise that this can't be a one-size fits all approach, so we've empowered our teams to have conversations amongst themselves to settle on what combination works best for them, their teams and clients," she said.
"We need to continue to keep the conversation alive and look for ways to provide elements of choice for those who want it."