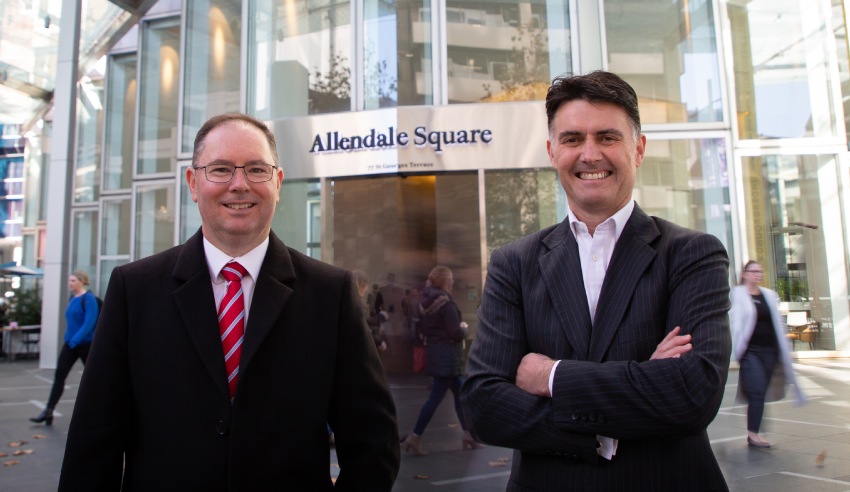 National law firm Piper Alderman is opening a new office in Perth, its fifth across the country.
Piper Alderman's new Perth office marks a "major milestone" in its national growth strategy, the firm said, and builds on its longstanding client relationships and work in the Western Australian market.
The firm already has offices in Adelaide, Brisbane, Melbourne and Sydney.
The Perth office will be headed up by newly appointed partners Shane Entriken and Paul Sartori (pictured), both of whom have joined from Perth-based boutique firm Allion Partners.
The pair will be joined by a "well-established team who also have strong local profiles and experience and will be looking to grow the team through local hires over the coming months", the firm noted. Initially, the firm's focus in Perth will be working with foundation clients before expanding in key sectors such as mining and resources, construction and engineering, healthcare, education and government.
The new office, located in the Perth CBD, officially opens on Thursday, 1 July 2021.
Piper Alderman managing partner Tony Britten-Jones said is delighted to have Mr Entriken and Mr Sartori open and lead the firm's newest office.
"Shane and Paul are both well-established and respected within the Western Australian business and legal communities with the skills and experience to establish and grow the Perth office," he said.
"While Piper Alderman is a national firm, our approach to expansion is about finding the best local people with local knowledge and supporting them to deliver industry-leading advice and services to clients."
Mr Entriken said: "Piper Alderman has been servicing clients in WA for many years. We have exciting plans to grow the firm in the West by attracting good local talent and I look forward to playing my part in leading that growth and continuing to be a market leader in what we deliver for clients."
Mr Sartori added: "We are looking forward to bringing the breadth and depth of the Piper Alderman team to clients. We have a strong team in place from day one and look forward to expanding our local offering with energetic experts and leaders in their field."