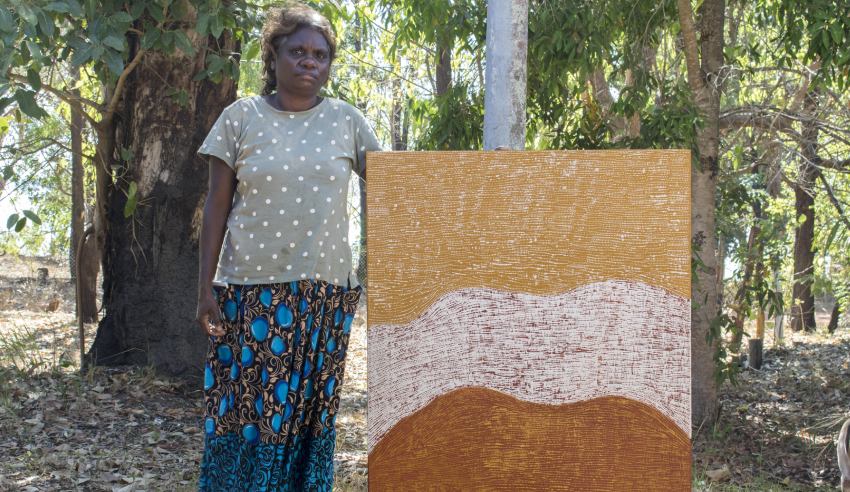 Global law firm King & Wood Mallesons has announced the finalists and winner of their annual Contemporary First Nations Art Award.
KWM is currently presenting the KWM Contemporary First Nations Art Award exhibition at Melbourne not-for-profit gallery fortyfivedownstairs until July 29.  
After conducting the 2020 Contemporary First Nations Art Award judging online, the firm said they were pleased to host an in-person exhibition to celebrate the outstanding contributions they received from First Nations artists in remote, regional and urban areas throughout Australia.
Selected from more than 60 entries, 29 Aboriginal and Torres Strait Islander artists were chosen as finalists, including eight artists from the Northern Territory, four from New South Wales, eight from Queensland, three from South Australia, four from Victoria and one from both Tasmania and Western Australia. 
This year, the winner of the 2020 KWM Contemporary First Nations Art Award is Michelle Woody, who's piece - 'Ngiya Murrakupupuni'- encapsulates her contemporary Tiwi style for which she has gained national recognition. In the long-standing tradition of her ancestors, Ms Woody utilises natural ochres sourced on country around Milikapiti that are collected, crushed and burned into the three traditional colours of the island landscape: white, yellow and red.  
Ms Woody said winning was an important part of passing Tiwi culture down through generations.
"I will use the money to conduct a Pukumani ceremony with my in-laws for my husband, who was an artist, and who passed on about a year ago," she said.
"Today Tiwi culture is important – this will help me continue to participate in ceremonies to respect my relatives and teach my grand-children. To pass on this knowledge, it makes me feel wonderful." 
The finalists' work will also be on display at the exhibition. The 2020 finalists are Amala Groom, Angkaliya Curtis, Ashlee Murray, Brian Robinson, Carmen Glynn-Braun, Carolanne Ken, Dhuwarrwarr Marika, Fiona Foley, Gordon Hookey, Helen Ganalmirriwuy, Ian Waldron, Jenna Lee, Joe Dhamanydji, Josh Muir, Judy Watson, Kait James, Karla Dickens, Kaye Brown, Maree Clarke, Marina Pumani Brown, Michael Cook, Patju Presley, Reggie Uluru, Richard Bell, Sally M Nangala Mulda, Samantha Hobson, Timothy Cook and Travis De Vries.
KWM chief executive partner, Berkeley Cox, said that the award was an opportunity to bring to light the culture and stories of First Nations peoples.
"The Art Award is one of the ways we continue to strive for meaningful reconciliation with, and empowerment of Australia's First Peoples," he said.  
"We are very grateful for the opportunity to hold a live exhibition for the KWM Contemporary First Nations Art Award to appreciate the rich culture and stories that are told through the art, and learn from and celebrate the artists' talent, voices and experiences."