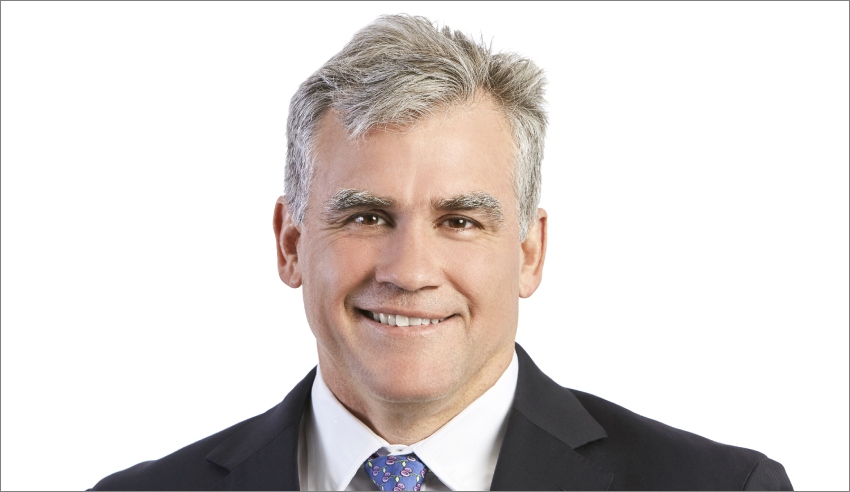 Global law firm HFW intends to "grow significantly" in Australia. If its success Down Under in recent years is any indication, such expansion will come quickly.
HFW has over 600 lawyers worldwide, practising in the Americas, Europe, the Middle East, Asia, and Australia. It has been in the latter country since 2006, with the foundational team including four Australian practitioners operating in the international shipping and commodities trading sectors.
Whereas most international law firms have built in Australia by merging with or acquiring Australian law firms, the firm's Australian managing partner Gavin Vallely (pictured) told Lawyers Weekly, HFW's approach in the country was to grow organically and through strategic lateral hires.
In the 15 years since the firm established a presence in Australia, "we now have 80 lawyers and three offices in the country: Melbourne, Perth and Sydney," he said.
"That's partly a reflection of the fact that our strategy and firm structure is different from other international law firms in Australia in that we're sector-focused."
"Our entire business globally is built around six core sectors: aviation, commodities, construction, energy and resources, insurance, and shipping, with service lines such as commercial litigation, international arbitration and corporate traversing those sectors. Our growth in Australia has been very focused on strengthening and broadening our offering to clients within this model – we do not seek to offer all things to all people," he explained.
Australian offices helping drive global success
HFW believes, Mr Vallely detailed, that its genuine sector focus distinguishes the firm's offering in what is an increasingly competitive legal market.
"We are recognised as specialists and clients value the fact that we really understand their business and the industries they operate in, which is reflected by our practical, commercially aware advice that regularly brings clarity to complex situations," he proclaimed.
"This applies equally to Australia as it does across our international network, and underpins the culture of the firm. Our core sectors actually align very closely with the industries that drive the Australian economy, so you could say that we're tailor-made to service clients' needs in Australia."
Australia has "certainly been a driver of growth" for HFW globally, Mr Vallely continued, noting that its revenue here has grown by almost 80 per cent over the past six years, with Australia now accounting for almost 10 per cent of the firm's total annual revenue.
This said, he noted, HFW has "a real 'one firm' approach", and as such, the Australian team works closely with the firm's offices across Asia-Pacific and other regions.
"Our core sectors are inherently international, so much of our work has a cross-border component. Our Australia team currently works with clients across 30 countries, from China, Indonesia, Japan, Korea, and Singapore to Kuwait and the UAE, France, Italy, Norway, Canada, and the US."
"You could say that the sun never sets on the HFW client network, or indeed our office network," he mused.
Scope for future success in Australia
While the firm doesn't have a specific target for the quantum of market share it wants to capture in the country, Mr Vallely said that it is "fair to say that HFW plans to grow significantly in Australia".
"That will be primarily focused around our core sectors – particularly construction, property and commodities – as well as in complementary services such as litigation, international arbitration, corporate, finance and workplace relations," he said.
"HFW has a tradition of making bold moves when it comes to building its network of offices and hiring exceptional teams, and we will actively pursue opportunities to strengthen and expand our offering in Australia."
When asked what opportunities HFW currently sees for growth in the Australian market, Mr Vallely said "the truth is that we see opportunities across all of our core sectors".
"Australia's economy has proved remarkably resilient throughout the pandemic, and the country is one of the world's top three exporters of resources and energy, which again ties into our sector focus," he said.
"Sustainability is obviously a major issue across all industries, and we do a lot of work with clients in this area. In particular, we have a very strong energy transition practice in Australia – we were the lead adviser on what at the time was the world's largest hybrid thermal/renewable power station at a remote mine site, and we're currently working with industry and start-ups on exciting new ventures involving hydrogen in transport and autonomous ships."
"Our workplace relations practice, which we launched in 2019 by bringing in one of Australia's leading teams and have since bolstered it with several senior hires, has been really successful and continues to grow," he added.
Much of the work that HFW does across the globe, Mr Vallely said, is "contentious in nature" – "disputes work accounts for more than 65 per cent of our total revenue – and we see opportunities to continue to develop that practice in Australia".
'HFW plans to grow significantly in Australia'
Such success will, of course, not come easily to the firm, Mr Vallely reflected, pointing to how "competitive and mature" Australia's legal market is as the post-pandemic landscape becomes clearer.
"There are several excellent law firms and the clients are extremely sophisticated buyers of legal services. Our sector focus does distinguish our offering and separates us to some extent from the pressures faced by general service firms, but it doesn't make us immune to competition," he said.
"We've got to continuously adapt to make sure we can continue to meet our clients' changing needs, and deliver our service efficiently and effectively. That's ultimately what guides our growth: listening to our clients and building the capability they need."