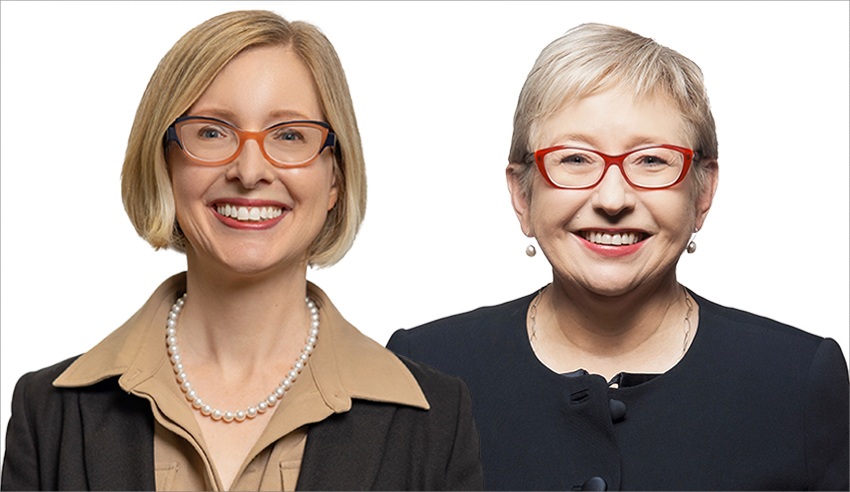 Whilst understanding the needs of your client is of overarching importance within the legal profession, it's especially important when working in the government, according to these two government lawyers.
Libby Carroll and Christine Lithgow are both partners at Holding Redlich. On a recent episode of The Lawyers Weekly Show, in partnership with Holding Redlich, the pair discussed all things government-related work – and in particular, how the pandemic has reinforced the need for the government.
There have been a number of challenges and changes afoot for those working in the government – and Ms Carroll said that the sector has been particularly fast-moving in recent years.
"We're now in a situation where I'm assisting [the team] a certain number of days a week, but it's also very easy for me to just tune in to meetings that are on other days in a way that's much easier and means that I can stay on top in very much the same way as the in-house legal team does on the day to day. And I think also the thing is that things are so fast-moving.
"One of the really interesting parts about government work is being involved in those legislative processes. That's something that usually private-sector lawyers aren't involved in, but because I have been involved in that through being in-house, I'm now continuing to do that. And that sort of work is extremely fast-paced where you are responding to the need to be ready for documents, to be ready to go up to Parliament, dealing with the explanatory memoranda and so on," she said.
"So, all of that work we can do in a much more efficient way, I think now, because we've just changed the way of our processes. And it means that as law firms assisting, we can be much more like stepping into the shoes and having that background in the same way as someone who's actually working in an agency or department."
Government lawyers also have to be proactive in terms of new political developments, especially given the upcoming federal election on May 21 this year.
"That overlay of the political situation is obviously key to being a successful government lawyer and having that really strong awareness. We are about to go into a situation of caretaker. So, you obviously, as a government lawyer, have to be really aware of what those caretaker conventions are," Ms Carroll added.
"So, 100 per cent, you do have to be across that. It makes it a really interesting, exciting space. I personally find that really interesting, and it just adds this whole extra layer to your practice, that if you are potentially working in a different area, maybe more commercial without that kind of overlay, it just isn't there. But to me, it makes it really exciting. You have to be really on top of what's happening in the news, what's happening in terms of the trends in society and so on. They have a huge impact on your work, and you do need to be across it. But I think it makes it much more exciting."
In addition to being able to anticipate what's coming – and being on top of government news – government lawyers also need to be able to uphold the strong "values and standards that are expected of government", according to Ms Lithgow.
"I think probably the most important thing is really all the skills that go with acknowledging that particular client. So, it's a client that's different to other clients because it's got different motivations, it's driven by policy considerations, it's driven by political considerations and cycles. It also is a lawmaker.
"It has to have standards of behaviour like fairness and promoting competition within industry, making opportunities available to industry, acting as a model litigant which doesn't start when you get to court. So, there's just a higher standard of care that's expected of government. Apart from that, all of the customer care that you would apply to any client applies to government, but it's often surprising to people how different working with the government is," she added.
"You're working with big bureaucracies, big organisations that need to bring together a whole lot of different groups and people and views, and often work by consensus across departments and portfolios, et cetera. So that can also be something that takes a while to get up to speed with, just to understand that stakeholder environment and the nature of your client."
In terms of dealing with these clients, respect is the "most important thing", Ms Lithgow added.
"It's surprising that there's often an assumption from private law firms that the government lawyers don't know things that they know or that they're the expert. And so, this basic respect, courtesy, understanding that your client is very busy and that they have a lot of competing priorities," she said.  
"So, I think that giving them a bit of space, talking to your client about how they would like to engage with you, I think setting those basics, that's the most helpful. And being clear, maybe about the purpose of every meeting and every engagement because they are often very busy people and each legal engagement is a very small part of their whole portfolio."
Similarly, Ms Carroll added that understanding the needs of the client are "particularly important in government because you need to understand so many different things in terms of the context".
"It's not just the basic facts that you might normally expect, but to understand what is the political situation, what are those different things that might come forward. If you're used to working in a different environment, you might just be looking at what the payoffs are in terms of money. And that's often very much not the concern; it's about policy implementation," she said.
"Are you providing benefits to the community? It may well be worth spending extra money if you're going to have a better impact. And it may well be that some things that the government can do cost nothing whatsoever, except for potentially internal costs. So, those sorts of things, being really alive to all the different ways you can achieve an outcome and being really solutions focused, I think is really important."
The transcript of this podcast episode was slightly edited for publishing purposes. To listen to the full conversation with Libby Carroll and Christine Lithgow, click below: 
The Lawyers Weekly Jobs Board has had a refresh! To check out the latest opportunities in private practice, in-house and more, click here.