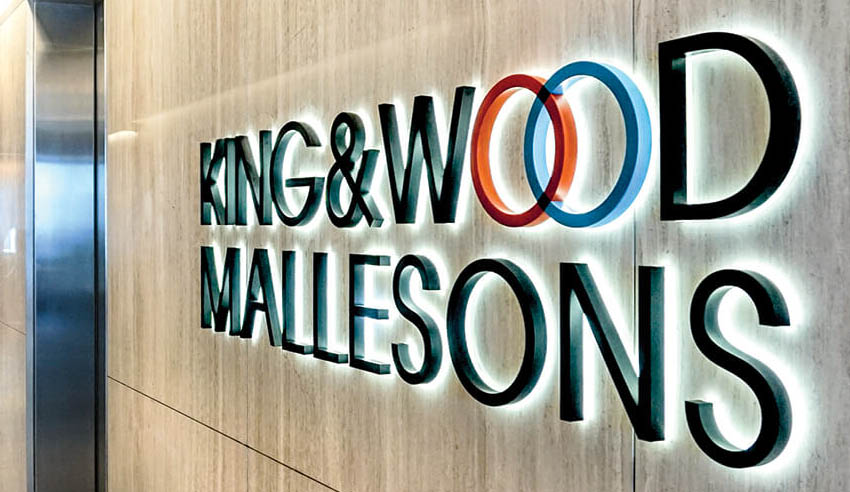 International law firm King & Wood Mallesons has promoted 13 lawyers to the partnership, marking the firm's largest number of partner promotions in recent years.
The promotions, the firm said in a statement, "recognise individuals who have exceptional legal expertise, client service and leadership capabilities in areas where we are seeing opportunities for growth". This includes, KWM noted, across regulatory investigations, fintech, technology/data and energy.
The new partners are Daniel Bragg (structured finance and securitisation), Dan Flanagan (acquisition finance and corporate finance), Natalie Halpern (corporate finance and debt capital markets, James Russell (commercial disputes), Matthew Carr (construction dispute resolution), Jasmine Forde (dispute resolution), Mark Vanderneut (public and private M&A), Amanda Isouard (equity capital markets), Angela Weber (employee relations and safety), Jess Kruger (commercial transactions, technology and IP), Mandy Tsang (insurance), Tim Sumner (government, energy, natural resources and infrastructure) and Judith Taylor (income tax).
Speaking about the new partners, KWM chief executive partner in Australia Renae Lattey said that she is "very proud" to welcome the 13 lawyers to the partnership.
"Each of our new partners are at the leading-edge with their specialist legal skills, expertise and passion for delivering outstanding client service," she said.
"This is the largest number of partner promotions in recent years, signalling our confidence in a strong pipeline of growth, as well as our investment into areas where we are continuing to see strong client demand.
"I'm very pleased to be welcoming such a talented and diverse group of new partners.
"It's fantastic to see such a broad set of minds and experiences join our partnership – and I congratulate them all on this significant career milestone."