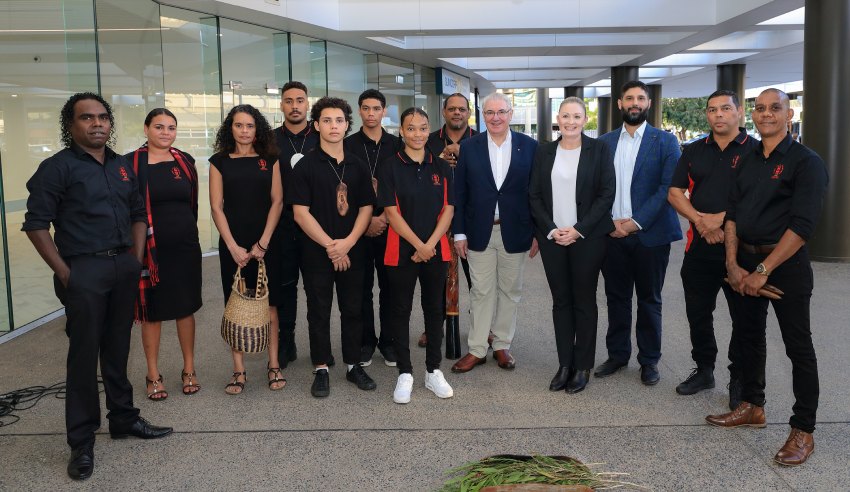 National law firm Holding Redlich has unveiled new names and artworks for its Cairns office meeting rooms, after being gifted the names by the Gimuy Walubara Yidinji tribe.
A smoking ceremony was held outside Holding Redlich's office in the Cairns central business district, where the names of each room and accompanying local wall paintings were presented by the Gimuy Walubara Yidinji people. 
Each room is named after local sea creatures in the Yidinji language, with corresponding artwork to match the names. The artworks were painted by local artist Susan Reys of Kgari 3 Sisters Gallery.
The renaming of rooms followed an extensive period of consultation with the Gimuy Walubara Yidinji tribe, resulting in the firm gaining permission to use each name. The consultation process was led by Cairns-based First Nations lawyer Nareeta Davis of Holding Redlich.
Ms Davis said the sea creature theme of the meeting rooms holds a special meaning in the region.
"The new names and artwork in our Cairns meeting rooms acknowledge much more than just the wide variety of animal life in Cairns; they are an acknowledgement of the deep connection Gimuy Walubara Yidinji people have to the ocean. 
"Each room will play a small part in preserving the Yidinji language and ensuring it continues to be spoken daily in the years ahead," said Ms Davis. 
Holding Redlich national managing partner Ian Robertson AO said the renaming aligns with Holding Redlich's ongoing commitment to reconciliation.
"The past few months has seen reconciliation activity accelerate at Holding Redlich, with the gifting of rooms and artwork for our Cairns office after a successful process at our Brisbane office in April," said Mr Robertson. 
"Although as a nation we have plenty of much-needed progress to make, it is small steps like these that go a long way in building relationships, celebrating First Nations culture and preserving history.
"Through our reconciliation initiatives, Holding Redlich remains firm on our commitment to championing the rights of First Nations communities, creating future opportunities for Aboriginal and Torres Strait Islander peoples, and respecting cultures."