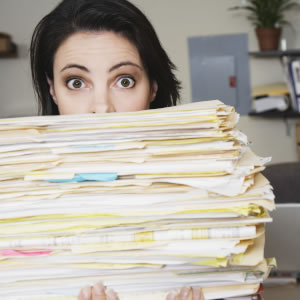 Research repeatedly demonstrates that overwork drags down productivity. Yet, almost half of Australian lawyers report working 'very long' hours – more than any other profession. 
This intense work ethic is deeply ingrained in the culture of the legal profession. In a recent survey, conducted by UNSW law school professor Janet Chan, 71 per cent of lawyers agreed that a willingness to work long hours is necessary to excel. 
These findings are in tune with the 2006 census, which found that 45.1 per cent of all solicitors work 'very long' hours, classified as 49 or more hours per week.
This proportion is higher than all other occupations in Australia. It is also higher than other professional groups, such as accountants.
"We think that overwork is a way that we are going to get more out of people," said management consultant Dr Bob Murray, speaking at the Australasian Legal Practice Management (ALPMA) Summit on Friday.

However, encouraging employees to work long hours is "self-defeating" as it does not increase output, he continued.
"[The profession encourages overwork] because we don't know what damage we are doing," said Dr Murray.
A 2014 study by John Pencavel from Stanford University showed that longer working hours backfire on employers.
Analysing data around British munitions work in World War I, Mr Pencavel found that output per hour rapidly declined after 50 hours of work.
No work done after 56 hours added significantly to the total output, which means that any work done after this point was essentially a waste of time.

Munitions workers are under different stresses and strains to 'knowledge workers', such as lawyers, but the same rule applies.
Above a certain threshold, additional hours do not contribute to productivity and increase the frequency of errors, sick days and 'presenteeism'.
Research also shows that sleep deprivation and stress make it difficult to make good judgement calls, manage relationships and emotional reactions – all important faculties for a lawyer.
One study indicated that the job performance of white-collar workers decreased as much as 20 per cent when 60 or more hours were worked per week.

The reasons for this are complex. Overworked employees suffer greater stress, fatigue, low morale, as well as a higher rate of injuries and mistakes on the job.
Other long-term health effects include depression, anxiety, insomnia, susceptibility to addiction, diabetes and heart disease.
Further evidence that long hours do little to bump up productivity comes from a recent study by Erin Reid from Boston University. This study showed that managers could not tell the difference between employees that worked 80-hour weeks and those who merely pretended to.
Short periods of overwork (for instance, a week at a time) may increase productivity to meet deadlines, as many lawyers will know. But a constant state of overwork has diminishing returns.
"Working long hours is also not good for business," said Justin Whealing, an associate director at Eaton Capital Partners.
He said a report by Medibank showed that the cost of 'presenteeism' on the domestic economy was around $34 billion, "dwarfing the economic drain of absenteeism".
"In the long-term, no one wins by working consistently long hours," he said.
These "onerous demands" partly explain why private practice lawyers are flocking to in-house positions, he added.
Professor Chan urged firms to "promot[e] a practice ethos that does not regard working long hours as a 'badge of honour'".
Mr Whealing said Eaton Capital Partners' recent survey of 34 managing partners linked long hours to the high rates of depression in the industry.
Twenty per cent of respondents said long working hours were the primary cause of mental health issues.
Managing partners are aware of the issues but are reluctant to "look critically" at the culture that creates these expectations, according to Mr Whealing.
Like this story? Subscribe to our free newsletter and receive Lawyers Weekly every day straight to your inbox.