Speaking to Lawyers Weekly, Bird & Bird senior associate Bridget Edghill said the best bet for lawyers who want to stand out in the international market is to develop their commercial nous and cross-border experience.
According to the Sydney lawyer, who completed a three-month secondment in Sweden last year, the appetite in the Scandinavian market is for candidates with strong corporate and commercial skills, as well as exposure to matters spanning a number of jurisdictions.
"Because there are so many businesses that are being founded or that are moving into other markets, strong corporate and commercial skills are invaluable, particularly in terms of technology and regulatory matters," Ms Edghill said.
In her view, the burgeoning tech start-up scene in Sweden and the wider Nordic region offers opportunities for lawyers looking to take their skills abroad.
Ms Edghill said cross-border skills are also favoured in the technology space, given that business acquisition has become a common growth strategy for companies.
"While secondment is a great way to get into the Scandinavian market; given a lot of the new start-ups are operating in English and are desperate for talent, I get the impression that might also be an avenue for people."
It was a telephone conversation about a cross-border M&A project that started Ms Edghill on her own sabbatical to Sweden. The corporate lawyer was speaking to a colleague in one of the global firm's Nordic bases when she mentioned a desire to get out of her comfort zone and try a secondment.
After a few extra calls to the Bird & Bird global human resources unit, the senior associate found herself set up at a desk in Stockholm.
"I had only been to Stockholm for a day before, and one night I was talking to a [project contact] and she was telling me how wonderful the Bird & Bird office in Sweden was, and that kind of planted the seed for me to go to Stockholm," Ms Edghill said.
What began as a two-month stint soon stretched into three months, and she is the first to admit she would have happily stayed longer.
Ms Edghill's work in Sweden involved the third phase of a major M&A project, where she helped coordinate the integration of businesses across the region. She was involved in overseeing complex mergers for the global expansion of a large tech company in the Netherlands, Germany and Latvia.  
In Australia, Ms Edghill had been involved in phase one of the same project and its associated mergers taking place throughout the Asia-Pacific region.
She described the Swedish approach as dynamic and welcoming, melding unique cultural traditions with a true zest for innovation.
"Stockholm is one of the start-up capitals of the world. There's so much innovation going on there, lots of emerging technologies and yet they still do things their way.
"I really loved that aspect, and that they also introduced innovation into their culture in a happy way," Ms Edghill said.
Earlier this year she chose to return to Sweden for a holiday, but asked the Bird & Bird managing partner in Stockholm if she could work in the office for an additional two-week undertaking. He agreed.
"I made so many great friends over there and I really enjoyed working the Stockholm office. It really is a beautiful and proud culture," Ms Edghill said.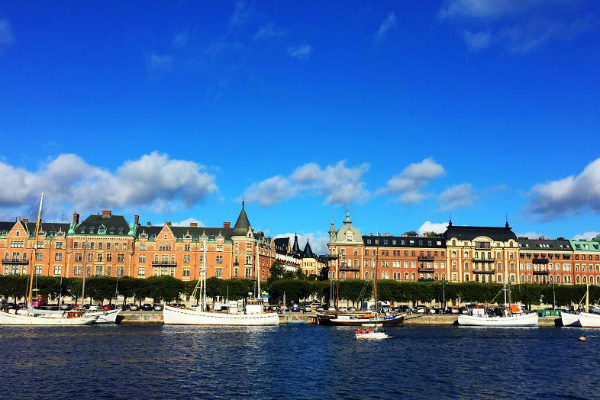 Ms Edghill spent three months living in Östermalm, Stockholm last year.