Leo Cussen has launched a new five-month practical legal training (PLT) program in Perth with no exams and an integrated mentoring program the group claims "you won't find elsewhere".
The structure of the mentoring component is being marketed to prospective students as the provision of regular feedback for coursework, which is both personalised and comprehensive.
"Leo Cussen's blended learning program is a unique entrant to the WA market, offering more face-to-face contact with trainees and a personalised mentoring program," Leo Cussen PLT director Shirley Southgate said.
"The PLT course focuses on 'learning by doing' with a rigorous hands-on training program to better prepare graduates as a lawyer," Ms Southgate said.
Leo Cussen has confirmed that the new PLT course, which was piloted with a cohort of WA graduates this year, will expand and grow into 2018.
Established in 1972, the Victorian-headquartered provider of PLT has run an articled clerks training program in WA for a number of years. The first week of teaching for Leo Cussen's new graduate diploma of legal practice (GDLP) offering in Perth will be taught to students alongside the PLT provider's stream of trainee WA articled clerks.
"[Students] complete highly interactive simulated files, which means they run the file from opening instructions to the closing letter. This ensures that every graduate has the essential skills required for an entry level lawyer," Ms Southgate added.
The appeal of a "customised online PLT training course" was also described by the not-for-profit PLT provider as a unique blended learning curriculum. Online modules, complemented with 13 intensive days of face-to-face teaching, are conducted using practical assessments and without exams.
"We are very pleased to be able to offer WA law students an alternative for their practical legal training, and give them a choice in the style of PLT training they can undertake," Ms Southgate said.
The new offering was officially launched at a special event hosted in Perth last month.
WA Supreme Court Chief Justice Wayne Martin AC spoke at the launch event, with local practitioners, legal academics, and representatives from the WA Law Society and Legal Practice Board among those in attendance.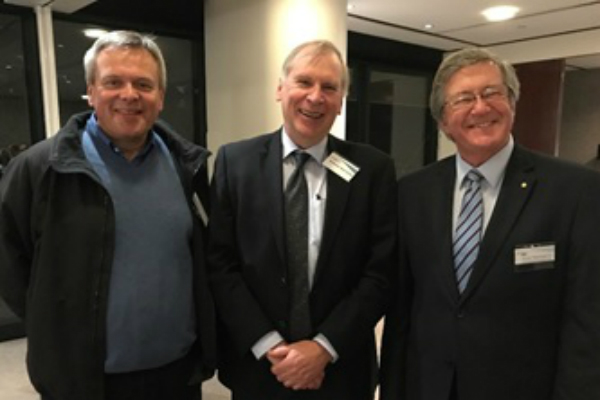 L-R: Murdoch University law dean Professor Jürgen Bröhmer, Curtin University law dean Professor Paul Fairall and Chief Justice Wayne Martin AC.