Students workshop tech solutions to social issues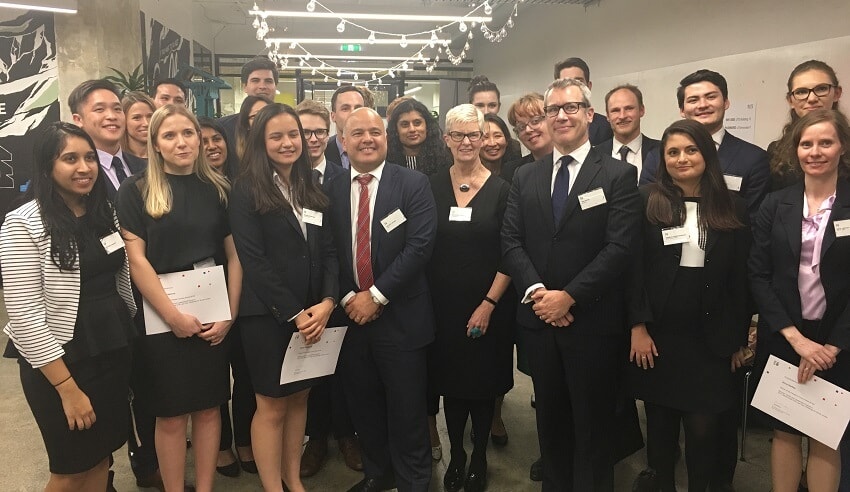 Students from UTS Law participate in the Tech Challenge for Social Justice, supported by Allens and Neota Logic.
The grand final of the Allens Neota Logic UTS Law Tech Challenge was held on 1 August 2017 at the UTS Hatchery, the university's innovation hub.
Five teams, comprised of 20 UTS students and five Allens lawyers, worked to develop artificial intelligence apps to address problems faced by four partner not-for-profit organisations.
The organisations were the Inner City Legal Centre in Sydney, Anti-Slavery Australia, Refugee Advice and Casework Services (RACS) and The Aurora Project. The students explored solutions to issues including legal information on medical treatment for transgender people, visa applications, Indigenous employment and slavery.
The judging panel included Allens managing partner Richard Spurio and chief legal and technology services officer Beth Patterson, UTS law dean Lesley Hitchens and Westpac group company secretary and chief operating officer Tim Hartin.
The winning team was 'Turtles', including UTS students and Allens lawyer Anthony Tridgell. They designed an app to help RACS streamline the high volume of applications to the Department of Immigration and Border Protection for Safe Haven Enterprise visas.
Turtles developed an online questionnaire that applicants can use to populate the long and repetitive sections of the form without an interpreter. A spokesperson for UTS said this would in turn alleviate some of the administrative workload on RACS staff, allowing them to focus on the more complex aspects of the applications.
Dr Philippa Ryan, UTS law lecturer and convenor of the competition, said the app was so well received that RACS is planning to implement it later this year.
UTS also held the #breakinglaw Hackathon in partnership with King & Wood Mallesons this year. Students and KWM lawyers collaborated on tech-based solutions to a range of legal issues.
Pictured: The contestants and judges in the 2017 Allens Neota UTS Law Tech Challenge for Social Justice