How a dinner conversation made one man the boss of Salvos Legal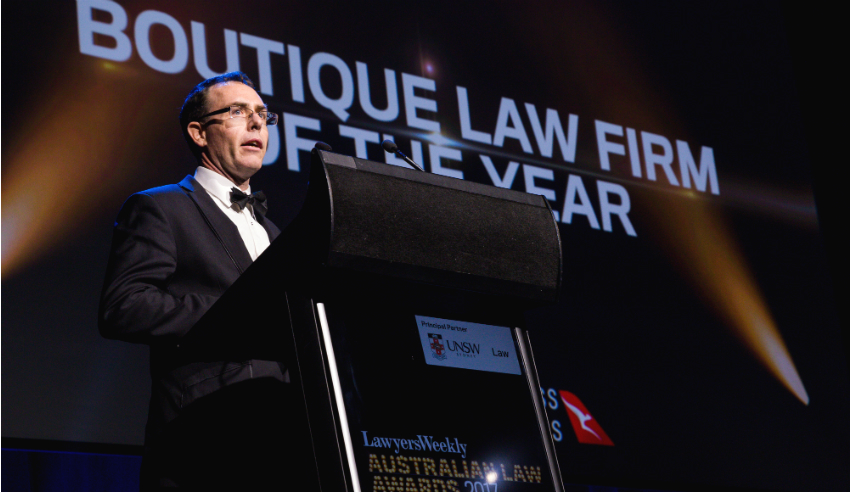 The managing partner of Salvos Legal has reflected on his 15 years with the social enterprise commercial law firm and the fateful meal that started it all.
For more than a decade, Luke Geary (pictured) has been a pioneering force behind the law firm bearing the Salvation Army's name, Salvos Legal.
Speaking of the day he was admitted on Valentine's Day 2003, the managing partner of the award-winning boutique said he would never have foreseen the path that his career would take as a newly minted 22-year-old lawyer.
"Within weeks of my admission a couple of young Salvos, who had gone to school with my flatmate at the time, came over for dinner – and they knew that he was flatting with a lawyer.
"I had been a lawyer for about five minutes," Mr Geary said of his first encounter with the Salvation Army.
The group of visiting diners, who worked for the Salvation Army's Auburn branch in Sydney, were desperate for a solicitor to help an elderly woman from their local church.
Mr Geary said they implored him to fact-check what they believed to be false claims made against this woman by the department of community services (today known as family and community services), who had sought to remove three grandchildren from her care.
"Children's law was probably the furthest thing away from my day-to-day practice as a young lawyer," Mr Geary said.
"I was working effectively in the wake of the FIA and HIH [Insurance Group] insolvency and I said to them: 'I'm basically dealing with paperwork'."
Mr Geary eventually agreed to look at the woman's case and some basic investigations revealed the flaws in the department's claims against her. Working as a junior lawyer at national firm Mills Oakley, he made inquiries in his spare time and quickly unravelled the case against the woman. Claims that she was homeless, abused illicit substances and alcohol, and mistreated her grandchildren were proved by the young lawyer to be completely untrue.
As Mr Geary described it, he walked into the Children's Court, presented the facts and won the case.
"There were four reasons that were cited for her losing the grandchildren by community services, which were filed in the case: One was that she was homeless; one was that she was dying of cancer; one was that she was a drug addict and an alcoholic; and the other was that she was such a bad carer that she brought the children into community services on a cold day in shorts and a t-shirt," Mr Geary said.
"I made some calls to the real estate agent, who confirmed that she was not in fact homeless but an excellent tenant, and he gave me an affidavit.
"I made calls to the oncologist who confirmed that she had been cancer-free for 10 years, who gave me a report.
"A GP confirmed there had been no signs of drug or alcohol issues.
"And I looked up the Bureau of Meteorology records online and they confirmed that the day in question was one of the warmest on record," he said.
Salvos Legal, whose profits gained from commercial matters are reinvested for the delivery of free legal representation and advice for people in need, has that dinner 14 years ago to thank for Mr Geary's involvement with the Salvation Army.
By the third case that Mr Geary had contributed his pro bono legal services to at the request of the Salvation Army, he was hooked. Mr Geary then decided to initiate a free open-air legal clinic operating in Auburn and Parramatta. His efforts were supported by Mills Oakley and during its lifetime the clinic handled approximately 750 cases.
In 2009, he left Mills Oakley to commit to the initiative full-time – and so Salvos Legal was established.  
"I had become pretty endeared by the work of the Salvation Army and the strong volunteering community out in Auburn," Mr Geary said.
"Part of the easy sell to set up Salvos Legal within the Salvation Army was that it wouldn't cost them any money and it made clear business sense for me that if lawyers didn't keep the money, the money was available to fund something else.
"I knew it could create huge amounts of transformative outcomes that people who are their core clientele to serve," he said
After eight years building up the national commercial practice of Salvos Legal and expanding its humanitarian presence into Queensland, New South Wales and Victoria, Mr Geary recently announced that he would return to private practice. He will move north to rejoin the Brisbane office of Mills Oakley next month but continue consulting for Salvos Legal.
To date Salvos Legal has handled over 20,000 humanitarian cases. The group of social enterprise lawyers have inspired similar clinics set up by other legal professionals with the support of the Salvation Army in the US and the UK. Mr Geary said lawyers in Canada are also considering establishing a clinic based on the Australian Salvos Legal model.
"It is encouraging to hear that [our kind of work] is kind of springing up throughout the 128 countries that the Salvation Army is in," Mr Geary said.
To coincide with the celebration of Salvos Legal's 20,000 humanitarian caseload milestone, Mr Geary was awarded the Order for Distinguished Auxiliary Service last month. It is the highest Salvation Army honour available for a non-soldier.