UQ wins 2018 Jessup Moot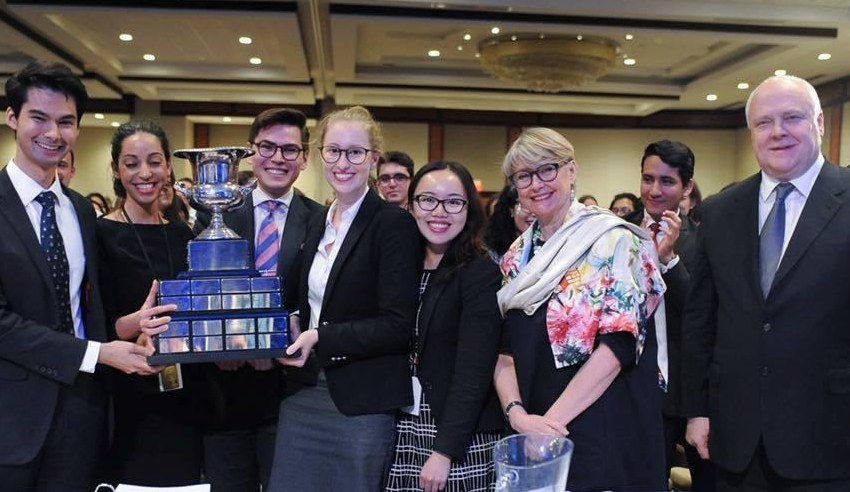 For the third time, students from the University of Queensland have won the world's oldest and largest international moot court event.
UQ's TC Beirne School of Law has beaten more than 600 teams from around the world to be crowned the winner of the 2018 Philip C. Jessup International Law Moot Court Competition in Washington, DC.
The team, comprised of Samara Cassar, Hennie Lui, Julius Moller, Claire Robertson and Edward Watson, defeated the National Law School of India University in the final of the prestigious event last weekend.
The Jessup Moot, founded in 1959, is considered the world's "most significant mooting contest". 
More than 600 teams spanning 95 countries take part in regional rounds for the chance to compete in the White and Case championship rounds, held in Washington. 
The UQ team qualified for the championship rounds as one of the two Australian teams, by placing second in our national rounds, held at the High Court of Australia in February.
Acting head of school Professor Fiona Rohde said she was "delighted" with the team's "outstanding performance".
"I offer my hearty congratulations to the team on this incredible achievement," she said.
"The team's coaches, Keilin Anderson, Camille Boileau and Liz Stanley, provided dedication and support throughout the competition."
UQ acting vice-chancellor Professor Aidan Byrne said the students had continued UQ's record of success in mooting competitions nationally and internationally.
"This achievement is testament to the high quality of legal advocacy, research, preparation and practice by the UQ Jessup team and the support of academics, judiciary, and alumni involved in the Law School's mooting program," he said.
In a post on LinkedIn, Ms Anderson said, "So proud to have coached the UQ Jessup team this year - who also happen to be World Champions! An incredible result thanks to the collective effort of the army of UQ Jessup alumni all across the world who helped me out as a rookie coach!"
The Jessup Moot sees teams challenged to solve an international controversy based on a fictional dispute before the International Court of Justice, the judicial organ of the United Nations.
This year's Jessup problem involved interpretation of a fictional bilateral treaty and raised legal questions about the meaning and application of customary international law, the law of the sea and use of force.
The other Australian team competing in Washington, from Sydney University, won the national rounds but was eliminated in the first round knockout at the international stage.