Students propose winning solutions to combat legal challenges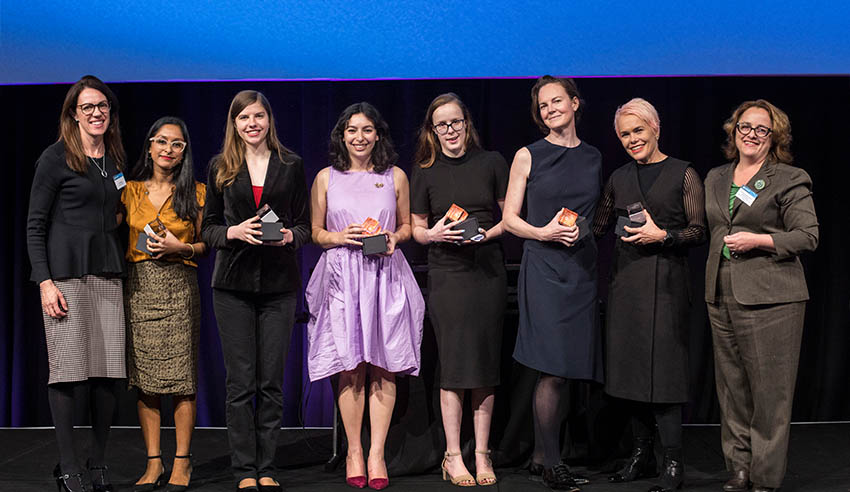 Teams of university students have been recognised for their work in solving two challenges set by the Supreme Court of NSW and the Law Society of NSW.
Ten teams of university students, with support from lawyers, legal tech experts, technologists and business and marketing specialists, took part in the Law Society of NSW and The Legal Forecast's #InnovateLaw hackathon recently, where they were tasked with solving one of two "real-life challenges".
The first challenge, set by the Supreme Court of NSW, asked students to "consider the costs assessments scheme and identify opportunities to improve the process through innovation and technology while maintaining and safeguarding the aims of the scheme".
Meanwhile, the challenge put forward by the Law Society of NSW asked teams to find a way to assist the Law Society's solicitor members to navigate the constantly evolving legal technology market.
Teams of both challenges were given 48 hours to come up with a solution, with the winning teams announced by president of the Law Society of NSW Elizabeth Espinosa and The Honourable Justice Kelly Rees SC, Judge of the Supreme Court of NSW, at the Future of Law and Innovation in the Legal Profession (FLIP) Dinner held at the Sydney Hilton on 25 July.
The Supreme Court challenge was taken out by "Team PIVOT", comprising Rominy Bryant, law student, University of Technology (UTS); Rachael MacBean, law student, UTS; Petra Stojnic, law student, University of Oxford; Sharon Gordon, principal solicitor, Crown Solicitors Office; Stephanie Moscovis, communications and marketing manager, The Business Centre; Passiona Cottee UTS data scientist/CBA solicitor; and team mentor Beth Patterson, director, ESPconnect.
Team PIVOT proposed to the Supreme Court of NSW what they called "COST.assist" – "a quick, inexpensive and streamlined web-based platform, designed to resolve cost disputes, reduce the number of litigants entering into the cost assessment process and simplify the process".
"COST.assist" has three aims, the team noted: reduce bureaucracy, provide access to data, and reduce paper.
The Law Society of NSW challenge was won by "Team PRHacktical Solutions", made up of members Eleanor Lau, law student, Australian National University (ANU); Andrew Ray, law student, ANU; Cormac Relf, law student, ANU; Danica Smith, law student, ANU; Melly Zhao, law student, ANU; Daniel Taha, solicitor, King and Wood Mallesons; and team mentor Ravi Nayyar, research assistant, University of Sydney.
Team PRHacktical Solutions won the Law Society challenge with "Law Tech Connect", described as a digital registry of legal technologies for the legal profession.
"Law Tech Connect" works by enabling members to navigate the evolving high-tech legal landscape on the one platform, allowing them to "make informed decisions about how they operate their legal practice".
It's also a win for developers, the team noted, giving them access to legal professionals and consumers of legal technology products.
Law Society of NSW CEO Michael Tidball, congratulated all who took part in the 48-hour hackathon event.
"#InnovateLaw2019 is an opportunity for university students to learn new skills, create a project and pitch a legal tech idea to innovate legal service delivery," Mr Tidball said.
"The fact that these young people, professionals and mentors are enthusiastic enough to devote a weekend of their time and brainpower to addressing the questions of today and tomorrow should give us all great confidence for the future."
Pictured above: Team PIVOT with Lander & Rogers (sponsor) partner Sally Moten and Judge Kelly Rees SC.
Pictured below: Team PRHacktical Solutions with Elizabeth Espinosa.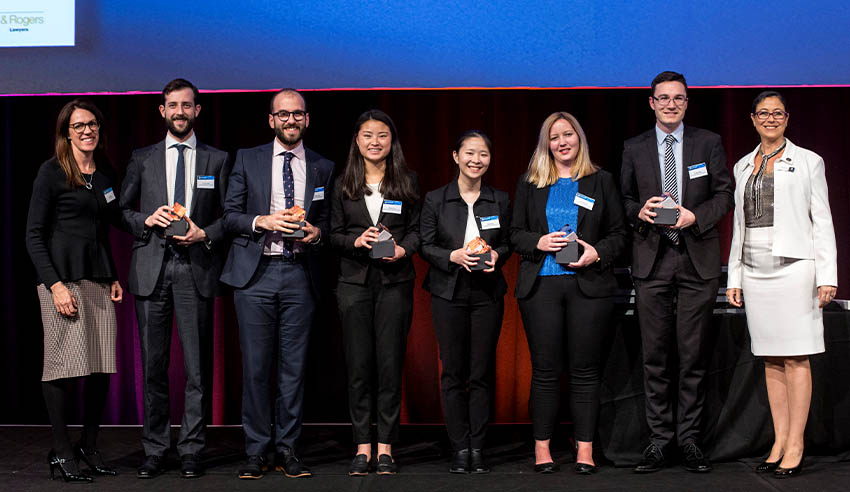 Images by: Chris Gleisner.
This email address is being protected from spambots. You need JavaScript enabled to view it.