Goodbye job applications, hello dream career
Seize control of your career and design the future you deserve with
The well-trodden path to insolvency
Insolvency law is deeply affected by the economic climate, both at home and abroad. As more businesses and individuals join the march towards globalisation, their affairs are increasingly implicated in push and pull factors beyond our backyard.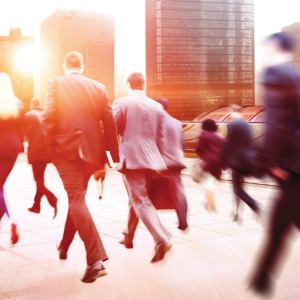 Much like a polished shoe, insolvency law is an essential part of every corporate outfit – and law firms are addressing the needs of all manner of clients.
You're out of free articles for this month
To continue reading the rest of this article, please log in.
Create free account to get unlimited news articles and more!
From well-heeled directors about to lose the shirts off their backs, to creditors wanting to recoup their losses, insolvency lawyers represent a wide range of distressed parties.
Global march to fuel future growth
Sydney-based Justin Bates has specialised in insolvency law for the past 15 years.
Prior to his admission, he started a career as a front-end banker. The Gadens partner believes offshore business growth will drive more work for insolvency lawyers.
"We'll see capital continuing to come into Australia from overseas and some of it will be involved in distress situations. I think that's probably the short-term likelihood for new opportunities in that type of foreign investment space," he says.
Mr Bates has seen the amount of "big ticket" work in the insolvency space wax and wane over the course of his 20-year career.
While his firm has acted for a number of major lenders, Mr Bates notes a clear decline in activity among non-bank lenders such as listed and unlisted mortgage trusts that have encountered difficulties continuing business.
VIEW ALL
Now more than ever, he sees the promise of more insolvency work in Australia coming from activity generated by both clients and funds playing in the international space.
"There are green shoots particularly for those entrants who can offer finance to foreign investors. I think the new opportunity lies with foreign funds, whether they be small players or up to the larger hedge funds," Mr Bates says.
Commercial forces felt sector-wide
The impact of globalisation on insolvency law mirrors the experience of commercial transactions across the board. It is a dynamic that Alex Moriarty of Shine Lawyers says cannot be separated because, as he sees it, the practice area is a subset of the larger commercial piece.
"Insolvency law should really be seen as a sub-specialisation within the commercial litigation space, because as insolvency lawyers we often find ourselves in the courtroom," he says.
Mr Moriarty was first exposed to insolvency law when he joined a top-tier firm in 2001. He worked in a variety of other practice areas before being drawn back to the challenge of insolvency law.
The insolvency specialist joined the Brisbane office of Shine last year in a move he simply characterises as "following the work". He says traditional generators of insolvency work such as the banks and the Australian Tax Office (ATO) have increasingly bolstered their in-house ranks and cut down on the work they contract out to private practice. Since the global financial crisis, in particular, this trend has forced firms to review the way they work and the kinds of clients they attract.
"Those major clients, they're continuing to find ways to drive efficiencies. It means that panel numbers are reduced, fees are continually driven down, work is taken in-house or is commoditised and they're finding ways to manage and recover bad debts that bypass the insolvency profession altogether," Mr Moriarty says.
Because major lenders and the ATO have moved to reduce the number of blue-chip matters on offer, firms like Shine have pivoted away from secured lending work and are now focusing on the unsecured insolvency space.
"It's the unsecured lending space where most firms are seeing and chasing growth, given that the secured lending space has seen so much consolidation and rationalisation," Mr Moriarty says.
Firms have shifted the way they do business in all practice areas, Mr Bates adds. He says it was about three years ago that lawyers really began to assess how their services could add value to the traditional client offering, which has seen a change in the way insolvency law services are offered. Beyond this, he does not believe the way he practises has changed much.
"I don't think there's been anything that's directly changed the way I operate as a practitioner but there's certainly been changes to the legal landscape, which have led to different work opportunities," Mr Bates says.
Subdued period in the growth cycle ideal for young lawyers
In contrast to the current low demand for insolvency lawyers, Mr Moriarty points to the periods after the GFC and in the wake of Australia's mining wind-back as "boom" times for work.
While he observes that the more stable economic climate has seen demand fall, he is confident another natural growth cycle will follow.
"[Insolvency] work has tailed off somewhat now, with record-low interest rates and borrowers at every level within the economy taking a more conservative approach to debt," he says.
"I believe that all insolvency professionals are of the view now that it's really 'steady as she goes'. Things are not booming – that, of course, is a positive for the broader economy.
"There will always be demand for lawyers who have genuinely developed a skill set within this niche practice area."
Looking to the future
Without wanting to forecast too far ahead, Mr Bates says it is only a matter of time before the demand for insolvency work ramps up.
Despite the present appetite for work sitting at a relatively low level, he believes now is an opportune time for young practitioners to break into the insolvency area.
"I think [the demand for insolvency work] is at a low point and there will be more opportunity in the insolvency market in the next year or two. I think the opportunities are going to grow," Mr Bates says.
"I think it's a good time to get into the market if you're a new practitioner wanting to come in. If you are successful in coming into the profession in the insolvency space, you're probably going to have a long career in it because sooner or later you'll move into another growth phase."
Mr Moriarty and Mr Bates both identify the challenges of problem-solving and litigation tied to insolvency matters as some of the most engaging aspects of their work.
For young lawyers who find themselves with a trifecta of interests in litigation, property and banking, Mr Bates says insolvency law is an attractive niche and a rewarding path.
"It's the best blend if you have a bit of a banking and property background and you don't mind a bit of an argument – insolvency allows you to combine those three skills," he says.