Goodbye job applications, hello dream career
Seize control of your career and design the future you deserve with
Slingshot to Singapore
Singapore has a sound legal market, a new International Commercial Court and a strong expat community. What more could you want?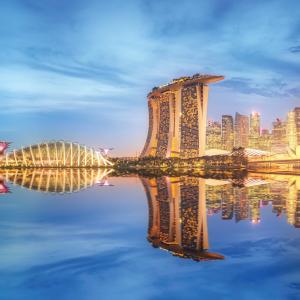 Singapore continues to set itself apart as an ideal destination for legal work, for both providers and consumers.
You're out of free articles for this month
To continue reading the rest of this article, please log in.
Create free account to get unlimited news articles and more!
It's similar enough to Australia that Aussie lawyers won't feel out of their depth, while offering different opportunities and an expat lifestyle like no other.
"Similarities-wise I think they're both very globally focused and I think the common law element makes things a lot easier, and [there are] no difficulties for coming over as an Australian lawyer," Major, Lindsey & Africa consultant Nathan Peart says.
"Differences [are], I think, the practices tend to be far more regional and so your mix of work is interesting but very, very different."
Peter Chow, Squire Patton Boggs' Asia-Pacific head of international dispute resolution/arbitration, has similar thoughts to Mr Peart.
"The laws in Australia and Singapore are quite similar, particularly in contract law or corporation law," he says.
"Like Australia, there are lawyers in Singapore servicing domestic retail sectors such as conveyancing, criminal work and matrimonial matters. But in certain sectors such as major projects and infrastructure, Australia has a more mature practice."
Prospects at large
VIEW ALL
Singapore has enjoyed a vibrant economy for many years, which in turn drives its demand for lawyers.
However, the current economic downturn, coupled with an increasing number of lawyers moving to Singapore recently, has thinned out the job opportunities, according to Mr Chow.
"But there is always room for lawyers of exceptional quality or relevant expertise," he notes.
"Those with an entrepreneurial spirit and who are able to adapt to a changing market tend to do better."
A good network also helps, especially for lawyers arriving from overseas, Mr Chow adds.
"Australian lawyers, particularly those who have gained experience in top-tier Australian firms, generally have a good reputation and are known for their high-quality work," he says.
"They usually are able to find positions outside Australia, such as [in] Singapore. Many leading lawyers in international law firms around the world originally came from Australia."
The managing partner of Clifford Chance's Singapore office, Kai-Niklas Schneider, says the practice areas and clients serviced in Singapore are diverse.
"Our Singapore office covers a breadth of practices including banking and finance, corporate, capital markets and dispute resolution, and the office provides integrated services across the south-east Asia region," he says.
"We act for a number of Singapore-based local and international companies, as well as regional and global clients based elsewhere."
Mr Schneider says Singapore not only one of the world's major financial capitals, it is also a global technology hub leading in areas such as fintech.
"It will continue to increase its stature as a global legal hub, with more clients viewing it as an increasingly important venue for them to be based or to transact business," he says.
"This is driving our clients' need for high-quality advice that covers English, New York and Singapore law."
The areas of law in which Singaporean firms look to hire Australian lawyers can vary, but they are limited, according to Mr Peart.
"I think most of the roles that we see are mainly in corporate and finance; they seem to be the biggest areas."
"There are sometimes offers in project finance practices and things that derive from that, [such as] asset finance, but in terms of them having, say, big IP offerings or anything like that, you don't really see the big practices that you sometimes do in Hong Kong and London."
Mr Chow says most Australian lawyers will often only find work at the Singapore offices of international law firms, significantly restricting their choice of firms.
"It is not easy to find positions in Singapore local law firms, as they generally prefer Singapore-qualified lawyers," he says.
"Singapore qualifications can be difficult to obtain. Consequently, many Australian lawyers end up working in international law firms or as in-house counsel."
He also highlights the differences in opportunities for junior lawyers and partners.
"For Australian lawyers who have just graduated and for those who do not have sufficient experience, they have more hoops to jump through. It may do them well to gain the relevant experience and work ethics in a good Australian law firm before considering a move to Singapore," he says.
"For partners considering a move to Singapore as lateral partners, they need to demonstrate a sufficient book of business or their ability to generate business.
This can be challenging if one is changing jurisdiction, unless one has been working on international deals in south-east Asia."
Dispute resolution
One growing area of legal practice in Singapore is dispute resolution, through both the Singapore International Arbitration Centre (SIAC) and the Singapore International Commercial Court (SICC).
Singapore has developed a strong arbitration seat and is among the top jurisdictions where companies choose to solve their cross-border disputes, according to Mr Chow.
"Singapore is one of the leading arbitration centres in Asia and in the world," he says.
"This is an area of work which traditionally attracts many lawyers from Australia."
The SICC was first mooted in 2013, and was eventually launched on 5 January 2015.
Nearly two years on, its services are becoming well-known and widely used.
"With the establishment of the SICC early last year and [the] ongoing strength of the SIAC and Singapore International Mediation Centre, Singapore is seen as an arbitration forum of choice," Mr Schneider says.
"This environment means that a mix of local, regional and international firms operate here."
However, Mr Peart says that because Australia's arbitration seat is less developed than that of Singapore, Australian lawyers tend to be less experienced in arbitration work.
"I think the trouble with the Australian market is there aren't a huge amount of pure international arbitration lawyers around," he says.
"You're obviously competing against people in, say, the UK or in Hong Kong who've got those pure practices. You'd need at least 60 per cent experience in international arbitration, preferably more, to really compete in that space."
Country commitment
Landing a role in Singapore can be challenging, according to Mr Peart, who advises that it won't happen overnight.
"It's not like there's loads and loads of roles at the moment going around, so it may be a long-term plan that you end up getting over there in six months or 12 months, depending on the market," he says.
"Then within that there's obviously competition then from the local [Asian] market, people from Hong Kong looking to go to Singapore, so that can be quite challenging."
Lawyers who only want a brief stint of international experience may be out of luck when it comes to Singapore, Mr Peart says.
"What we've really seen over the past year more than ever is firms really want commitment to the region. Firms don't want people who are just looking to spend a couple of years, so firms really want to understand why somebody wants to move to Singapore, what the drivers are," he says.
"People recognise that you can use Singapore as a base to go and travel from, which is great, but then I think there is also concern that a lot of people are going over and doing that for a year or two to see Asia and then leaving.
"That's sort of becoming a little bit of a stumbling block, not for every firm, but for some of them."
Those who are successful get to enjoy the benefits of the Singaporean lifestyle, as well as Singapore's proximity to other Asian countries.
"It's a fun place, you can have a great lifestyle, great weather, great opportunity, but I think it is – as a nation – quite conservative, and so you have to sort of remember that," Mr Peart says.
"There's a lot of convenience, a lot of opportunity, great opportunity to travel, and again this ties in to it needing to be a long-term commitment to the region."
Mr Schneider adds that Singapore is a great place to both work and live.
"As a place to work, it's dynamic and vibrant, reflecting the opportunities within the local and regional market," he says.
"As a place to live it's a sophisticated, world-class city."