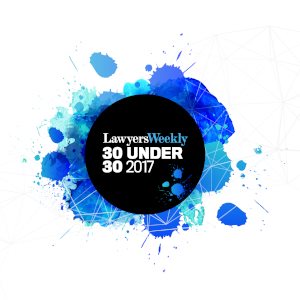 Lawyers Weekly is pleased to announce that submissions are now open for the annual 30 Under 30 awards.
Now in its fifth year, the 30 Under 30 awards aims to identify the best young lawyers across Australia, recognising them for professional excellence within their specific practice areas.
The awards also highlight those up-and-comers who are demonstrating professional performance, leadership capabilities, and the ability to influence the client experience for the benefit of their firm.
This year, Lawyers Weekly is delighted to announce 15 major categories:
Banking and finance
Commercial
Construction and Real Estate
Corporate Counsel
Dispute Resolution
Family
Government
Insurance
Intellectual Property
Mergers and Acquisitions
Pro Bono
Projects, Energy and Resources
Taxation
Technology, Media and Telecommunications
Workplace Relations, Employment and Safety
The winners with be revealed at an exclusive cocktail event on Friday, 23 June, at The Ivy Ballroom, Sydney.
For more information about the event, click here.
To lodge a submission, click here.
For further enquiries, please contact Craig Lynch on This email address is being protected from spambots. You need JavaScript enabled to view it. or 02 9922 3300.