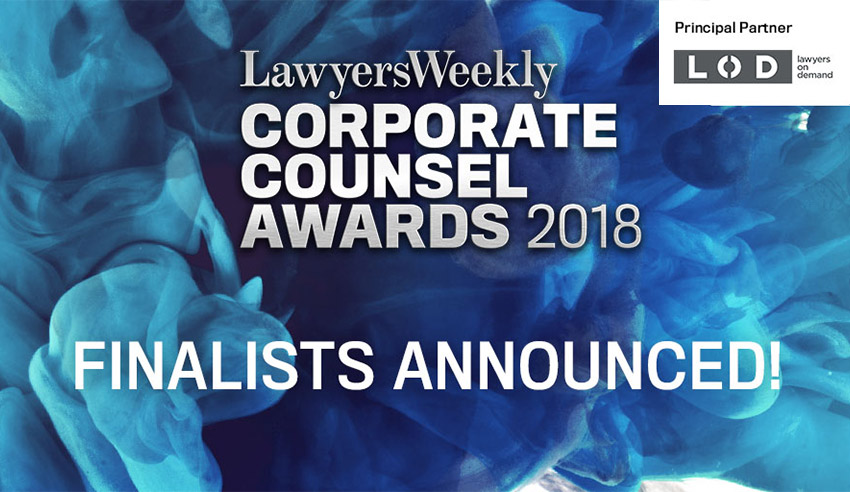 Lawyers Weekly is pleased to announce the finalists for the second annual Corporate Counsel Awards. 
After a successful inaugural event earlier this year, the Lawyers Weekly Corporate Counsel Awards is back for 2018. 
The winners will be revealed at a black-tie dinner at Sydney's Four Seasons Hotel on 1 March, 2018. 
Tickets are available here. 
Without further ado, Lawyers Weekly congratulates the finalists for the 2018 Corporate Counsel Awards: 
Individual categories
Academia, Training and Education Lawyer of the Year
Brett Saunders, The Royal Australian and New Zealand College of Ophthalmologists (RANZCO)
Shane Matthews, Kaplan
Theo Kapodistrias, University of Tasmania
Trisha Mok, Scentia
Agribusiness Lawyer of the Year
David Thomas, Costa Group
John Lane-Mullins, Olam Australia
Samantha Bryce, Laguna Bay Pastoral Company
Banking and Finance Lawyer of the Year
Catherine James, Challenger Limited
Joanna Moore, RACQ
Kristen Jung, Macquarie Group
Samantha Jones, Anne Street Partners
Suanne Russell, Westpac Banking Corporation
Construction and Real Estate Lawyer of the Year
Andrew Selim, Home Consortium
Cheryl Nomarhas, nbn co limited
Christine Loukopoulos, Australia Post
Claire Hashman, Dexus
Desi Kuzmanovic, Brookfield Property Partners
Glenda Lam, Conquest Group of Companies
Jacob Leslie, CPB Contractors
Jane McMeekin, Icon Co
Rebecca Edwards, PAYCE
Tamisha Young, John Holland Group
FMCG Lawyer of the Year
David Dwyer, Unilever Australia and New Zealand
Karen Perret, Mondelez Australia
Simone Tierney, Lodestar Legal
Tim Wong, Luxottica Retail Australia
Government Lawyer of the Year
Leah Ritchie, Indigenous Land Corporation
Mark Cunliffe, Commonwealth Department of Defence
Healthcare, Pharmaceuticals and Biotech Lawyer of the Year
Navaneetha Dilipumakanth, GlaxoSmithKline Australian Legal Team
Simone Tierney, Lodestar Legal
Industrial, Materials and Manufacturing Lawyer of the Year
Alexis Talcott-Curry, CCL Secure
Alice Polglase, Cotton On Group
Victor Li, FCA Australia
Infrastructure, Utilities and Energy Lawyer of the Year
Robert St Clair, Downer Group
Johnny Short, Transurban
Sarah Southall, ISS Facility Services
Serge Radojevic, Idemitsu Australia Resources Pty Ltd
Insurance Lawyer of the Year
Duncan Ramsay, Steadfast Group Limited
Elissa Baxter, Lawcover Insurance
Leigh Davidson, Insurance Australia Group
Michael Tropea, AIA Australia Limited
Sylvia Hands, Medibank Private Limited
Sports and Entertainment Lawyer of the Year
Courtenay Zajicek, Curves & Jenny Craig
Joshua Barwick, Telstra
Nik Searby, Jumbo Interactive Limited
Paula Robinson, Gold Coast 2018 Commonwealth Games Corporation
Rohin Sharma, FOX SPORTS Australia
Stuart Corbishley, Invictus Games Sydney 2018
Sunil Puranikmath, Telstra
Tracey Scott, Football Federation Australia
Technology, Media and Telecommunications Lawyer of the Year
Amanda Ong, Nova Entertainment
Barron Koo, Westpac Banking Corporation
Dominic Ward, BHP
Kirk Simmons, Canva
Mariah Freda Younan, InfoTrack
Nik Searby, Jumbo Interactive Limited
Shoshana Shields, eBay Australia and New Zealand
Sunil Puranikmath, Telstra
Trent Czinner, Vodafone Hutchison Australia
Transport and Logistics Lawyer of the Year
Alison Cusack, ANL Container Line
Kimberly Statham, Woolworths Limited
Michael O'Brien, TNT Australia
Travel, Tourism and Hospitality Lawyer of the Year
Anna Shilova, Voyages Indigenous Tourism Australia
Chris Todd, Ardent Leisure Group
Nim Sathianathan, RACQ
Ria Manguray, Tourism Australia
Group categories
Agribusiness Team of the Year
GrainCorp
Olam Australia
Robert Bosch (Australia)
Banking and Finance Team of the Year
American Express Australia
Challenger Limited
National Australia Bank Limited
Toyota Finance Australia Limited
Construction and Real Estate Team of the Year
Conquest Group of Companies
Mirvac
Vicinity Centres
FMCG Team of the Year
Luxottica Retail Australia
Mondelez Australia
Swisse Wellness
Unilever Australia and New Zealand
Government Team of the Year
Australian Transport Safety Bureau
Commonwealth Department of Defence
Indigenous Business Australia
NSW Department of Planning and Environment
Office of the General Counsel, Department of Justice
Healthcare, Pharmaceuticals and Biotech Team of the Year
GlaxoSmithKline Australian Legal Team
Swisse Wellness
Industrial, Materials and Manufacturing Team of the Year
Orora Limited
Cotton On Group
Infrastructure, Utilities and Energy Team of the Year
ABB Australia
Origin Energy
Transurban
Yancoal Australia
Insurance Team of the Year
AIA Australia Limited
Steadfast Group Limited
Suncorp Group
QBE Australia and New Zealand
Sports and Entertainment Team of the Year
Gold Coast 2018 Commonwealth Games Corporation
Football Federation Australia
FOX SPORTS Australia
Telstra - Media and Marketing Legal Team
Technology, Media and Telecommunications Team of the Year
Adobe Systems
Amaysim
BHP
eBay Australia and New Zealand
Optus
PayPal Australia
REA Group
Telstra - Media and Marketing Legal
Vodafone Hutchison Australia
Transport and Logistics Team of the Year
Cobham Aviation Services
TNT Australia