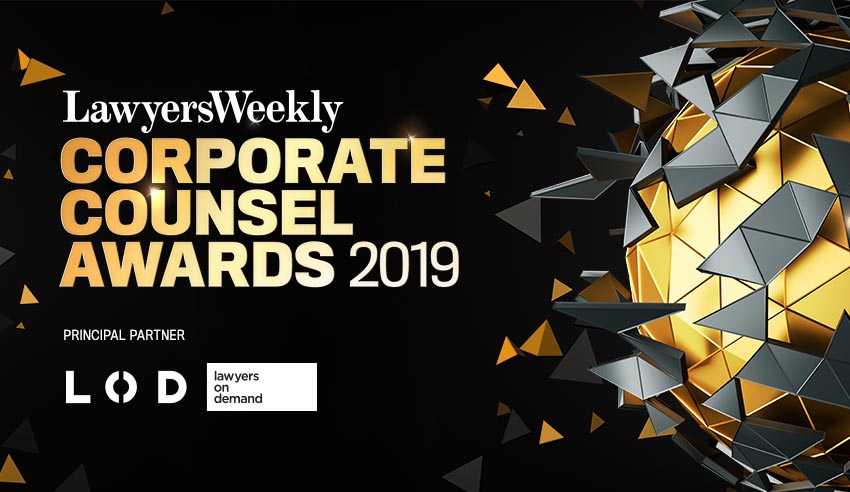 Lawyers Weekly, in partnership with LOD, is proud to reveal the winners of this year's Corporate Counsel Awards.
Held at the Hyatt Regency on Friday 29 March, this year's Corporate Counsel Awards featured 26 award winners, including the hotly contested Corporate Counsel Excellence Award.
Over 600 gathered to the event to show their support and were treated to a three-course dinner with entertainment provided by MC Corinne Grant. 
The Lawyers Weekly team would like to thank all of the judges and its valued sponsors for making the event a success. 
The winners for the 2019 Corporate Counsel Awards are:
Academia, Training and Education Lawyer of the Year
Elizabeth Grinston, The University of NSW
Construction and Real Estate Lawyer of the Year
Andrew Selim, Home Consortium
Construction and Real Estate Team of the Year
CBRE
Defence Lawyer of the Year
Nicholas Sedgwick, Thales Australia
Financial Services Lawyer of the Year
Fiona Harding Bank of Queensland
Financial Services Team of the Year
ASX Ltd
FMCG Lawyer of the Year
Lily Wong, PepsiCo Australia & New Zealand
FMCG Team of the Year
Coca-Cola Amatil
Government Lawyer of the Year
Dr Madeleine Hartley, WaterNSW
Healthcare, Pharmaceuticals and Biotech Lawyer of the Year
Alexandra Sweeney, GenesisCare
Healthcare, Pharmaceuticals and Biotech Team of the Year
Western Health
Industrial, Materials and Manufacturing Lawyer of the Year
Belinda Murray, BGC (Australia)
Industrial, Materials and Manufacturing Team of the Year
Boral Australia
Infrastructure, Utilities and Energy Lawyer of the Year
Jacob Leslie, CPB Contractors
Infrastructure, Utilities and Energy Team of the Year
Transurban
Insurance Lawyer of the Year
Marea Hickie, Woolworths
Insurance Team of the Year
AIA Australia
Not-for-profit Lawyer of the Year
Katrin O'Sullivan, The Fred Hollows Foundation
Not-for-profit Team of the Year 
UNSW Sydney Legal Team
Sports and Entertainment Lawyer of the Year
Sunil Puranikmath, Telstra
Sports and Entertainment Team of the Year
Tabcorp Holdings
Technology, Media and Telecommunications Lawyer of the Year
Amanda Ong, NOVA Entertainment
Technology, Media and Telecommunications Team of the Year
Canva
Travel, Tourism and Hospitality Lawyer of the Year
Dennis Tuan-Mu, Delaware North
Travel, Tourism and Hospitality Team of the Year
Carnival Australia
Excellence Award
Dr Madeleine Hartley, WaterNSW