Recapping the inaugural Corporate Counsel Summit
For the first time, Lawyers Weekly hosted a summit for in-house lawyers, bringing together local and global in-house powerhouses for a range of sessions and panel discussions relevant to corporate lawyers and legal teams. Featuring an opening keynote from Google US head of legal operations, technology and strategy, Mary O'Carroll, as well as myriad prominent speakers, the inaugural Corporate Counsel was an undisputed success.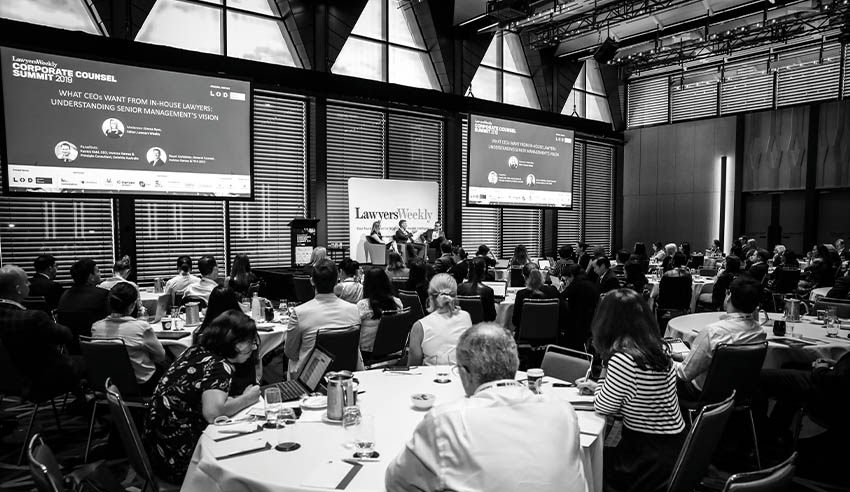 The summit was hosted at the Hyatt Regency in Sydney's CBD, and preceded our annual Corporate Counsel Awards, with over 200 guests packing the conference venue.
MC Julian Morrow, from The Chaser, kept the crowd entertained with his learned remarks on the intricacies and quirks of the in-house corner of the legal marketplace.
Lawyers Weekly would like to thank its principal partner, LOD, for helping bring together an illuminating and informative summit wherein attendees were able to walk away with practical tips and ideas to help pave the way for success, both in their respective organisations and individual careers.
INTERNATIONAL KEYNOTE: What everyone should know about the trends disrupting the legal industry
Speaker: Mary O'Carroll, head of legal operations, technology and strategy, Google (US)
Fresh off the heels of her appearance on a Lawyers Weekly live webcast on the topic of legal operations – not to mention shortly removed from a flight in from California – Ms O'Carroll delivered the keynote address for the summit, outlining how in-house leaders in businesses have to create a service delivery strategy that not only provides top-quality legal services, but do so in a way that maximises value across the business.
There are an array of options to choose from as a result of globalisation, disaggregation of legal services, new market entrants and new technological capabilities, she explained, while exploring some of the changes taking place, how these are affecting the in-house world, the rise of legal operations and what it means for the future of the industry.
LOD: The rise of legal operations
Speakers: James Kenney, head of service development (Australia), LOD (moderator) with panellists Nigel Bond, general counsel (Wealth, Australian Banking and Technology), Westpac; Catriona McGregor, group general counsel and company secretary, Domain Group; and Marcus Breaden, general counsel - Asia Pacific, Cisco Systems
Legal ops has been a consistent topic of conversation this year, and was the centre of attention in the first Lawyers Weekly live webcast for 2019. But its place and purpose in an evolving legal marketplace still eludes many, and as such, it was necessary to put together this panel to explain its importance moving forward for in-house counsel.
Sponsored by LOD, the panel – all of whom are at various stages of their legal operations journeys and with experience across differing sized organisations and legal teams – discussed the trends specific to the Australian legal market and were able to cut through the brouhaha to outline specific ways to deliver legal ops, as well as detail how to develop the necessary talent and skills in this area.
PANEL: What CEOs want from in-house lawyers: Understanding senior management's vision
Speakers: Patrick Kidd, CEO, Invictus Games and principal consultant, Deloitte Australia; and Stuart Corbishley, general counsel, Invictus Games and FIFA 2023
For this writer at least, this was a must-attend session, given how cool Mr Corbishley's job title is. On a more serious note, the issues fleshed out between him and Mr Kidd were crucial for in-house legal teams in better understanding the vision of senior management and building trust across the business as being fundamental to the success and productivity of that team.
In a rapidly evolving marketplace, such communication and collegiality becomes even more important, the pair said, while offering insights into the role and function of the legal department in accordance with the vision of senior management.
The pair also discussed how to strike a balance between legal practice duties and employ a business executive mindset, gauge the business' appetite for risk and expansion, demonstrate creativity, value and direction for senior management in an evolving marketplace and offered a handful of case studies about what works and doesn't work in actioning the vision of the CEO and other execs.
Managing internal politics: Substituting the dark art with a positive psychology approach
Speaker: Mark Hunyor, professional coach and trainer
Quoting Kurt Lewin, Mr Hunyor opened with: "Nothing is more practical than a good theory", kickstarting his discussion about the importance of creating positive, collegiate and hospitable workplaces by way of effective leadership strategies.
When it comes to maximising one's role as a leader in an in-house environment, he suggested a blend of strategic awareness, commercial acumen and coaching skills. On the latter, he noted that 70 per cent of the outcome in a coaching or counselling agreement is predicted by the quality of the relationship, and therefore, it is fundamentally important that general counsels and other leaders in the in-house space get the relationship right. Good relationships, he continued, means that information flows better to the leader.
They can detect issues at an earlier stage and there is a reduced likelihood of being used inappropriately. In good relationships, the team is licensed to speak "with brutal honesty" coupled with the ability to forgive, have differences of opinion and move on. To do this, in-house leaders must allow time for it and get the whole team involved.
Competitive edge through collaboration
Speakers: Caroline Cox, group company secretary and general counsel, BHP; and James Agar, vice-president of global communications, BHP
According to Ms Cox and Mr Agar, gaining a competitive edge requires a legal team to operate with forethought rather than afterthought. It's well-known, they posited, that cutting across the competition, exploring new opportunities and undertaking unique investments can be risky for your business, but there are measures that a legal team can take to mitigate these risks.
To create a durable competitive advantage, it is necessary for in-house legal teams to be able to move beyond cutting legal costs to optimising business spend, proactively planning and implementing programs to get ahead of regulatory, compliance and risk management. They must facilitate decision making by predicting successful business outcomes as well as minimise commercial friction and accelerate revenue-making ability.
PANEL: Driving strategic development in the face of potential threats
Speakers: Catherine James, general counsel, Allianz Retire+; Sarah Turner, general counsel and company secretary, REA Group; and Claire Bibby, chief operating officer and general counsel, Immediation
This was a lively session! In conversation with Lawyers Weekly editor Emma Ryan, the trio of Ms James, Ms Turner and Ms Bibby debated the legal, political, technological or social issues and challenges that in-house lawyers need to be aware of, particularly in regard to how they can impact upon a business' core functions, either for better or worse.
Attendees were treated to reflections and practical insights into potential threats and various ways that they could ensure their respective organisations are properly protected. This included incoming threats to look out for over the next few years, how to effectively communicate threats and ensure that one's company takes action, the necessary steps to ensure the right support and resources are installed to protect one's business, and how to turn threats into opportunities for a bolstered business.
Navigating challenges with different jurisdictions
Speaker: Katrina Johnson, associate general counsel and head of legal, Asia-Pacific Uber
When it comes to understanding how to deal with multiple jurisdictions, Ms Johnson argued in this session that culture is "most of the secret sauce". Hire for and nurture culture, she said, and the rest will usually follow.
When it comes to building team culture, "emotional beats transactional", she continued: in-house leaders should get to know team members individually, "do something silly together that breaks down barriers", host 'ask me anything' sessions, and engage in group activities to understand idiosyncratic drivers and facilitate empathy and inclusion.
As part of this, team planning for dealing with different jurisdictions will matter more than ever before, Ms Johnson noted, meaning that social and professional alignment is critical to ensure there is a clear guiding framework in place so that the team vision and goals can be achieved. And, understanding what makes the different markets unique is fundamental, including the machinations of the political systems, how laws are made or changed, down to who the policymakers and influencers are. "Experience your markets like a local, but if you can't do that, at least speak to local people to get an insider's view," she advised.
Boost your cyber IQ – Insights into the biggest threats to data privacy and cyber security
Speaker: Tommy Viljoen, national lead partner of cyber risk services strategy and governance, Deloitte
To finish off the day, attendees heard from Mr Viljoen on automation and artificial intelligence becoming inextricably linked and integrated into our everyday life, and how we have to reconcile that with such integration there comes an unfortunate trade off with data privacy and security.
For in-house counsel, he continued, the benefits of technology can far outweigh the negatives, but with new Australian and international legislation yet to be fully tested, many legal teams are struggling with how best to define their roles and responsibilities in this regard.
Those in the room rounded out the summit by exploring the automation environment from a regulatory and risk minimisation perspective … leaving enough time for everyone to freshen up and then head back to the venue for the 2019 Corporate Counsel Awards!