Goodbye job applications, hello dream career
Seize control of your career and design the future you deserve with
Lessons after moving from corporate to creative roles
These three former legal counsels all left the profession for more creative careers and have learnt a number of lessons along the way.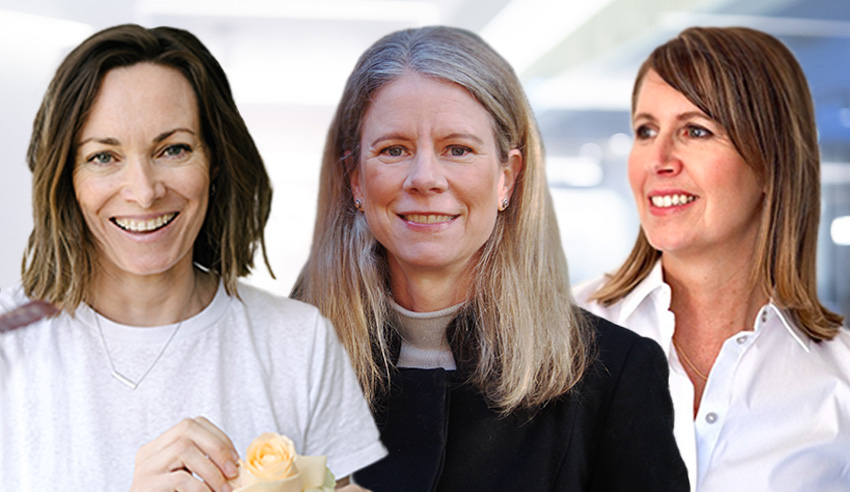 Katie Riddell, Corrie McGregor and Kate Nakashima (pictured) all used to work as in-house counsel for The Just Group; and all left to pursue more creative prospects. Ms Riddell left the legal world to become an interior decorator, Ms McGregor started her own floristry business, and Ms Nakashima left law to venture into creative writing. 
You're out of free articles for this month
To continue reading the rest of this article, please log in.
Create free account to get unlimited news articles and more!
Speaking recently on the Corporate Counsel Show, the group shared what inspired them to leave their roles and some of the challenges they've encountered along the way. 
Ms Riddell worked as a lawyer for 10 years and, having always been creative, felt like something was missing in her former career. She decided to study interior design part-time over three years, while still working as a lawyer full-time, which she said helped ease her into the transition out of the legal profession. 
"I did it gradually. I did some contract roles, which were really good because it helped me work out what areas of law still interested me, but it actually gave me the confidence to make that jump," she said. 
Similarly, Ms McGregor has always been a bit more creative and – when her husband got posted in Africa for six months – she took the opportunity to think about what she really wanted to do, and enrolled in a floristry course once they returned. 
"After that it was a short six-week full-time course and then a stint of working in a floristry shop. And then we had a baby and it's since been juggling starting my own business with children," she said. 
Ms Nakashima had worked in in-house roles for 20 years and said that after years of having to have a "tough skin" to survive in the profession, hers was wearing a little thin.
"It was time to move on to pursue something that was more about the things I was interested in discussing or in writing about," she said. 
VIEW ALL
However, she added that gaining credibility as a creative is harder than as a lawyer. 
"I think finding work in a creative industry is always a challenge. Maybe not necessarily for everyone, but I think because the valuation of the work is sometimes a bit subjective," she said.
"I think as a legal practitioner, you carry a great deal of, I guess, credibility in the business world. And you can seek out the roles that interest you perhaps a bit more easily than being a person that just calls themselves a writer or is doing that creative pursuit."
Likewise, Ms Riddell said that one of the main challenges she's found is attracting clients. 
"I think you have quite a luxurious role as an in-house lawyer because the clients come to you. You can be quite selective as to when you're getting your work done for people," she said. 
"But when it's your business, you are the one who is actually finding the clients. So, you're doing the sales. And as an in-house lawyer, you don't need to be a salesperson. So that's something that I hadn't really had done a lot of in work as an in-house lawyer."
Currently running her own business, Ms McGregor said while it's great she's learning new things, she also feels the pressure in juggling the responsibilities that come with it in addition to her life and family commitments.
"You have a lot of structure and support with the law firms and the practises, whereas setting up your own business and running it from home in my case, actually all of our cases, ourselves is a challenge with the time management, juggling life, learning how to do things we've never done before in legal practise," she said. 
"It's also quite nerve-wracking when you put your work to somebody and you're waiting to hear if they like it. And yeah, that's a challenge for me, adjusting to that."
The challenges of running your own business and trying to attract new clients have only been heightened as a result of COVID-19, but Ms Riddle found she was able to squeeze a few projects in before lockdown. 
"It was managing being able to get all of the homes finished within lockdown, which I did do. And then of course, I had to go back with my photographer and get the projects photographed. So that itself was a bit of a tricky, tricky time too," she said. 
"I think people are really interested in changing their rooms or their homes. But perhaps for some people, there's also the concern of, well, what's going to happen financially for them too, because there have been a lot of changes in not just how we're working, but what people are doing as well. So, I think that there might be a bit of uncertainty out there."
Ms Nakashima added that during the pandemic, she's found that although she has more time at home to write, lockdown has offered little inspiration. 
"It's ironic that you've got perhaps a lot more time at home to write. And yet you don't feel like it because there's not much to really engage you in an exciting writing project because you are just at home a lot more," she said. 
"It's not easy for anyone dealing with uncertainty. I think that's always going to be difficult for anyone in any job when the goal posts can move or when your family arrangement suddenly becomes different to what you're used to."
When asked if they regretted spending so much time in the legal profession before pursuing more creative careers, the three ladies agreed that working in law had taught them some valuable lessons. For Ms Nakashima, it gave her the opportunity to "leap into something new and try a few new things."
"It was a great 20 years. I just didn't want to keep doing it for another 20," she said. 
"But when I look back at the things that I was able to do, the people that I met and the places that it took me to corners of the world that I wouldn't have otherwise gone to, worked for some really interesting organisations, there certainly is nothing to regret about that."
"I don't regret it either," Ms McGregor added. 
"I think my years in-house were some of my favourite legal years, and they've given me the confidence, even though I don't use legal things every day in my new career, but it's given me the confidence to stand up and be proud."
Lastly, Ms Riddell added that being in law not only taught her valuable skills, but allowed her to meet some great people along the way. 
"I don't regret doing law at all. I think financially it certainly helped set me up because it's a lot easier to have some assets behind you to change careers for sure. But I think as well as learning all of the things that you do learn as a lawyer, I met some really fantastic people," she said. 
"For me that was certainly one of the highlights. It's the people that you work with as well as the work that you do."
The transcript of this podcast episode was slightly edited for publishing purposes. To listen to the full conversation with Katie Riddell, Corrie McGregor and Kate Nakashima, click below: