Goodbye job applications, hello dream career
Seize control of your career and design the future you deserve with
How in-house lawyers are changing to 'focus on being more pragmatic and practical'
Post-pandemic, legal departments are increasingly required to be more than just legal advisers, said these two in-house lawyers from NOVA Entertainment.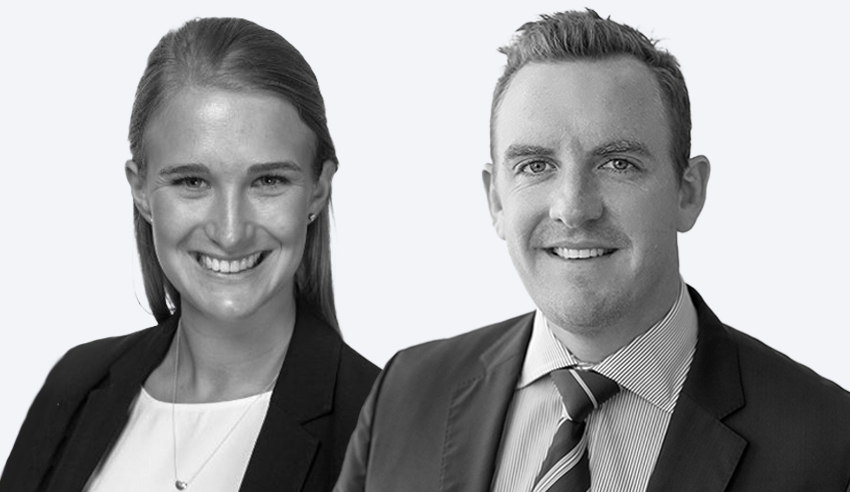 Ben Willis is the group general counsel and company secretary at NOVA Entertainment, and Samantha Walker is the newly promoted senior legal counsel.
You're out of free articles for this month
To continue reading the rest of this article, please log in.
Create free account to get unlimited news articles and more!
Speaking recently on The Corporate Counsel Show, the pair shared their experiences of changing responsibilities over the course of the pandemic – and how the legal department has changed overall.
Ms Walker said that her favourite parts of working in the media landscape are the content and the businesses the NOVA legal department works with.
"I just love the industry. I think it's exciting. I think it's colourful. It's interesting. There's a lot of change. There's a lot of drama. There's quite a lot going on," she said.
"So yeah, I just think the content itself is quite interesting and the legal work that's around that and that builds that up is kind of where I wanted to go in my legal practice."
However, the media industry was hit particularly hard by the pandemic, which posed a number of challenges.
"The entertainment industry has been impacted significantly just in terms of basic things like in-person events all being cancelled, replaced with virtual events and the legal consequences that kind of come with that, like NOVA, for instance, used to do live music events a couple of times a month. They all changed to become Zoom events. And there were various legal considerations around that in terms of talent requirements, music licensing, privacy considerations for attendees and insurance and all that sort of thing. So, there are legal aspects that have changed based on COVID," Ms Walker explained.
"But then also I think as part of our job, and Ben also sort of touched on this, was just the reliance on the lawyers and the legal team to provide really, really practical advice in this environment. More than ever, we have to be quick and pragmatic and help and assist to come up with practical solutions to these new circumstances that no one's really dealt with before. So, I think that's definitely one way that our sort of role has changed as a result of COVID that has a flow-on effect of the practical changes and the legal changes."
VIEW ALL
The media industry was absolutely not "immune to the shifts experienced across all industries", agreed Mr Willis.
"There are different pressures on businesses now where once you were engaging in commercial executions for outdoor broadcast or for sporting sponsorships or those types of things that require being out and amongst the public. We're then dealing with elements of frustration, the other side of contracts. And that would've been experienced across the industry. You also had sort of increases in pace of digital transformation, as businesses were required to keep pace with change. Working from home, all those sorts of things. They're pretty common threads," he said.
"But then in terms of the media industry itself, how are we to create content and broadcast it when we're in lockdown and you've got huge rates of transmission of COVID, et cetera, you've got directions and mandates from health and the government telling everyone to stay home? How do you keep people on air?
"And those sorts of things are just really simple practical problems that require a practical solution, but in the thick of it, in an unprecedented pressured environment, trying to find a way through that was very difficult. And I think that was one thing that a lot of media really struggled with. That ability just to keep content being produced. And it's a testament to our tech guys that we managed to do that."
In terms of her evolving responsibilities over the course of the pandemic, Ms Walker said that whilst she's always thought of in-house counsel as being "strategic advisors", COVID only increased that aspect of her role.
"This last two years in the pandemic has definitely pushed that and made that become absolutely necessary in order to support the business in the way that it's needed to be supported over the last two years. You are definitely required to consider non-legal matters as well as legal matters. Discretion is required to be exercised," she added.
"We've been involved in a lot of strategy and discussion around just business continuity on a day-to-day basis, which just changed week by week. And it was different in each state that we operate in. So yeah, I think my mindset has definitely changed to focus on being more pragmatic and practical, not just purely legal."
In terms of how changes like this affect Mr Willis' role as a leader, he said his staff's mental health has become of the utmost importance to him, as well as maintaining relationships with stakeholders.
"There's been a real proliferation or sort of an increased expectation in your responsibility that goes above and beyond just simply delivering legal advice. You are a trusted advisor. And certainly, one thing I've always sought to instil within my team is the importance of creating relationships with your stakeholders. And if you can do that and you can do it in such a way as it ingratiates trust and establishes a really strong relationship, their objectives become your own and you're embedded within the business.
"And I think these last couple of years where we have seen unprecedented circumstances and shifts in where our strategy needed to go, different pressures, all those sorts of things, those relationships became even more important. How could we support one another cross-functionally to ensure the business was able to right itself and continue going forward? From my personal perspective as leading that group, I had to just change tact a little bit. I think I've had to personalise my approach to delegating to instructing staff to hearing their concerns about work burdens, changes in expectations," he added.
"I take the mental health of my staff incredibly important. It's one thing to achieve the outcomes desired of you as a function within the business. It's another to ensure that everyone's right mentally to be able to deliver those outcomes. Otherwise, you're not going to get there. And I do try to instil a real sense of team and collaboration, and we don't have a hierarchical structure in any way. And probably what COVID has brought on for me is just the necessity to really [home] in on those things."
The transcript of this podcast episode was slightly edited for publishing purposes. To listen to the full conversation with Ben Willis and Samantha Walker, click below: